Let Me Be Frank With You…
. . . . . . . . . . . .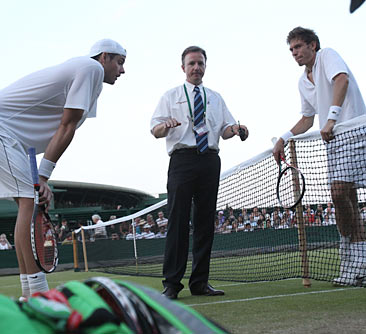 The only thing more boring than the World Cup is a 10 hour tennis match.
In case you haven't been keeping up with your tennis here lateley, International superstars Josh Isner and Nicolas Mahut played yesterday for exactly 10 hours. This has been by far the longest match in the history of the sport. They're still tied. As you can see in the picture above, they were very exhausted when the match was suspended. As you can also see, there are people in the stands. Maybe it's just a good Photoshop job, but I'm afraid all those people stayed and watched a tennis match for 10 hours.  I compare this to listening to Adam Lambert perform "Whataya Want From Me" in the middle of a 120 degree desert for 10 hours. I'm serious. This is not OK people.
Speaking of unbearable things…

Sometimes people just do stupid stuff.
For some bizarre reason I may never understand, the Florida Marlins marketing department handed out 15,ooo vuvuzela horns to fans before their game against the Tampa Bat Rays this past weekend. If you're like me and have never heard that word in your life, vuvuzela horns are what those kids are holding in the picture above and have been made famous by the World Cup. Players and coaches seemed to love the idea.
"They're annoying," said Rays manager Joe Maddon. "There's cool things and there's very non-cool things. That's a non-cool thing."
"Awful," said Florida outfielder Cody Ross about the noise.
"It's an embarrassing thing and it's an unfortunate thing," Marlins' manager Fredi Gonzalez said.
Is it as embarrassing and unfortunate as getting fired yesterday, Fredi?

Now, this is good marketing.
Remember a couple weeks back when Golden Tate broke into a donut shop late night to…well…eat some donuts I guess? Well, if you don't remember then you haven't been reading "Let Me Be Frank With You…" religiously, thus you are probably pretty uninformed when it comes to all things sports. As you can see, the donut shop made the best out of the situation and already put up an ad poking fun at the incident. Good work.
This video is so long you probably don't have time to read a paragraph about it (unless you're at that tennis match and surfing the internet from your phone to restore sanity). Anyway, Ron Artest sat before the media following the Lakers' game 7 win over the Boston Celtics. This epic piece of video ensued.

Why do bicyclist chose to ride on the narrowest, most heavily trafficked roads?

I seriously cannot understand this for the life of me. You're not Lance Armstrong. There are perfectly good sidewalks all over the world. Or here's a brilliant idea. Maybe you could try a sparsely populated neighborhood street. Or you can continue causing 20-car traffic jams without remorse or shame. It's your choice.