Let Me Be Austin With You…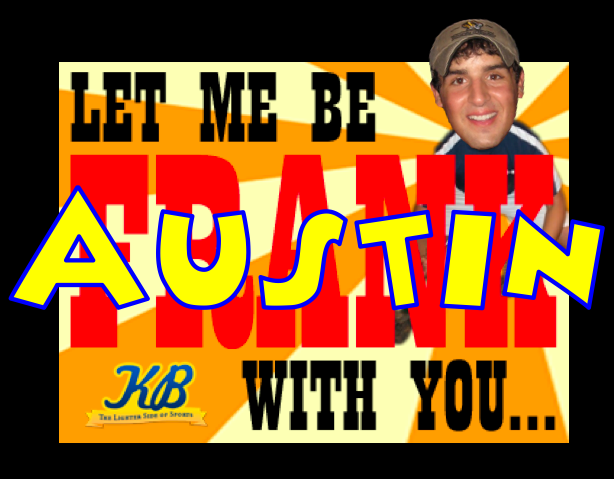 Hey guys, it's that time of the week again. Time for me to get FRANK AUSTIN with you. That's right. I have taken over Frank's weekly post. Time to find out how I feel about the week's top stories. I will give you my outspoken opinion on four sports topics and conclude with one personal topic that has been prevalent in my life lately. So buckle up children, because here we go.
• • •
Wrigley Field is cooler than most stadiums.
Last night, I had the privilege of going to the Dodgers v. Cubs game in Chicago. It was my first time at Wrigley Field, and all I can say is, "Wow." There is so much history and tradition in that building. Harry Caray, Steve Bartman, Henry Rowengartner. You can hate the Cubs all you want, but you have to have respect for one of the greatest baseball stadiums that man has ever built. In fact, I had more respect for the stadium than I did for the Dodgers offense last night as they only had 3 hits and lost, 3-0. However, Jackie Chan did throw out the first pitch. Like I said, Wrigley Field is awesome. (Except for that annoying song they sing after each win. If you are not a Cubs fan, be prepared to bring a cinder block to drop on your head and smash it in if your team loses just so you don't have to hear this.)
• • •
I love to play tennis… But not here.
I'm going to be honest with you. I'm scared of heights. I would never play tennis on this actual tennis court on top of the Burj Al Arab Hotel in Dubai. In fact, I wouldn't even play on this court in Mario Tennis. I wanna know who was the genius behind building a tennis court 1000 feet in the air without any walls to protect balls from going over edge. If you plan on playing up there with me, be prepared to bring a trashcan full of tennis balls. The only thing I like doing on top of buildings is punching in cheat codes for a sniper rifle and sniping innocent civilians in Grand Theft Auto. Now don't get me wrong, I'm as bourgeoisie as they come, but playing tennis on top of a hotel isn't for me. I'll stick with a casual fencing dual or a friendly game of croquet on the front lawn.
• • •

Forget the Subway Diet, I need the 50 Cent Diet.
Are you a tubby? Can you not stop eating? Do people often compare you to manatees or other large mammals usually found at Sea World? If you answered yes to any of these questions and/or if you're eating while reading this, than this diet is for you! Curtis Johnson, or more commonly known as the rapper 50 Cent, has gone from the jacked 214 lbs. frame to a nerdy 160 lbs. body in only 9 weeks. He lost the weight to play a cancer stricken football player in the new upcoming movie Things Fall Apart. The reason this is called the 50 Cent Diet isn't because it's 50 Cent who just did it, but because apparently that's all the money he spent on food during these past nine weeks. He might have actually taken advice from LenDale White and cut Patron from his diet. Who knows? But one thing is for sure, 50 Cent now looks like the illegitimate child of Ray Allen and Dave Chapelle.
• • •

Really ESPN.com? I mean, really?
Can we all agree this is getting a little ridiculous now? Let's give it a rest.
• • •
Everytime I eat McDonald's, I am out of breath for the rest of the day.
I'm embarrassed, but it's true. I have no idea why. Whenever I eat a meal from McDonald's I am inexplicably out of breath for the rest of the day. It's not that I do extensive workouts right after chomping on a 10 piece nugget or that I'm climbing Everest after finishing a Quarter Pounder. Seriously, I get out of breath from walking. But only after I eat McDonald's! What the heck are you putting in your food that is doing this to me, Ronnie? Thanks to the movie Super Size Me, I know that it's not a healthy food choice, but it's not like I'm eating it three meals a day for 30 days. It's one meal and a walk across campus. I guess I now know what Kevin Smith feels like.