Korked Bets: NCAA Football Week 13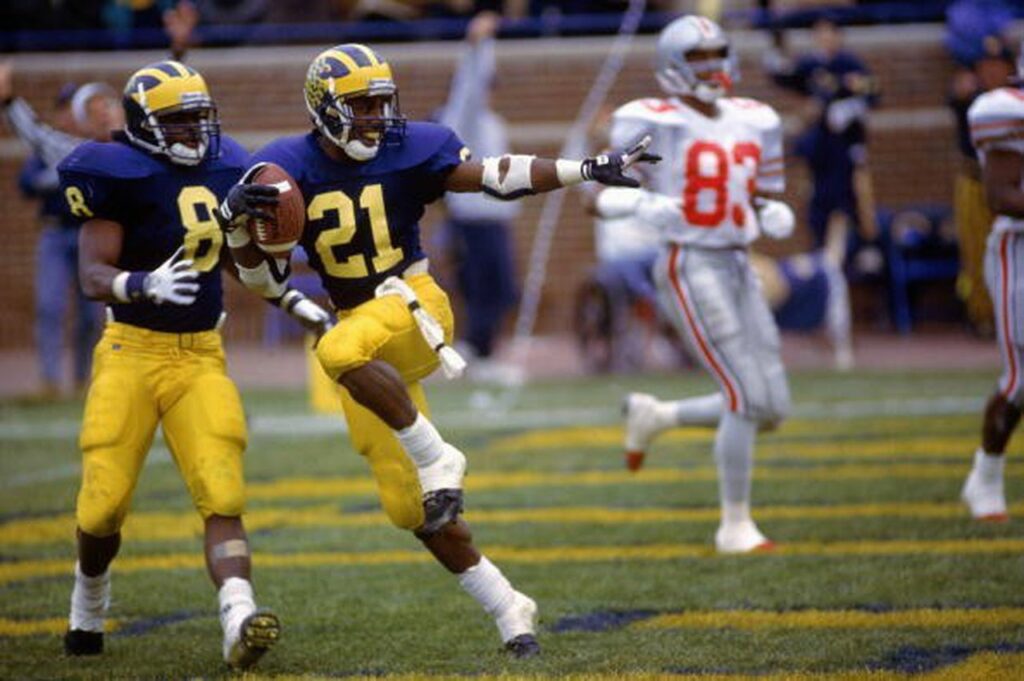 Remember last week when we hit that four-leg parlay? I do! Let's do it again! I've been spending a lot of time studying and watching a variety of games since my wife left me for the delivery guy and think I'm starting to get a real deep understanding of the real identities of these teams. Like my friends keep saying, her leaving is a blessing in disguise! So, let's keep those blessings coming and win some bets this week! Thankfully, without a family this year, I have more time to watch games and do my homework on picks while the rest of gamblers are spending time with loved ones. Advantage: McDude. Let's get to my six favorite games of the week, a three-pick parlay, and my dog of the week!
Ohio State @ Michigan – Line: THE OSU -8.5
The Buckeyes going for its ninth win in a row over the Wolverines. Nine in a row! At what point does this not become a rivalry anymore? After ten? Yes, Michigan is better this year than previous years. But Ohio State is still better. Much better. They should be able to win this one by double digits.
Pick: OSU -8.5 OSU 38 UofM 27
Wake Forest @ Boston College – Line: WAKE -4.5
It's all going to come down to whose defense can make stops in this game. I think it's going to be a close game but I like the favorites by 4.5 in a game that they should win. Boston College is better than most believe but Wake Forest is having their best season in a while and their leadership from Hartman should lead this to a victory, even in a shootout.
Pick: WAKE -4.5 WAKE 40 BC 30
Oregon St @ Oregon – Line: ORE -7
The Ducks got embarrassed by Utah last week, essentially ending their shot at the CFP. They should be out to hunt. I expect a big bounce-back game in rivalry week. Ducks on the pond. Bring them home. Yeah, that's a baseball thing but… Ducks win.
Pick: ORE -7 ORE 33 OSU 24
Texas A&M @ LSU – Line: TA&M -6.5
The Aggies defense can be scary. The Tigers are having a weird season. This isn't their year. I think the better team will come out on top here, especially when the spread is less than a touchdown. I like my odds on this one.
Pick: TA&M -6.5 TA&M 30 LSU 23
Oklahoma @ Oklahoma St – Line: OKST -4
I love the Cowboys right now. That defense is the real deal and the offense can put up points whether it's in the air or on the ground. They're a very complete team. With that being said, Oklahoma is one of the best programs in the country. They're probably more talented. But football is a team game. Cowboys come out on top!
Pick: OKST -4 OKST 31 OU 26
Texas Tech @ Baylor – Line: BAY -14
Texas Tech really struggled last week. Baylor continues to impress. I hate the big spread but have confidence that the Bears can pull it off against a TT team who continues to be inconsistent. The one thing I hate betting on? Inconsistency! I'm eating the points and taking the Bears.
Pick: BAY -14 BAY 35 TTU 20
Parlay: OSU -8.5, TA&M -6.5, and WAKE -4.5
Dog Of The Week: Michigan State +1 against Penn State. I think this could be a close game and is a fair spread. The Spartans were embarrassed against Ohio State last week. Like, badly. Mel Tucker needs to prove he's worth that money they're giving him. He needs this. They have a talented roster and should be able to do it, if they give Walker the ball more than five times…