Korked Bats Bowl Predictions: Week 2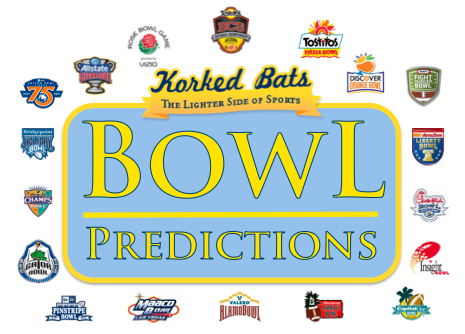 After going 2-2 in our first week of Bowl Game Predictions, we are becoming less and less of dependable outlet for predictions. However, we hope to change that this week with 7 new games to predict. You can thank us later. Not necessarily for predicting correct games, but for giving you something to read this time of year that isn't "Best Of 2010", "10 Ways To Slim Down For Your New Years Resolution", or "UConn Women's Basketball Winning Streak Is Better Than Mike Vanderjagt's Record For Most Consecutive Field Goals Made." Now, without wasting any more of your time, here is our Bowl Predicitons for Week 2 of this wonderful Bowl Season.
• • •
Bridgepoint Education Holiday Bowl
December 30, 2010
#18 Nebraska vs. Washington
Washington's reaction after becoming bowl eligible: "YAY! We're bowl eligible!"
Washington's reaction after realizing their playing Nebraska (again): "Well, [expletive]!"
Washington gets a chance for redemption from their 56-21 loss to Nebraska at home on September 18th. Let's be honest Washington probably doesn't want it. Not only for the fact that Nebraska is good, but they just don't want to be in the same vicinity of the man who is as ugly as his name sounds, Bo Pelini.
Korked Bats Pick: Washington, no we're kidding, Nebraska.
• • •
Auto Zone Liberty Bowl
December 31, 2010
Georgia vs. #25 UCF
Georgia is trying to avoid their first losing season in 14 years. UCF is located in Orlando. Georgia will probably start freshman QB Aaron Murray. Orlando is home to Walt Disney World. Georgia is a 7 point favorite (subject to change). The Tower of Terror at Disney's MGM Studios is a scary ride (not subject to change). I think it's pretty obvious who is going to win this game.
Korked Bats Pick: UCF, you just got PUNK'D! We're going with the upset!
• • •
Chick-fil-A Bowl
December 31, 2010
#20 South Carolina vs. #23 Florida State
This is a great coaching match up between the ole ball coach, Steve Spurrier, and the really old ball coach, Bobby Bowd… Wait. Bowden's retired. Crap! I've been waiting to use that joke since Spurrier left Florida and he played them every year. Ugh, fine. I'll try and come up with a joke about Jimbo Fisher's name. What a perfect time for a shameless plug: When I come up with this Jimbo Fisher's name joke, I'll tweet it from our Korked Bats Twitter Account at @KorkedBats. FOLLOW US!
Korked Bats Pick: Florida State, they'll win it in honor of all Indian mascot school's who aren't allowed to travel their mascots away from their home stadiums.
• • •
Capital One Bowl
January 1, 2011
#16 Alabama vs. #9 Michigan State
If you're a Sparty fan, you probably want the Tide to jump out to a 24-point lead, because the nation knows they can't hold on to one of those. Honestly, the Crimson Tide's last regular season game was like a game of NFL Blitz for Nintendo 64. No matter how much they got up, the computer made sure that Auburn came back, and in this case, actually won. It's a shame for Bama. When it comes to Michigan State, who shared the conference title for the first time in 20 years, this game will prove if they're for real or not. Because if they lose this game, they will probably be fake and disappear into thin air. Literally.
Korked Bats Pick: Alabama, don't give Nick Saban more than a week to prepare for a game (see: after every BYE week, regular season opener, every Bama bowl game under Saban*)
*-Minus the Utah game. That was as ugly as the band, Alabama.
• • •
Perfect Game Bowl
Monday Bowling League
Livin' On A Spare vs. A Split And Two Balls
Our bowling team, Livin' On A Spare, faces off against A Split And Two Balls this Monday night. Livin' On A Spare attempts their Ike Turner and go all strikes. If they can pull off this feat then they will have garnered the accomplishment of the Perfect Bowl. And hopefully move on in the Monday Bowling League playoff bracket to face the undefeated We Don't Give A Split.
Korked Bats Pick: We'll eat too much pizza and not obtain the perfect bowl.
• • •
Gator Bowl
January 1, 2011
#21 Mississippi State vs. Michigan
Michigan's defense is so bad, they could play no one on defense and have a better chance to win. Not to mention Denard Robinson will go out with an injury at some point around the middle of the 2nd quarter. He might return in the second half, but until Rich Rodriguez draws up a play that scores 21 points in one drive, Michigan will lose with this defense.
Korked Bats Pick: Anyone who is playing against Michigan's defense, in this case, Mississippi State.
• • •
Rose Bowl presented by Vizio
January 1, 2011
#5 Wisconsin vs. #3 TCU
Thanks to Kyle Brotzman, we don't get to see how Boise State would do against a major conference opponent (even though they are 5-0 in their past five games vs. a BCS opponent, but that's neither here nor there). So we'll just settle for the Texas Christian Horned Frogs to battle the Wisconsin Badgers. Jeeze, the Horned Frogs vs. the Badgers? I feel like this game should be played in Narnia. However, the outcome to this game won't be Disney friendly.
Korked Bats Pick: Wisconsin, it's going to be rough. You might want to put the kids to bed early for this one.
• • •
Tostitos Fiesta Bowl
January 1, 2011
UConn vs. #7 Oklahoma
I would like to say this will be a runaway victory for the Sooners, but then I remembered its a BCS Game and Bob Stoops doesn't know how to win BCS games. However, as long as none of the Husky football players are dating any of the Husky cheerleaders (those are two words that are really funny when put together… Husky cheerleader) and are planning on proposing anytime soon, I'd say fate is still in Oklahoma's hands.
Korked Bats Pick: Oklahoma, where the wind comes sweeping down the plains.
• • •