Korked Bats Bowl Predictions: Week 1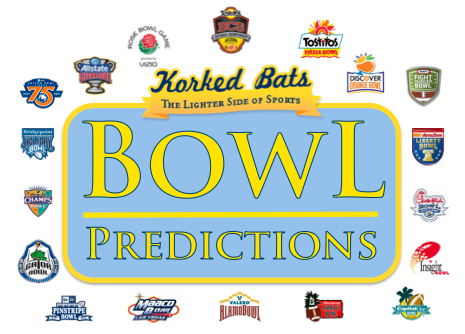 It's finally the most wonderful time of the year, non-conference play in the NCAA Women's College Basketball seas… Hahaha, I couldn't say that with a straight face. Let's get real, it's College Football Bowl Season. That time of year where everyone has an opinion and everyone thinks their opinion is right. Well, everyone is an idiot. Our opinion is right. And we have provided for you, our picks to every bowl game that features a ranked opponent (or AKA, every bowl game that is worth watching). So don't listen to that guy in accounting who was in the marching band in high school babble on about why Boston College is very underrated this year because he saw them play against Clemson earlier this year. That guy in accounting is an idiot. We have the best predictions/previews for the bowl games that matter. Enjoy.
• • •
MAACO Las Vegas Bowl
December 22, 2010
#19 Utah vs. #10 Boise State
This game has the makings to be a classic. It will be, without a doubt, the best December 22nd Bowl Game in probably the history of college football. This game features two powerhouses of conferences that get no love from the NCAA or college football fans. Other than the new episode of Modern Family on ABC, this will be the best thing to watch on Wednesday night.
Korked Bats Pick: Boise State, as long as it doesn't come down to a Kyle Brotzman field goal.
• • •
Sheraton Hawaii Bowl
December 24, 2010
#24 Hawaii vs. Tulsa
I'm going to be honest. I haven't seen one of these teams play… Not only this season but probably in the past three seasons. Since former Hawaii QB Colt Brennan went to the NFL, the Rainbow Warriors has been about as irrelevant in college football as Natasha Bedingfield has been in pop music. Don't believe me? They accepted a bowl invitation to this bowl game in mid-November and this game will be played in their home stadium. And Tulsa… Well, it's Tulsa. كيفية لعب بوكر
Korked Bats Pick: Hawaii, by default. They're playing Tulsa.
• • •
My Cereal Bowl
Tomorrow Morning
Cap'n Crunch vs. Special K Red Berries
This has probably been my toughest pick this bowl season. Do I "make it happ'n with the Cap'n?" Or do I stay healthy and try and lose 7 lbs. in two weeks with the "eat Special K for every meal" diet? It's the classic battle of good vs. evil, delicious vs. healthy, pirates vs. pilates. I have lost sleep over this decision. Literally. I wake up an hour early to decide what I'm going to eat for breakfast.
Korked Bats Pick: Special K Red Berries, simply for the fact that my girlfriend is coming to visit soon and I need to look good for her. العاب الخيول Don't judge.
• • •
Insight Bowl
December 28, 2010
#12 Missouri vs. Iowa
I'm not going to lie to you guys. I bet that a Midwestern team with black and gold/yellow colors wins this game. Book it. How are fans at this game going to tell the difference between each other? Because the overalls will probably cover up the team logo on their shirts. I apologize for cracking jokes at people from the Midwest. That's not fair. They don't deserve that. The people who deserve the butt of all jokes are the people of the Insight Bowl. افضل طريقة للربح في الروليت I'm pretty sure IBM's logo is better graphically designed than this logo. What is this, 1988? Do the teams have to travel to this game in time machines?
Korked Bats Pick: Missouri, because surprisingly, they are 10-2 and ranked 12th in the country.
• • •
Champs Sports Bowl
December 28, 2010
#22 West Virginia vs. North Carolina State
I can't really decide if this game would be better background noise while I take down Christmas decorations if it were a football game or a basketball game. Unfortunately for us, we don't have that option. But fortunately for us, we have the option to not watch this game. I'd be willing to bet TBS will be re-airing The House Bunny at some point during this game, so if you're a fan of Anna Faris, that might be where your TV should be set.
Korked Bats Pick: Anna Faris, for obvious reasons.
• • •
Valero Alamo Bowl
December 29, 2010
#14 Oklahoma State vs. Arizona
This game will is a big game for the Pac-10 Conference. A middle of the PACk (pun intended) team in Arizona versus a near Big XII South Champions team in Oklahoma State, or also known as, the Pokes. I'm sorry to get off topic, but whenever someone refers to them as the Pokes, I automatically revert back to Facebook and the ever popular/creeper feature on the beloved social media website. Is that just me? And if Oklahoma State are the Pokes, then the Arizona Wildcats are at least the Facebook Chats or the "Like" Buttons. Anyway, I forgot where I was going with this.
Korked Bats Pick: Oklahoma State, it's nearly a home game for them being in San Antonio, plus, you don't mess with the Pokes.
• • •
Stay tuned during Bowl Season to get the rest of our Korked Bats Bowl Predictions. If your team is ranked, we'll cover their game here in the upcoming weeks.