Kicker Tryout Finally Allows ESPN to Mention Jets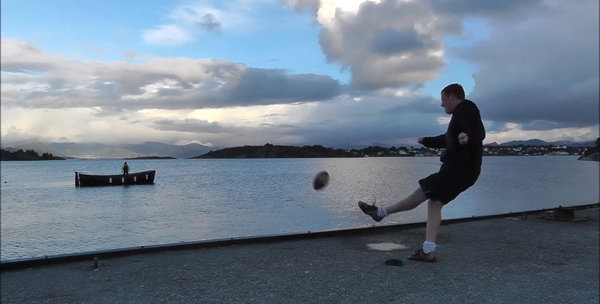 Havard Rugland, a native Norwegian, became an overnight sensation with his four-minute YouTube video, displaying his otherworldly kicking skills. The video became so popular that it garnered Rugland a tryout with the NFL's New York Jets. The news will finally allow ESPN to hold discussions around the Jets, whose exceedingly average season surely hasn't been the focal point of nearly every minute of ESPN's time all freaking season long.
This morning on ESPN's First Take, Stephen A. Smith shouted across the table at that old white guy, "It's just finally nice to start talking about the New York Jets. Since they haven't had a good season, and have only relied on a backup quarterback once, who is now injured, there's really been no other reason for us to bring them up every single day, so I'm glad we didn't."
Smith continued for seven minutes about how he was a personal friend of Rugland.
Smith's co-screamer on First Take, Skip Bayless, said he had to do research about who even played for the Jets, since there's "no way we'd sit here every day screaming back and forth about their players, especially backup players who rarely even get into the game. That would be a waste of time and insulting to our viewers."
After quite some digging, ESPN research intern Chris Vanderpas was able to find the last time ESPN mentioned the Jets. The exact time reads: every moment of every day, 2012.
Note: After publishing this, First Take's Rob Parker contacted us, questioning Havard Rugland's "Norwegian-ness" since Rugland isn't always ice skating around in a funny hat.
 • • •
This post was written by Kyle. You can follow his jokes on Twitter: @kyleayers
Also, be sure to follow Korked Bats and our sports related jokes on Twitter: @korkedbats