Kevin Sumlin Still Trying To Learn A&M's Quarterbacks' Names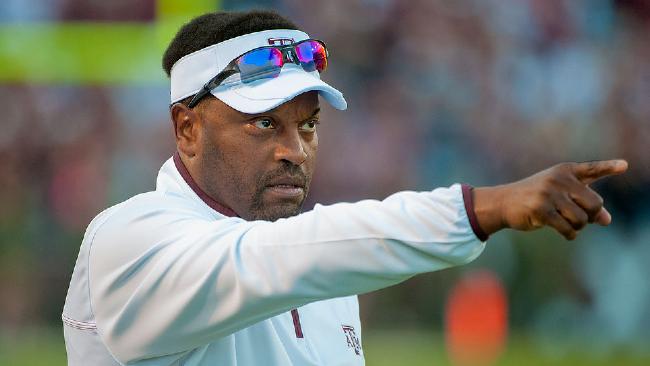 COLLEGE STATION, TX — Texas A&M Head Coach Kevin Sumlin has spent a majority of this offseason trying to figure out how he will replace former Heisman Trophy winner Johnny Manziel, leaving very little time to try and learn the rest of his quarterbacks' names.
"I think one of them is named Keith?" Sumlin guessed, while sitting in his office, covering the team's depth chart with his hand. "I know we have a quarterback named Keith."
The current listed-quarterbacks on the A&M's roster are named Kenny, Kyle, Conner, Kobe, and Jordan.
Sumlin admits he didn't really need to know any of his other quarterbacks' names while Johnny Manziel was enrolled at A&M. "I'd be lying if I said I knew ANYONE'S name other than Johnny's," Sumlin said. "I just walked around calling guys 'champ' and 'bud' and 'Not Johnny' all day, and it's worked for me."
Sumlin enters his first season as Texas A&M head coach without Johnny Manziel on the roster. "It's going to be difficult to replace Johnny," Sumlin said, while staring at a framed picture of him and Manziel on his desk. "Especially considering I was the one who gave him that 'Johnny Football' nickname, all because I couldn't remember his last name."
Projected starting quarterback Kenny Hill said, "I usually just respond to the name Keith now."
• • •
This post was created by Austin. You can follow him and his jokes on Twitter: @TheAHuff
Also, for up-to-the-minute sports jokes, follow Korked Bats on Twitter: @KorkedBats