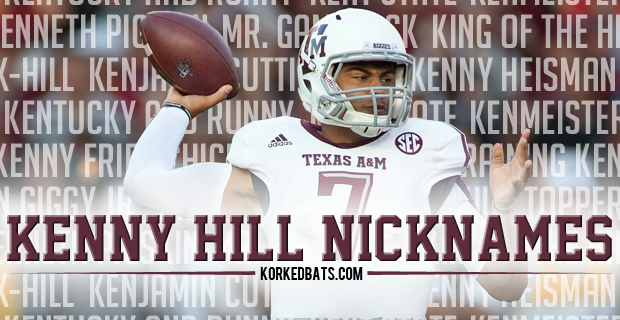 Last night, during the Texas A&M Aggies' manhandling of the South Carolina Gamecocks, everyone and their mother tried to give Aggies quarterback Kenny Hill the nickname "Kenny Football," which is weird, because most moms don't even watch college football. However, after the game, Kenny Hill admitted that he doesn't really like the new nickname. So we decided to come up with some better alternatives for him.
Kenny Football

He admitted he doesn't like this nickname. We need a new one.

Kenneth Pigskin

It's a tad more mature than Kenny Football.

Mr. Gamecock

Because last night, he became South Carolina's daddy.

Dr. Kenneth Noisewater

If Ole Miss QB Bo Wallace can have the "Dr. Bo" nickname, why can't Kenny Hill? موقع مراهنات رياضية


First And Ken

Because he's always moving those sticks.

KHill

This nickname is… actually, you know what? Scratch this one. It sounds too much like kill. And this sport doesn't need another Aaron Hernandez. لعبة 21

Ken Giggy Jr.

He's young. He's a phenom. And he's the second of his kind (Junior to Johnny Manziel).

Kenny Fried Chicken

Because he torches opposing defenses until they're extra crispy.

Kenny Football

No, guys. You're not hearing me. HE DOESN'T LIKE THIS NICKNAME! العاب قمار حقيقي Let's stop trying to force it.

Kenny Powers

If he's anything like Texas A&M's last quarterback, he drinks… A LOT! (h/t: @Mr_Krunkle)

It's Raining Ken

Hallelujah, it's raining Ken!

King of the Hill

Get it? Because his last name is Hill. That's all I have for this one.

Kenny The Jett

When he gets to the NFL, he'll sign an endorsement deal with P.F. Flyers.

The Curious Case of Kenjamin Cuttin'

His performance last night was Oscar-worthy.

The Snowflake from Southlake

He went to Southlake Carroll High School just outside of Dallas, TX… And he's ice cold.

Kenny Heisman

This is like Joey Harrington's "Joey Heisman" nickname. So, let's only go with this one if he DOESNT actually want to win the Heisman Trophy.

Kenny Football

Stop trying to make Kenny Football happen. IT'S NOT GOING TO HAPPEN!

Johnny Manziel's Replacement

This is probably what everyone in the country already knows him as.

Johnny Manziel's Designated Driver

This is probably what everyone in College Station already knows him as.

Kentucky and Runny

Because he's a scrambling quarterback… Ken tucks and runs… eh? No? Alright.

Sumlinsanity

He's like Linsanity, only a product of Kevin Sumlin.

Kenmeister

This is a nickname your "trying to stay hip" dad will LOVE!

Kenny "Da Bomb" Hill

Another nickname your "trying to stay hip" dad will LOVE!

Kenny Football

Fine. Do whatever you want. There's no se trying to fight it.
• • •
This post was created by Austin. You can follow him and his jokes on Twitter: @TheAHuff
Also, for up-to-the-minute sports jokes, follow Korked Bats on Twitter: @KorkedBats