The consistently troublesome Tennessee Titans wide receiver Kenny Britt was in handcuffs again on Monday night. bet365 casino Only these handcuffs were not applied by an officer of the law. Nope. These handcuffs were applied by Kevin Federline's ex-wife.
Kenny Britt was finally out of court and in Nashville night for the Britney Spears concert. We're not one to judge, but an NFL wide receiver was in attendance for a Britney Spears concert? Kenny Britt is obviously the Cris Crocker of the National Football League. Britney Spears usually pulls a random stranger from the crowd to give them a lap dance of sorts during one of her songs. (she's come a long way since the Mickey Mouse Club) At this concert, Britney just happened to pull a public enemy figure. When she pulled him on stage, it's safe to assume Spears thought Kenny Britt was a basketball player just based on all the court time he's had in the past year.
Usually, Kenny Britt is used to carrying the Titans on his back, but since the league is still technically locked out, he has resorted to carrying Britney Spears on his back answering his critics that question if Kenny has been working out this off season. طريقة لعب البلاك جاك
Some horny guys reading this right now are probably thinking, "Man. Kenny Britt is so lucky. He's a star. But he cry, cry, cries in his lonely heart thinking, if there's nothing, missing in my life, then why do these tears come at night." And to answer your question, those tears probably come from posting a 5-11 record last season.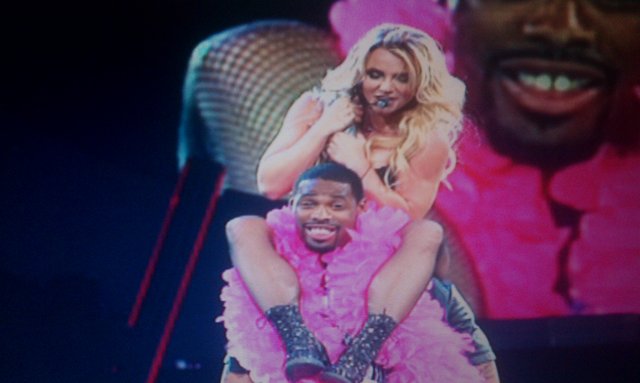 Yes, these two stars may be extremely different. ألعاب لربح المال One produces hits and the other gets hit. One drops albums, the other drops balls. One is the second coming of Madonna and the other is a prima donna. However, they do share one thing in common: feedback. Kenny's criticism for his off season troubles was very similar to the feedback Britney got for her movie Crossroads.
"Naive and amateurish in both the negative and positive sense of these terms." -Emanuel Levy
"Yuck! It stinks!" -My 5-year old cousin, Kevin
All in all, is the nation's public surprised to see Kenny Britt getting a lap dance on stage from Britney Spears at her concert? No. In fact, we'd be surprised if Kenn Britt didn't get a lap dance on stage from Britney Spears at her concert. We'd also be surprised if Kenny Britt stayed out of the headlines for wrong reasons before the 2011 NFL season begins.
No word on whether Britney Spears shaved her head after the concert or not.