Yesterday, the Iowa Hawkeyes ended the No. 6 Purdue Boilermakers's seven-game winning streak by by beating them, 67-65. But this wasn't the most shocking news from yesterday's game…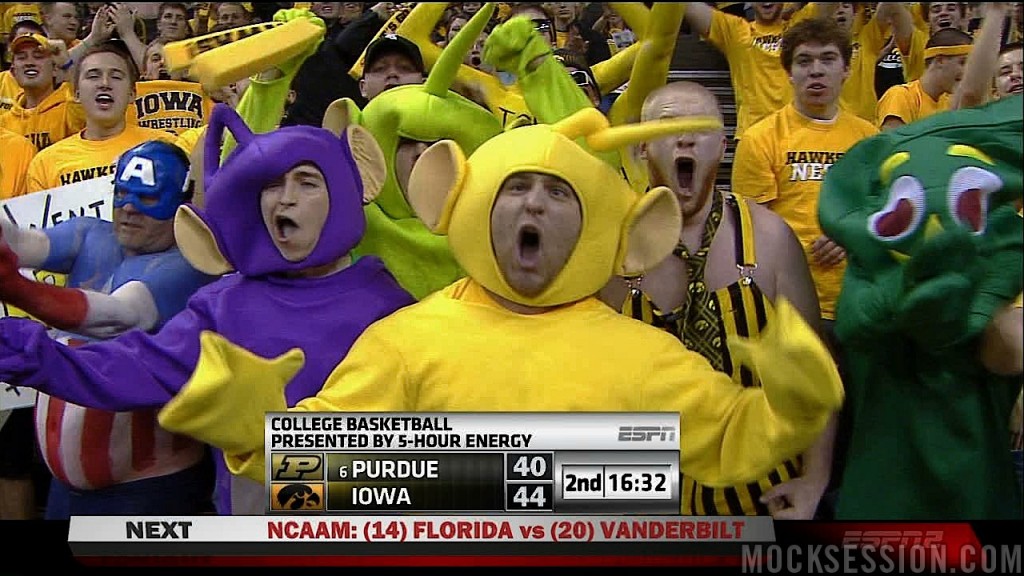 With 16:32 left in the second half of the game, those of us who were watching ESPN learned a fun fact. Apparently, Captain America, Teletubbies Tinky Winky, Dipsy, and Laa-Laa, Hans from The 'Burbs, and Gumby all have court-side seats at Carver-Hawkeye Arena. This seems like a group of characters that could only be conjured up in the mind of Charlie Sheen. The only persons that seem to be missing are TaeBo instructor Billy Blanks or Krumm from Aaahh!! Real Monsters.
So many questions come to mind when I saw this. For one, I know times are rough and the economy is bad, but did Captain America really have to switch from wearing clothes to painting his uniform on? Not to mention, it might be time for Captain America to see a Personal Trainer America. His Global Gut appears to be larger than the Agrocrag. But then again, that is pretty symbolic that Captain America is obese.
Next, we've got all the Teletubbies in attendance at this game. All of the Teletubbies except one. Where the heck is Po?! I bet it was that dadgum baby face sun. That thing is always giggling like it just got away with murder. Gah! How could those three Teletubbies just leave Po like that?! They probably left him at home in their Windows standard desktop background looking TV set. Those inconsiderate Teletubbies.
Third, this game was presented by 5-Hour Energy?!
Also, forget the fact that Hans from The 'Burbs is wearing a tie without a nice undershirt, did anyone notice his new haircut? When he was starring along side Tom Hanks in the classic 1980s film, you might have noticed that his hair was a bit longer. He probably cut it because it was red. Now, I'll be honest, at first, I was a little surprised to find Hans at an Iowa game, but after going back and watching The 'Burbs, I realized it'd be weird if Hans was in any state other than Iowa.
And finally, there was Gumby. I actually don't have any questions as to why Gumby was at this game. In fact, I'm really quite surprised Gumby doesn't go to more sporting events. He's usually just into horse racing.
You know they always talk about all the celebrities at Lakers games, but people never really talk about all the celebrities at Iowa games. It's only that Iowa gets the celebrities after they fall out of relevancy. That's right, celebrities that have fallen out of relevancy don't go to heaven, they go to Iowa. It's as though they get lost in the corn fields. Yes, that was a subtle reference to Field of Dreams, which took place in Iowa. See? Iowa isn't just a giant Russian hat for Missouri or an obnoxious roadie goatee for Minnesota. It has importance too. I mean heck, A.C. Slater nearly went to college at Iowa. Remember? He got a scholarship offer but didn't want his dad to find out that he didn't want to go to West Point. I think the dialogue went something like this: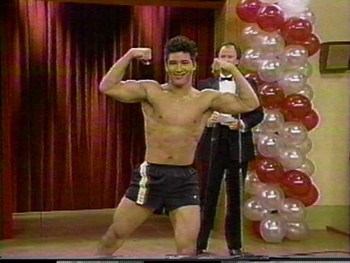 Zack: Come on Slater, tell him the good news…Iowa.
Major Slater: Iowa?
Slater: I owa Zack ten dollars. Can you give it to him?
Major Slater: Is that good news?
Zack: It is to me.
Classic. But then A.C. Slater decided to go to Cal U. with the rest of his buddies from Bayside. However, I can't figure out for the life of me why he would choose Cal U. over Iowa? (sarcasm)