Jose Canseco Sends Virtual Hugs To A Fake Tebow
The only person having a tougher week than Tim Tebow, is Jose Canseco. And that's only because every week of Jose Canseco is terrible. Honestly, if his Twitter account is any indication, Jose Canseco's life is more miserable than premise of Sophie's Choice. However, I'm sure that all turned around for Jose when he saw he had received a tweet of encouragement from Tim Tebow.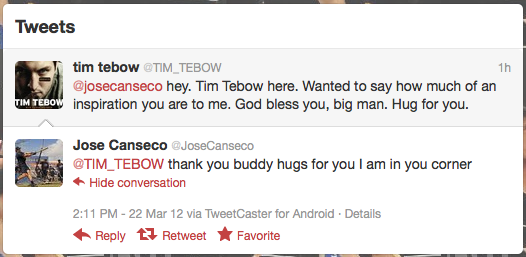 Unfortunately and unsurprisingly, this tweet was not sent from the real Tim Tebow. In fact, just by looking at the spelling in the Twitter handle, (Tim is spelled with a lowercase L in replace of the I) you can tell that this is not the new Jets quarterback. But besides that obvious fallacy, just two tweets before the tweet sent to Canseco, this fake Tebow wrote: "Having a noodle sandwich for lunch." A noodle sandwich? Let's get serious. No REAL human being would ever eat a noodle sandwich. That right there should've given it away. But I'm sure Jose took one too many home run balls off the noggin to realize any of this.
To get into the more-mysterious-than-Narnia mind of Canseco, check him out: @JoseCanseco
To get into the eating-noodle-sandwiches fakeness of Tim Tebow, check him out: @TlM_TEBOW
• • •
This post was created by Austin. You can follow him and his jokes on Twitter: @TheAHuff
Also, for up-to-the-minute sports jokes, follow Korked Bats on Twitter: @KorkedBats