Johnny Manziel Celebrates Touchdown By Killing Opposing Team's Player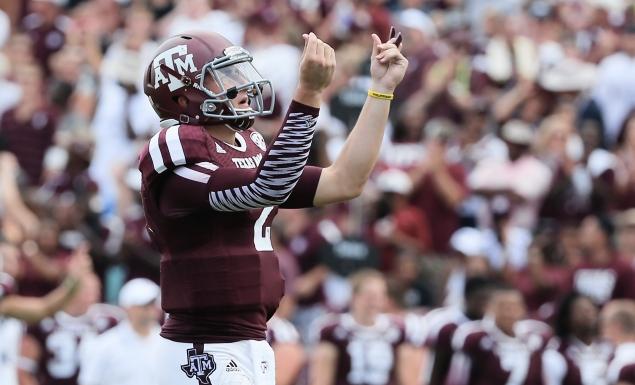 COLLEGE STATION- This past Saturday during Texas A&M's big win, former Heisman Trophy winner and current starting quarterback Johnny Manziel scored a touchdown and proceeded to celebrate by killing one of the players on the opposing team.
The touchdown put Texas A&M up 37 points with :16 seconds left on the clock, and the opposing team's player was pronounced dead on the field.
"I took him out immediately. We do not stand for unnecessary penalties like that here at Texas A&M," head coach Kevin Sumlin said. "I know there was only :16 seconds left on the clock, but if he would've done that in the 1st quarter, I would've taken him out then too… at least until the offense took the field again. بوكر عربي I mean, come on, he's Johnny Football!"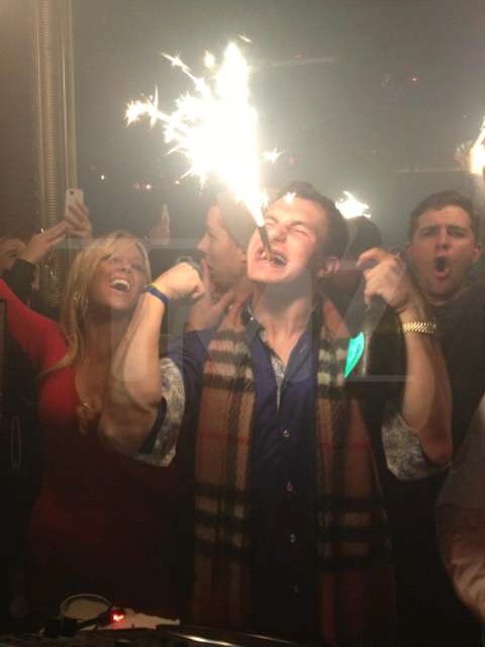 After his 6th rushing touchdown of the day, Manziel began to celebrate. He pulled a Sharpie out of his sock, signed the football, accepted what appeared to be $400 cash from an unidentified man on the sidelines, and proceeded to punt the ball into the stands. A teammate then handed Manziel one of his famous sparkler cigars. Simultaneously, another teammate placed a smoking jacket over his shoulder pads. Manziel lit the cigar, took three puffs, and put it out on one of the opposing players. That opposing player caught fire immediately and began running around the field. Although, that player wasn't the one who died. He is currently in the hospital recovering from third degree burns and humiliation.
After lighting the one player on fire, Manziel continued his antics by running to the coach's wives section of the stands and making out with Mrs. لعبت بوكر Sumlin.
"That was extremely inappropriate of him. I was pissed," Sumlin sternly exclaimed.
"But what are you to do? The kid is in college. Boys will be boys," Sumlin laughed.
After three minutes of open mouth kissing his coach's wife, Manziel got her number and proceeded to run over to midfield. It was there where he proceeded to perform a 15-minute magic show.
"I wasn't even mad by this point anymore," the opposing team's coach said. "I still have no idea how he pulled my car keys out of the inside of his helmet."
Manziel asked for a volunteer from the other team. He brought one of the opposing players to midfield, where he began to saw the player in half.
But that's not the player who died, because like we said, it was part of the magic show. العاب بلاك جاك "How did he saw me in half? I have no idea! That guy truly is magic on the field!" the opposing player who was sawed in half said.
Afterwards, Manziel began trotting back to the sideline. But he wasn't done yet.
A helicopter with Manziel's face surrounded by flames and lightning bolts painted on it came flying in from above the east side of the stadium and landed at midfield. Manziel hopped into the helicopter and began shooting hot dogs to fans out of a hot dog cannon.
"I'll be honest, at this point in Johnny Football's celebration, I was getting hungry. Johnny's cockiness and swagger had already gotten me hyped, but when he started shooting hot dogs at us, I lost my mind," said Braden Fentress, a Texas A&M junior and one of the fans who caught a hot dog.
Then, Johnny directed the helicopter pilot to swoop the chopper right above the opposing team's bench. He shot three hot dogs from point blank at one of the players, knocking him out. However, that was not the player who died. Well, actually, he might be dead. He hasn't woke up from his coma yet.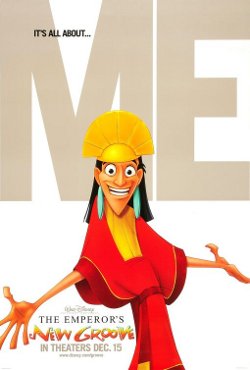 Shortly after, Manziel spent the next few moments, riding around on a motorcycle with fireworks shooting off behind him, and Sister Hazel blaring from the stadium's loud speakers.
He followed up his touchdown celebration by performing a monologue scene from the movie The Emporer's New Groove, Manziel's favorite Disney film according to his teammates.
"I chewed him out on the sidelines," Sumlin said. "And when he refused to tell me how he pulled that coach's car keys out of his helmet, I chewed him out even more."
The murdered opposing player died from the mini-rap concert Johnny Manziel performed with Drake in between the magic show and the helicopter hot dog stunt. During the show, the lights in Kyle Field went black and the wheeled-out mini-stage was lined with strobe lights and smoke machines. Without any epileptic warnings, the opposing player suffered a seizure. However, it wasn't the seizure that killed him. Shortly after Manziel's New Groove monologue, Manziel ran over to the new player to "check on him." He then stuck a sideways thumb out towards the crowd. The bloodthirsty A&M crowd began shouting, "KILL!" Manziel then gave a thumbs down and stabbed the player to death.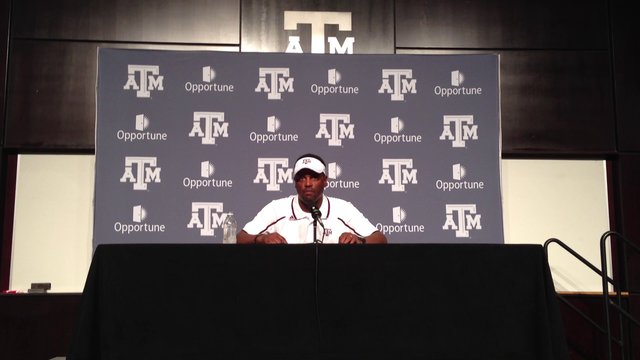 "In hindsight, we probably shouldn't have shown Gladiator as the pre-game movie," Sumlin admitted.
When all was said and done, A&M was penalized 15 yards for taunting and 5 yards for delay of game. Surprisingly, Johnny Manziel was not ejected. Head referee Harold Brent said he did nothing that broke the guidelines for the NCAA's new targeting rule.
Media members had various reactions to Manziel's in-game circus. Some loved it, while others hated it.
"They need to change the taunting rule. Let me get this straight. The NCAA can entertain thousands of people by using the players, but when the players try to entertain, they get flagged? It's ethically immoral," ESPN college basketball analyst Jay Bilas said.

"This is almost as bad as that time he did the autographing the air motion in the Rice game. It's completely embarrassing. And I played at Pitt, so I know embarrassing," ESPN college football analyst Mark May said.

"Hugs to u, johny footbal," Jose Canseco tweeted.

"His celebration reminds me of when I played tennis, a sport I can't relate to anything, which is perfect for an analyst," Fox Sports 1's Andy Roddick added on Fox Sports Live… or so we heard. We were watching SportsCenter.

In his online column, ESPN's Jason Whitlock wrote, "What if Johnny Manziel was black?"
Before the conclusion of the post-game press conference, Coach Sumlin added, "Also, our thoughts and prayers are with the player who lost his life today." Followed by, "Oh, and one more thing, HOW ABOUT THEM AGGIES, BABY?! WOOO!"
Texas A&M would not make Johnny Manziel available for comment after the game.
• • •
This post was created by Austin. You can follow him and his jokes on Twitter: @TheAHuff
Also, for up-to-the-minute sports jokes, follow Korked Bats on Twitter: @KorkedBats