Jared Lorenzen Is Still Overweight
…There, I said it.
And don't look at me like that. We were all thinking it. In fact, just when you thought the former Kentucky Wildcats starting quarterback and Super Bowl Champion couldn't get any bigger, he shows up in the news playing for UIFL's (yes, UIFL, the ULTIMATE Indoor Football League, not UFL) River Monsters at 300+ lbs. Although, on the River Monsters' roster, the Pillsbury Throwsboy is listed at 290 lbs. His weight is two-hundred and ninety pounds? Yeah, in his BRA!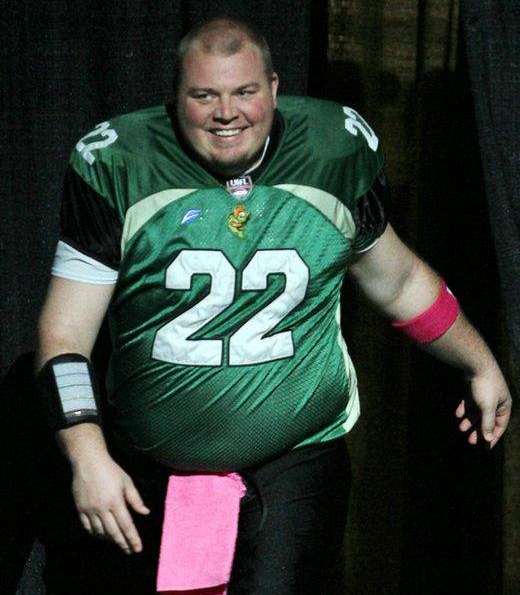 He may be big, but apparently the Hefty Lefty can still play. That's why he has beached resurfaced into the news again. He leads the league in passing yards (256.6 yards per game), efficiency (107.1 rating), and he ranks second in the league with 69 touchdown passes. Don't believe us?
Check out this video of He Ate Me scrambling in the pocket and then running over helpless defensive backs.
He honestly runs around like Rosie O'Donnell used to when she would go looking for a cookie before taping The View.
The River Monsters are 10-2 on the season and are in first place with two games left in the season. Cincinnati.com has this quote from J.Load on the recent success of the Northern Kentucky team:
"We're still doing things the right way," said Lorenzen. "… I think the fans are getting behind us."
Obviously, the River Monsters' fans are behind you, Jared. It's because the can't get around you.
We know you're all dying to find out if the Northern Kentucky River Monsters can pull out the regular season crown in the league. Because keep in mind, this is the ULTIMATE Indoor Football League. Not the Mediocre Indoor Football League.
So we'll do our best to keep you updated on the Quarter(got)back, the only quarterback in the sport who wants onion rings just as much as he wants Super Bowl rings.