I Can't Stop Thinking About That Picture of Bill Belichick Eating A Footlong Sub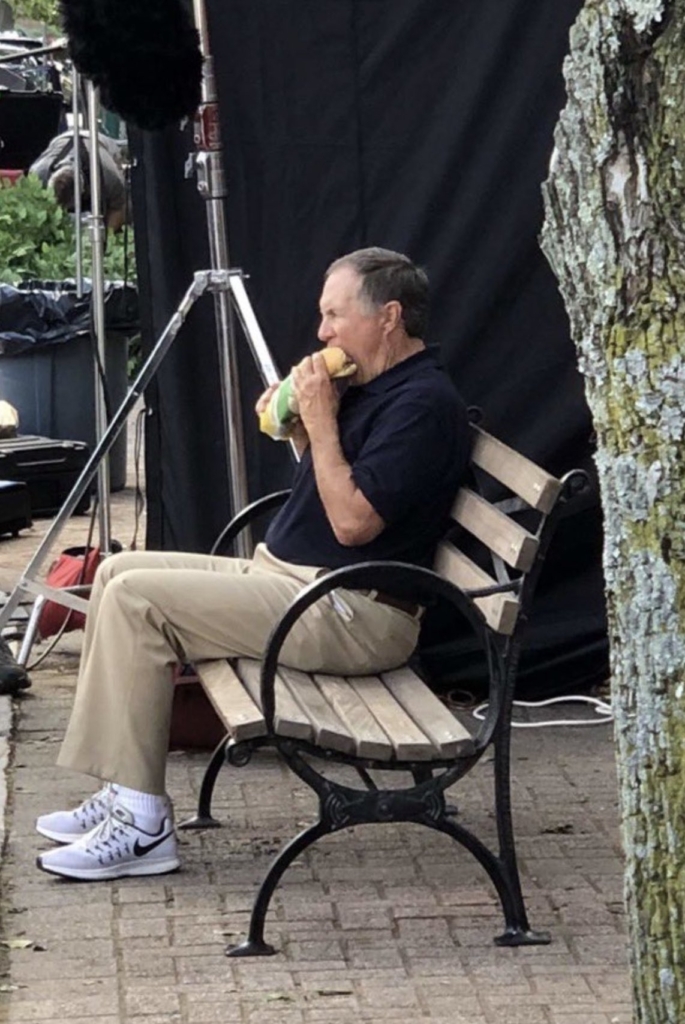 Last week the above photo went viral, and I (like I'm sure many) stopped whatever I was doing and stared at this thing for 16 minutes straight. At first, I didn't know Bill was shooting a Subway commercial and just thought someone caught the Hoodie in public, scarfing down a footlong on a park bench, making this a modern day blurry Bigfoot photo. Or a Picasso.
But then I realized this is all just part of a Subway commercial he's shooting. I was so mesmerized by the greatest coach in NFL history stuffing his grill with a hoagie as if he hadn't eaten since the playoffs in public that I didn't even realize the lights, wires, and commercial shooting equipment in the background. Then again, I should've assumed Bill has cameras near him anywhere he goes.
Unlike many of you, however, I haven't been able to stop thinking about this thing. Commercial or not, it's mesmerizing. I've thought about it every day since. An NFL legend just slamming a sub like he's Happy Gilmore. I'm sure if I ever found a similar photo of Vince Lombardi, it would affect me in the same vain.
My marriage has suffered. My friendships have suffered. My work life has suffered. All because I consistently lose focus whenever this photo pops into my brain. Which it does like 15 times a day.
Frankly, I can't understand why more people aren't hung up on this photo? How can we, as a society, move on from this so quickly? I get it, we moved on from Tiger King (a story about a gay illegal tiger owner who was married to not one but TWO straight dudes who plotted to murder a rival tiger owner who may or may not have killed her husband and fed him to tigers) in like two weeks. We talked about Kim Jong-un dying and coming back to life for like 3 days. And we gave the CIA ADMITTING THERE ARE ACTUAL UFO'S IN THIS WORLD like a day's worth of attention. But this photo is weirder than all three of those things combined and we just moved on from it without talking about it much. Like it was the launch of Quibi.
What makes this so weird is that it's Bill Belichick. Not just the most disciplined coach in the sport, but also the most buttoned up and private. We know less about Bill Belichick than we do any other human on earth. And that includes David Blaine. And here he is, in broad daylight stuffing a Cold Cut Combo down his gullet like some sort of normie. With sleeves still attached to his shirt I should add. Is this a new Belichick? Is this a Bill Belichick in the post-Tom Brady era? We all know Brady changed the second he left New England and got out from under Belichick's shadow: Howard Stern interviews, arrests for breaking and entering, eating nightshades. Lol, jk on that last one. He'll never eat a nightshade. Do you realize how unhealthy tomatoes can be?!
So maybe this is Bill doing the same? Or maybe he's just doing this commercial because Subway paid him piles of cash to promote the return of the $5 Footlong (which is slightly less than what the Patriots paid for Cam Newton). Which, side note, the $5 footlong is the ultimate football guy meal. It's fast. It's filling. And you can eat it while you breakdown film. I just hope Bill Belichick's Subway commercial is better than the Watt family's.
Also, I always just thought Bill was a peanut butter and jelly guy.