What. Up.
Today is my birthday and guess what? I'm going to party like it's my birthday.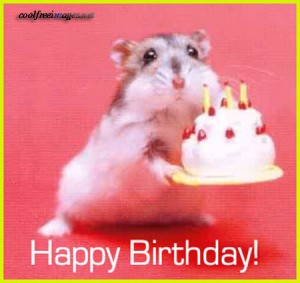 For my birthday I would like a few things to happen in the sports and regular world.
One. I would like Alex Rodriguez to stop dating Madonna and Cameron Diaz and start dating me.
Two. I would like the NFL Lockout to hurry up already and end.  I mean, what kind of lockout takes this long to actually end?  I am tired of waiting.  Let the locking out cease.
Three. I would like President Obama to play a game of basketball against LeBron James.  I think that would help both of their campaigns.  If LeBron can't take the heat, then he should get out of the kitchen. (pun unintentionally intended) (what?)
Four. I would like people to care about my ability to rap Nikki Minaj's songs.  I am better than both Taylor Swift and Selena Gomez combined.  Ask me to prove it.
Five. I would like the WNBA to hand out free iPads at each one of their games.  Not only would the games be more interesting, but I think more people would attend. I know I would. If they offered this promotion, they'd at least nearly sell out the lower bowl of all stadiums.
Six. I would like Justin Timberlake to stop dating Jessica Biel and Cameron Diaz and start dating me.  And I would also like Justin T. to be on SNL more often.  Especially in a one piece bathing suit and dancing to any Beyonce song.
Seven. I would like Beyonce to be at my birthday party. Especially in a one piece bathing suit and dancing to any Beyonce song.
Eight. I wish that Erin Andrews would accept my friend request on Facebook.  And I also wish that she would accept that a redhead is about to take her place in the sports world in which she has previously dominated.  (Erin Andrews, if you are reading this, please know that I think we would make a great team, but you know that I have to stir up some drama.  Nobody wants to see two girls get along. Friends for life? Cool.)
Nine. I would like the Oregon Ducks to win the Super Bowl this year.
Ten. I wish that the movie, Independence Day was real.  I wish that aliens were invading the planet and that Will Smith and Jeff Goldblum were the heroes and that for some reason they also asked for my help.  I wish that more than anything in the whole world.  (This is a mild exaggeration, but only a mild one.)
Thanks for getting me each and every one of these things.
You won't be sorry.