Giants Owner John Mara Whining About "Taunting" In The NFL Is Almost As Bad As The Story's Comments Section
Look at this dweeb.
Wait, sorry. Don't flag me for taunting Giants owner John Mara, who recently met with the media and voiced his displeasure with the NFL and the taunting that's in the sport. My man's butt cheeks were probably clenched tight enough to turn coal into diamonds during this entire presser. And since he's a member of the competition committee, the league is now cracking down harder on "taunting." You know, because grown ass men shouldn't have their feelings hurt. Now, you can read "taunting" as "rubbing it into your opponent's face" or you can read it as how it will probably be called this season, which is by "showing any emotion after a big play."
This feels a lot like baseball's unwritten rules. For years, people tried to keep the game in a boring little box. But now the game is getting flashier, and frankly, more entertaining. Unfortunately, since the NFL is top dog in America, no one will criticize the sport near as bad as they did with baseball.
Unless of course, you hit up a comment section.
So I did. I wanted to see how people feel about this new rule. Unfortunately, however, the comment sections are a cesspool. If you think Twitter is bad, you should check the comments. Actually don't. I just went ahead and pulled some for you. I'm not gonna say which news outlet I pulled these comments from, but let's just say it rhymes with Mox Mews. And naturally, with any comment section, you have your typical blatant stereotyping and just straight-up racism. But with these people commenting under usernames, I felt no need to share any of those (and sadly, there were a lot), because we don't need to be fueling any more of that in this country – or anywhere on earth. With that said, here are some of the comments from this story:
[divider][/divider]

I'm sensing sarcasm.
[divider][/divider]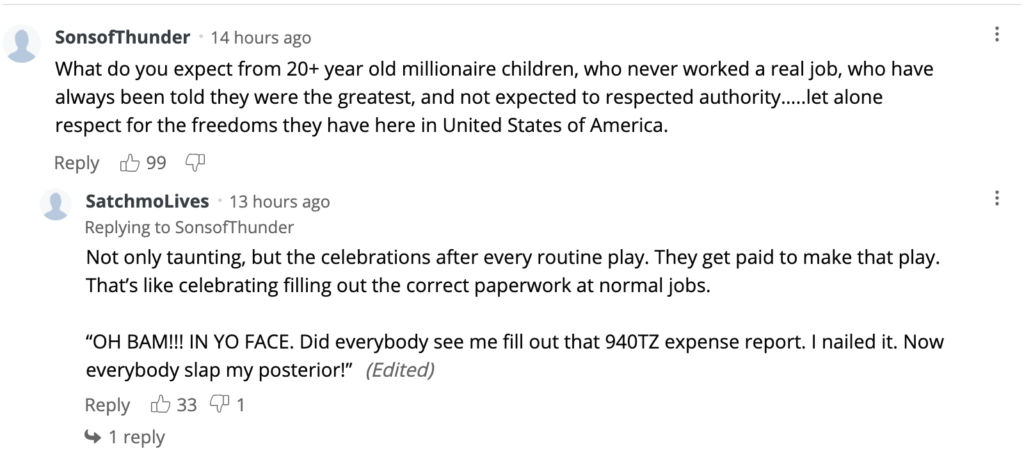 In my decade-plus spent in sports talk radio, this remains one of my biggest pet peeves. The argument callers would make of "I couldn't do that at MY job!" Uhhh, yeah, Gary. Because you work in accounting. You don't have millions of people wanting to watch you do your job either, because the only talents you have are crunching numbers and working in Excel, you doofus.
I also hate how people always bring the money argument of how much these guys get paid into the argument. How insecure are you to bring that up as argument #1. But let's dive into this a little more later.
[divider][/divider]

Ok, I'm not exactly sure what this means.
[divider][/divider]

I'm gonna go out on a limb and say that the taunting today is a little more serious and abrasive than "we're gonna beat you guys."
But I'm also with magruder. Who the hell won? I bet it was Mitchell. They're always good, and plus, one of their players said they were gonna beat you guys.
[divider][/divider]

13%? That's such an oddly specific percentage of players. Did you crunch those numbers yourself?
[divider][/divider]

Not sure how this comment relates to anything in the story about the NFL cracking down on taunting, but ok.
[divider][/divider]

These guys need more classes.
[divider][/divider]

Wow. This person must really like taunting. To the point where it was added to their list of reasons why they're done with the NFL.
Also, wouldn't you only really need one reason to be done with something? Maybe two? Like I don't keep adding things to the reason why I dumped my ex-girlfriend in college. And even if I did, I don't think I would make said list over 400 reasons deep. That's when we enter coo-coo bird territory.
[divider][/divider]

Again with the "at my job" talk. Your job at Home Depot isn't the same as playing defensive back for the Minnesota Vikings. Quit comparing what you do to the incredible skill and talent of what professional athletes do. You are expected to act professional at your sales job? Probably because you are 1000% replaceable at your sales job. Why? Literally, anyone on earth can get into sales. Not everyone can be a professional athlete.
Second, here's that "paid millions" argument again. So the more money you get paid, the more robotic you have to act? And based on that logic, does that mean teachers – who get paid nothing – are allowed to act however the hell they want? Can they break the rules because of their low payscale?
[divider][/divider]

Someone might want to sit down Robert Anthony for this one, but here are the most-watched television programs over the last decade: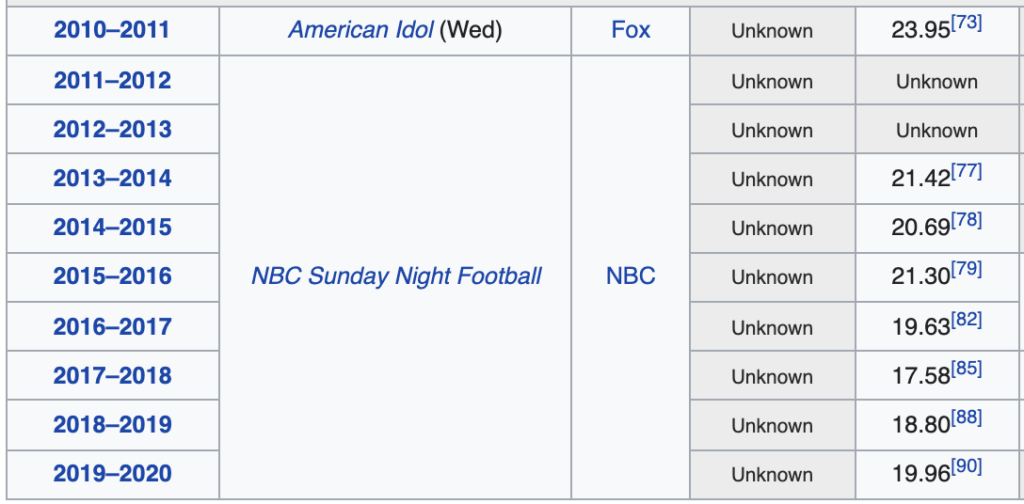 [divider][/divider]

Sick burn, JonesRick.
[divider][/divider]

Ok, this is actually funny. And probably true.
[divider][/divider]

Look, my man doesn't even care about John Mara, the NFL, or taunting in sports. He's just sick and tired of that damn Tucker Carlson pop-up ad and needed to vent about it to someone.
[divider][/divider]

Ok, what the hell does this even mean? Grouper, did you even think about this joke before typing it?
[divider][/divider]

This one made me laugh out loud. Maybe John Mara should consider buying a jump rope team if he doesn't want to see taunting in the Nancy Football League.