Friday Morning Quarterback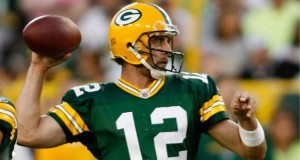 Many writers have taken the "Monday Morning Quarterback" approach to critiquing players, coaches, and teams in the NFL. It's nice to have 12-hours to process what happened on the field of play and explain how, if we were overpaid to coach or play a game as grownups, we would have made ZERO mistakes.  But here at Korked Bats we are progressive. We don't think you should wait until the next morning to get our opinion of the latest happenings in sports. And we'll give you the going rates of other insurance companies before you buy from us. While some take 12 hours to react, my goal was to take only 12 minutes.  That's why I'm happy to present to you the "Thursday Night Around Midnight Quarterback That You'll Most Likely Read Friday Morning" (subtitle: while I'm sitting on the toilet and listening to post-game coverage).
Here's a full breakdown of tonight's NFL 2011-2012 season opener between the Green Bay Packers and the New Orleans Saints.
Big winner: Aaron Rodgers. As if things for this guy couldn't get any sweeter, we learned tonight that a) Rodgers hit his first hole-in-one during the off-season b) He proved he didn't have to organize lockout workouts to continue his dominant ways c) He is making beards cooler for the rest of us d) He can get his team out of situations thicker than Herm Edwards' eyebrows.
Big loser: Sean Payton. I tweeted last night that for a coach that is considered to be so smart, it sure is peculiar that he takes the ball out of his MVP quarterback's hands and puts it into the hands of an unproven rookie (I promise it was less than 140 characters and had a healthy sampling of hashtags).  If Payton wants to be known as Bill Belichick Jr., he's going to need to start making decent calls, bark more at members of the media, and cut off the sleeves of his hoodies.
Biggest surprise: Randall Cobb. This rookie out of the University of Kentucky (yes, they have a football team. I looked it up) scored two electrifying touchdowns and made all other NFL teams think "crap, we screwed that draft up."  Seriously though, Cobb made everyone remember why we love football, and it didn't take long.
Biggest mistake: The missed touchback call on the last punt of the game.  Because I'm writing this less than an hour after the game ended, I don't have a YouTube link for you.  But trust me, the call was wrong.  Our good friend @PeytonsHead tweeted this gem just after the game ended:

Funniest moment: When Saints TE Jimmy Graham scored a touchdown late in the fourth quarter to get the Saints within 8 of the Packers, he decided that was a good time to mimic Aaron Rodgers' championship belt celebration.  Nothing says "I'm humbled and excited to have my chance to play in the NFL" like mimicking the reigning Super Bowl MVP's touchdown celebration when you're losing in the fourth quarter on the road.  I see a bright future for the genius Jimmy Graham.
If this was a sign of the season to come, we're going to have a lot of hits, touchdowns, crazy fans, and laughs.  Especially geared towards the Bengals.
P.S. I may or may not be out of toilet paper now…
• • •
Special thanks to our friend, @PeytonsHead for his usual witty humor.  Follow him on Twitter.
This post was written by Bryce. You can follow his musings about sports, life, and #whitegirlproblems on Twitter: @brycestuck
And also, for up-to-the-minute sports jokes, follow us, Korked Bats, on Twitter: @KorkedBats