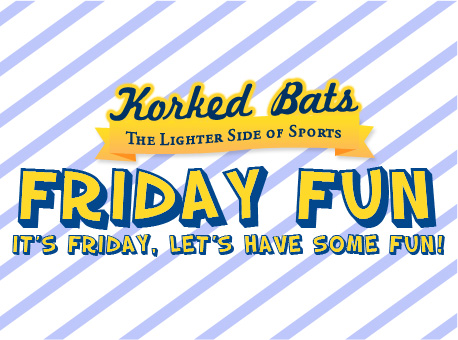 Well, today's Friday Fun isn't as relevant as it used to be… But hopefully, you'll still find it funny. It's like when someone comes up to you asking if you've heard the joke about the horse walking into the bar. Yeah, you've heard it before, but still listen to it just in case the person delivers it a little better. If not, then you never have to hear it again from that person.
The same is true with this video. We've been working on this since the day the video was released. However, as many of you have heard, Korked Bats has been extremely busy lately. We interviewed ESPN's SportsNation host Michelle Beadle. That interview will be going up very soon, so stay tuned. Not to mention, our writers, Austin and Frank got interviewed on News Channel 5's SportsLine earlier this week. Big things have been happening with Korked Bats, so we apologize for the untimely release of this video.
Now, I know you read these posts looking for a joke, so here's a joke:
As of today, April 23rd, Casey Clausen still hasn't been drafted in the NFL.
Now, enjoy this video: