Frank Haith Leaves Tulsa For Binghamton Job
BINGHAMTON, NY — Almost a week after leaving the University of Missouri to become the next head coach at Tulsa, Frank Haith has agreed to become the next head coach at Binghamton University in southern New York.
Haith, who has made an uncomfortable amount of job changes over the past 3 years, explained his decision to leave Tulsa at his Binghamton press conference this morning. "I just felt the time was right for me to leave," Haith said. "I believe we're going to do some real damage in the Atlantic Ten Conference." An advisor then leaned over and whispered in Haith's ear. "Excuse me, the America East Conference." Haith said, correcting himself.
Haith, a guy who often times gets mistaken for a school's I.T. guy, was introduced at the press conference by Binghamton Athletic Director Patrick Elliott. "We are thrilled to welcome Frank Haith as the next head coach of the Binghamton Bearcats. We're hoping Coach Haith will help put Binghamton on the map," Elliott said. "I mean that literally. Binghamton, New York isn't on Google Maps. We believe Frank can change that, mainly because he looks like the kind of guy who is good with computers and stuff." Other Binghamton officials claimed it was like they hired a celebrity to be their head coach. "We used to see him all over the news for getting in trouble with the NCAA," one official said. 1xbet "He's the first person at Binghamton who has ever been on TV."
Tulsa's athletic director Dr. Derrick Gragg was notified of Haith's departure via text message. "Frank sent me a text notifying me that he felt it was time for him to explore his options," Graggs said. "I understand that Tulsa is a pretty boring town, but the guy was here for less than a week."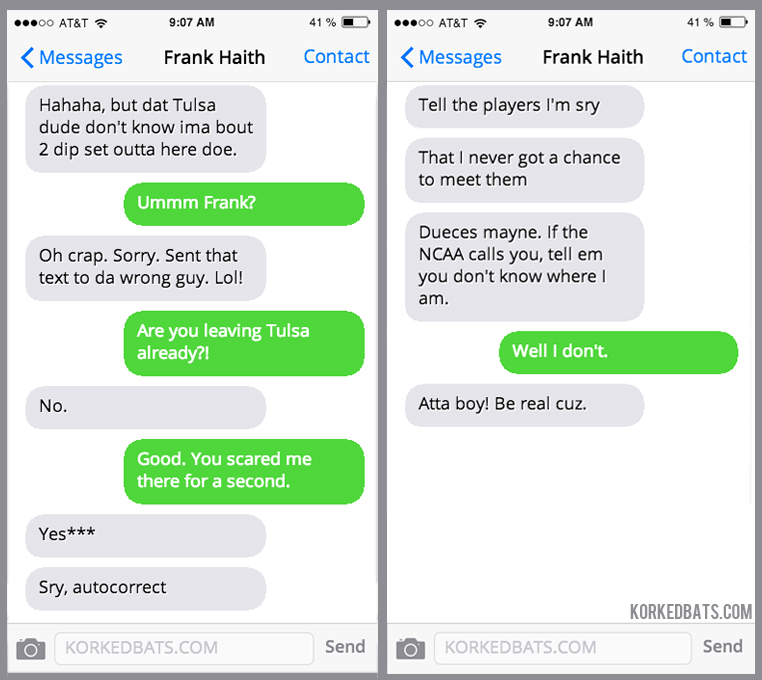 While many believe Binghamton is a step down from Tulsa, Haith assures everyone that it's not. "Seriously? You think Binghamton isn't a better job than Tulsa? العاب على الهاتف ! That would be like saying coaching my son's church league team is a step down from coaching college basketball." Haith said. He continued by adding that Binghamton is considered by many to be one of the nation's elite basketball schools, often time referenced with the likenesses of Duke, North Carolina, Kentucky, or Tulsa.
Haith later added, "Plus, I gotta keep finding new work before these schools fire me, ya know? رهان كرة القدم !" Haith truly believes that if his career continues to "skyrocket like it has been over the past week," he'll be coaching the Miami Heat by next Thursday.
• • •
This post was written by Austin. You can follow him and his jokes on Twitter: @TheAHuff
And also, for up-to-the-minute sports jokes, follow Korked Bats on Twitter: @KorkedBats