Everyone's Favorite Player Is The Backup QB… Except For The Titans Who Just Signed Trevor Siemian
The Tennessee Titans are at it again. With their latest move being summed up in one tweet:
This all started earlier this week when it was reported that the Titans are bringing in Trevor Siemian and Deshone Kizer for workouts. Yay. How exciting. :-| That to me is like saying you're renting Home Alone 3 and Home Alone 4 to see which one you want to buy. It doesn't matter if one of those is slightly better than the other, they're both pretty bad. But apparently now the Titans have signed Home Alone 3.
Trevor Siemian?! No offense to Trevor Siemian, but he's Trevor Siemian. Seeing the Titans sign him to fill their backup quarterback vacancy makes me want to take a sledge hammer to my computer, buy all new parts, take the time to learn how to build a brand new computer on YouTube or something, build said new computer and then take a sledge hammer to that one.
The backup quarterback for the Tennessee Titans is the most important position in all of sports. Even more so than the Bengals punter. Mainly because the backup QB for the Titans has either made or broken the entire season over the last two years. العاب قمار مجانا Think about this. Two years ago, they had Blaine Gabbert as their backup. When Mariota was ruled out for a win-and-your-in game in Week 17, ol' Blaine got the start. And played amazing!!!! Lol, jk. It's Blaine Gabbert. Of course he sucked. The Titans lost and missed out on the playoffs. The very next year, the backup Ryan Tannehill took over much earlier in the season and we all know how that went. With a complete Chip and Joanna type rebuild and a trip to the AFC title game. الربح الحقيقي So forgive me if I carry a lot of stock in this position for the Titans, but everyone should.
And now looking ahead: Ryan Tannehill isn't exactly the healthiest quarterback of all time. He's essentially the guy from Operation with a helmet on. And without a lightbulb nose. He's Mr. Glass without the wheelchair. And with Mariota in Vegas getting drooled all over by Gruden, the Titans don't have the backup QB that makes you feel confident in your team chances if (and probably when) Tannehill goes down. The current Titans backups were Logan Woodside (it's ok if you don't know him, he went to Toledo) and Cole McDonald (the white dude with dreadlocks from Hawaii). Unfortunately, however, Cole McDonald was cut today. Rough year for Titans QBs from Hawaii.
RIP in peace to Pineapple Man at Titans games. Can't imagine what he's going through today. What a rollercoaster of emotions 2020 has probably been for him. He sees Mariota bounce and probably hangs up the pineapple suit in the back of the closet. Then during the Draft, the Titans select another Hawaiian. "Honey! BRING ME MY PINEAPPLE SUIT!" And now here we are again, with him hanging it up yet again while sobbing.
All I'm saying is the Titans need to invest into their backup quarterback. And when I say invest, I don't mean settle. Which it kinda appears they've done. But as I've said before, I believe you shouldn't be critical without providing a solution which is why I'm here to tell the Titans who they should've signed…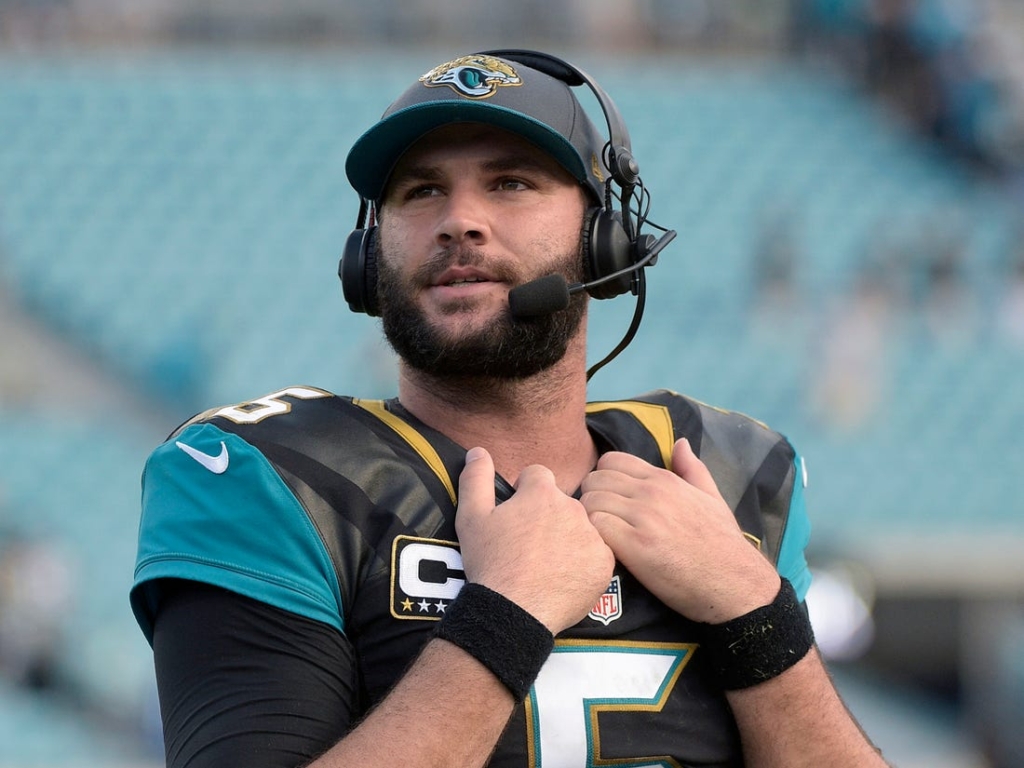 Look at that man in all his glory. Tell me he wouldn't look like a hoss in two-tone blue. Now look, I understand some hesitation towards Blake Bortles. But compared to the "Kroger grocery aisle during a threat of snow" bare list of quarterback free agents, he's Joe Namath.
This is a guy who is an extremely servicable backup. He's a couple years removed from an AFC title game appearance. Plus, he's extremely familiar with and has had success within the AFC South. How could you NOT want Bortles as a backup?
The only other options I'd suggest are to have Brett Kern play backup QB or just bring back Charlie Whitehurst mainly because he was just easy on the eyes. قوانين لعبة بلاك جاك
Or just let Derrick do the job.