Eckstein's Wife Is A Nerd
San Diego Padres shortstop David Eckstein's wife, Ashley, is a nerd. Not only because she is married to the tiniest guy in baseball who crow-hops his throws from shortstop to first, not only because she has appeared in a couple episodes of That's So Raven, but it's for another reason.
That reason being because she has started a clothing line for female Star Wars fans.
The clothing line is called Her Universe and it's target market is those girls that guys don't talk to anyway. This clothing line now helps girls accept that fact by outwardly showing their Star Wars fan hood without forcing guys to find out halfway through the first date or by the end of the date when they're invited inside her apartment. So in a sense, thank you Ashley. Now we don't have to wait for a girl to make a joke about picking he up in a pod racer for us to realize she's a Star Wars nerd. Instead, we can just understand automatically when see her wear this shirt: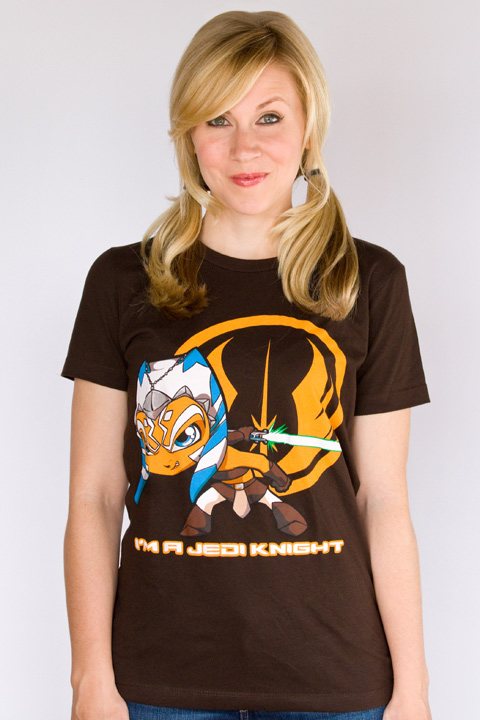 I'd be the first to admit that I'm not one to judge. There are a ton of things about me that are weird. However, when Ashley begins to compare her line of clothing to that of Alyssa Milano's in a recent radio interview with XX 1090 in San Diego (courtesy of SportsRadioInterviews.com), I have to put my foot down:
Kind of what Alyssa Milano did with her female line for baseball fans called Touch, I'm doing that for female sci-fi fans.
Ashley, you really can't compare sexy Major League Baseball apparel for women with girl's Star Wars t-shirts. That's like comparing a unicorn with a donkey, a whipped cappuccino with a juice box, or Jennifer Aniston with Roseanne Barr. They are completely different on many levels. The only thing that is similar about these two is that their clothing lines for women. Although, calling female Star Wars fans women is debatable. But that's neither here nor there. When girls like baseball, it's awesome. When girls like Star Wars, it's… weird.
You may think I'm being a little harsh here, but Ashley will in fact agree that she and her husband is a nerd.
I think it's actually kind of cool to date a dork.  Watch The Big Bang Theory – that's what that show is about. And all these so called geeks, I mean, I'm the first person who's going to say that I'm a geek, and David is the first person who's going to say that he's a geek. I mean we are the two of us total geeks and we'll be the first to admit it. But it's like there was such a stereotype before and girls didn't even give these guys a chance, but at the end of the day the guys that are the geeks are extremely smart, they're just good guys. So I think girls are looking past this stereotype and realizing there's this whole untapped market of good guys out there and I actually challenge girls even if you're not a Star Wars fan, wear one of my Star Wars shirts out one night into a bar or a club and see how many numbers you get, see how many times you get hit on. Because wouldn't a guy think that's hot to see a girl with a Star Wars shirt on."
Don't get sucked in, ladies. If you're attractive then yes guys will ask you about your shirt, but I guarantee you they will know nothing about Star Wars, even though they will pretend to. Heck you could wear a Lifetime Original Movies t-shirt, and guys will pretend to know about it.
But honestly, guys, you can't begin to tell me that you would be able to date a girl who is obsessed with Star Wars like Ashley Eckstein. When asked about her favorite piece of memorabilia in their house, Ashley didn't say David's World Series MVP Trophy or something cool like that, instead she said:
"Actually it's probably my lightsaber, but it's his bat that they made into my lightsaber. So they painted his bat to look like Osaka's lightsaber. We did a charity event last year with the Padres and we raised like $5,000 for the Boys and Girls Club of San Diego and the Padres Foundation and they had the team sign it and the cast sign it and it's literally David's bat as Osaka's lightsaber, so that's probably my favorite piece. We have Star Wars collectibles all over the house."
I'm sorry… What?! Her favorite thing in her house is her lightsaber? What is she seven-years-old? Does she go around playing with it in their living room? One of guys' favorite things about girls, and trust me on this one, I speak with intelligence because I am, in fact, a guy, is the fact that girls are… well… girly. Star Wars is not very… well… girly. And Star Wars is in no way sexy. When I am talking with or thinking about girls, I don't want any conversations or images of Yoda to show up. I'd like to keep those two separate.
However, the San Diego Padres are in first place in the National League West Division. So I guess I can't make fun of the Eckstein family for being too nerdy. Even though if David were a character from Boy Meets World, he'd be Minkus, he is a nerd who is strangely athletic and dominant in sports. And when a nerd is athletic, you are forced to automatically gain respect for them. It's in the guy's code book.
Ashley has been able to equate her husband's team success to one thing:
"I sense the force is strong with the Padres. They have a great group of guys and they believe. They just believe. And I see the fans in the stands and I think they believe as well. That's the thing about the force, if you just believe, honestly that' just half the battle believing you can do it."
Ok, forget everything I just said. The Ecksteins are NERDS!