Eastbay Is Dead, RIP In Peace To A Real One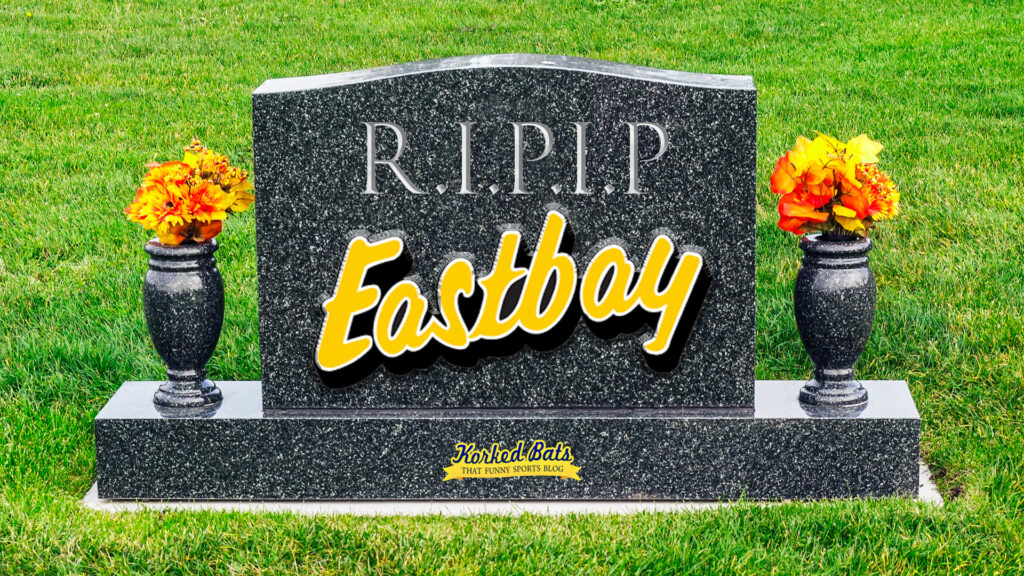 A beloved name in sporting goods will soon be no more. Eastbay, a company whose mail catalog became a favorite of sports fans across the country, will reportedly cease operations in 2023. According to Wisconsin Public Radio, 210 workers will be laid off as part of the closure in Wausau, Wis.—the same town where the company was founded in 1980. Evolving from a small regional venture into a nationwide powerhouse, Eastbay began selling its own line of clothing in 1990. The company offered jerseys, jackets and other paraphernalia in team colors, as well as an array of sneakers from Nike, Adidas, Converse and other companies.

via Sports Illustrated
Every year at Christmas time, I always feel a little older. I feel a little more of my childhood dying. It's the sad reality of growing up. But that feeling was expedited even more this year with the news that Eastbay is closing at the end of the year.
Shot. To. The. Heart.
Now, admittedly, I did absolutely nothing to keep Eastbay alive. I've never once made a purchase from Eastbay, whether it be online or the more popular option, via their catalog. But you can bet your ass I read the hell out of that catalog every single time it came to my house. Cover to cover. Item to item. I read it more thoroughly than any book assigned in school. If we had to do book reports on the quarterly catalog, my grades would've been high enough to get me into Harvard. From the sports jerseys to the baseball equipment to the sneakers that were way too overpriced. At least according to my mom. So I may not have bought much, but man, did I browse. With Eastbay, I was the epitome of the customer in the mall who told retail workers, "No, thanks. I'm just looking." And if just browsing could raise stock prices, I would've single-handedly turned Eastbay into GameStop.
The catalog was nothing more than a picture book to give me ideas for Christmas. I'd hang onto each catalog for months, circling the top gifts inside that I wanted. And circle I did. There was no modesty in the amount I circled. A Tracy McGrady Houston Rockets jersey? Why not? Sure, I have no connection to Houston and don't even like the Rockets. But with that Eastbay catalog, anything was possible. The world was my oyster. A Derrick Lee Cubs jersey? I'd wear it! What about an Emmitt Smith Cardinals jersey? That'd be dope! Ya know why? Because it's featured on the pages of an Eastbay catalog.
So to Eastbay, the Victoria's Secret catalog for young boys, thank you for the many years of hope and capitalism. You were a real one. And now, a little more of my childhood is dead.