Ladies.  Have you heard about Joe Namath?
Last night was the first time I had really heard about Joe Namath.  He was a very successful quarterback.  He played for Alabama in college and then played professionally for the New York Jets.  He was even inducted into the Pro Football Hall of Fame in 1985. Impressive, Right? Yes. Handsome, Right?  Yes.  Would you maybe let New York Jets Quarterback version of Joe Namath kiss you?  Yes.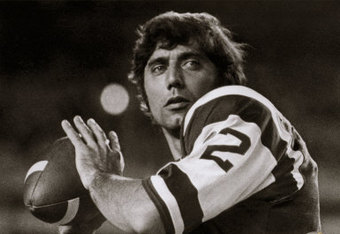 Twist: His nickname is "Broadway Joe."
Broadway Joe? For a professional football player? Why you ask? Because Joe Namath has a sensitive side.  Outside of throwing around the pigskin, he likes singing, he likes dancing, he likes getting his West Side Story on.
Joe Namath might have seemingly had it all together on the football field and holding guest spots on random A-Team episodes, but the "Ladies Man" side of Joe Namath doesn't necessarily know how to "play it cool" off of the field.
I wanted to make sure that you had the full story on Mr. Namath before you started mapping out his local hangouts in the hopes that if he sees you enough times he will be certain to ask you to date him. Please watch this video before you make any final decisions on what your answer would be.
Ladies (and honestly Gentlemen too), it is important to remember that if you are conducting an interview with Joe Namath he might forget about the camera and start to lean in for whatever he can get.  It is important to note that he has done this before and he will do it again.  He at least looks like he moves slow enough for a person with reflexes slightly faster than Stephen Hawking to be able to get away without looking too rude.  It's also good to notice that he is just stating a fact, he is not asking.  He may, in fact, make the announcement twice and then give a little shout out for his fellas to know that the wolf is on the prowl.
If you have read this article and watched him lean in to poor Ms. Suzy Kolber and are still okay with Joe Namath planting a wet one on you, that is understandable, he was a quarterback.  I just want to make sure that you knew that this was not his first race around the track as they say and you probably won't be his last.