Did Theo Epstein Step Down As Cubs GM To Ultimately Join A Nashville MLB Expansion Team?
Pretty shocking news to start the day.
I mean, damn. Did Chicago sell its soul to the devil for that Cubs World Series? Because right now it feels like the devil is coming to get his. No city has had a rougher 2020 than The Windy City. Check this: The Cubs and Sox get eliminated in the Wild Card round, the Bears have absolutely no offense – currently 5-4 after starting 3-0, the Sox fired Rick Renteria for that 76-year-old, anti-bat flipping Tony La Russa, like a week later Tony La Russa was ousted for getting a DUI earlier this year and telling the cop he's a "Hall of Fame baseball person," the Blackhawks were gentlemen swept in the first round of the Cup playoffs, the Bulls are, well, the Bulls, and now this… Theo Epstein, the only man to bring a World Series title to the North Side in over a century, is stepping down.
Woof.
Why is he stepping down? Who knows? Many assumed he was taking the Phillies or Mets GM gig. But apparently that isn't the case. Epstein said he wanted to take the following year off and he was looking forward to not clocking in to a Major League Baseball stadium everyday for the first time in 30 years.
Ok, good for him, I guess.
But then Bob Nightengale dropped this nugget.
*record scratch*
Say what now?
Did you say Theo Epstein plans to take a year off and then could emerge with an ownership group or even a potential expansion franchise like Nashville???
Three words: oh. hell. yes.
If you follow Korked Bats, then you know I've been a big proponent on the potential of MLB coming to Nashville. I've blogged about how the team working to make it happen have added names like Justin Timberlake and Eddie George. Ultimately, I think its somewhat of a long shot – and still do – and even if it happens, I think it's no less than 5 years away (but probably more).
BUT!
The fact that they're getting some big names behind the project only helps turn heads. Plus, when has being a long shot ever stopped anyone from moving to Nashville before?
And also, maybe Theo knows something we don't? Maybe he wants to be part of something new? Maybe he has a thing for pedal taverns? I don't know. All I know is this would be awesome if it happened.
BUT! (again)
And this is a much BIGGER but than the one before it. You need to understand the source of this tweet: Bob Nightengale. Bob doesn't exactly have the greatest track record of reporting on baseball. Please follow along.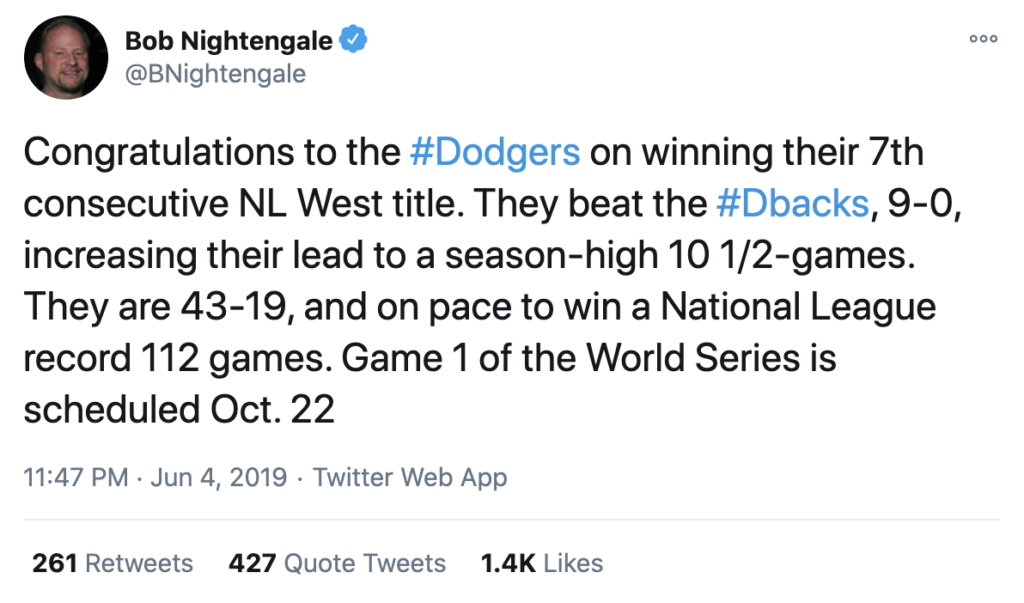 The Dodgers lost in the first round of the playoffs that year.
[divider][/divider]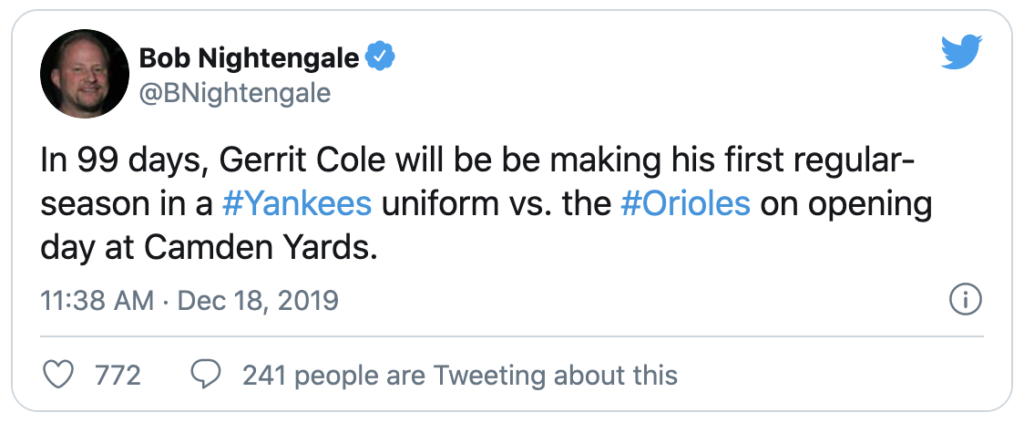 Coronavirus happened. Gerrit Cole did not make his first regular-season start in a Yankees uniform until about 8 months later.
[divider][/divider]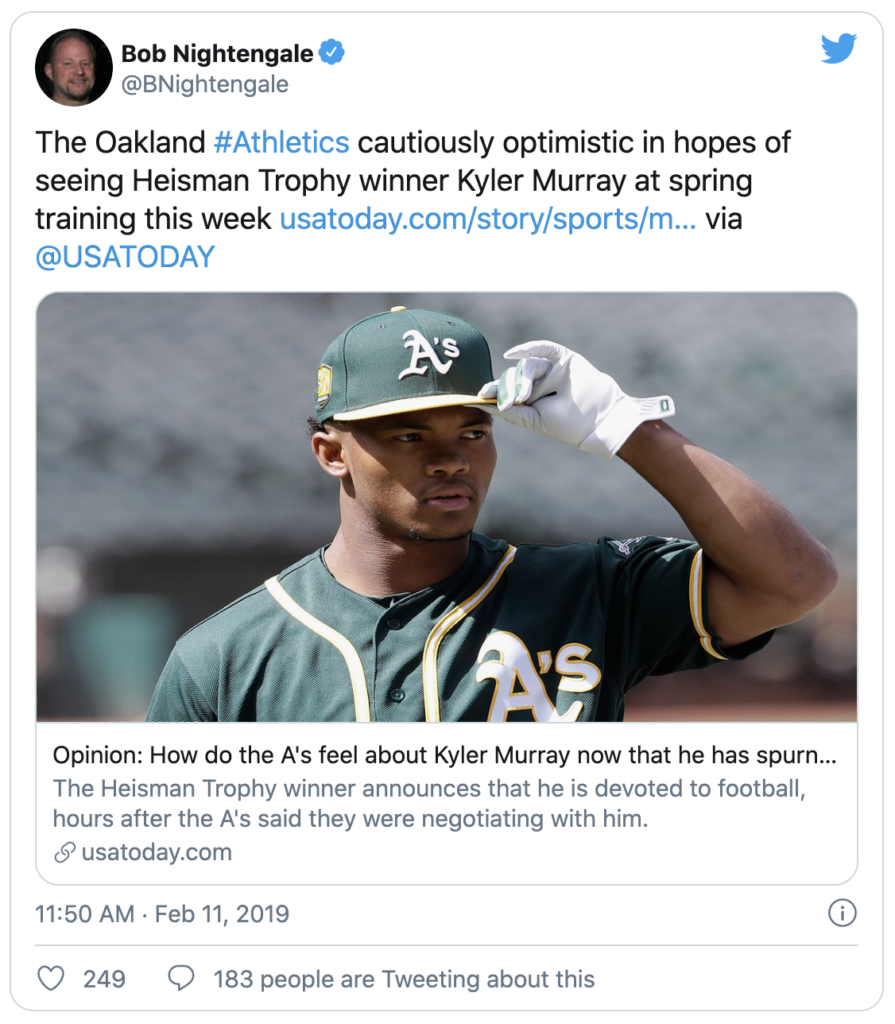 Literally three minutes later, he followed that tweet up with this tweet: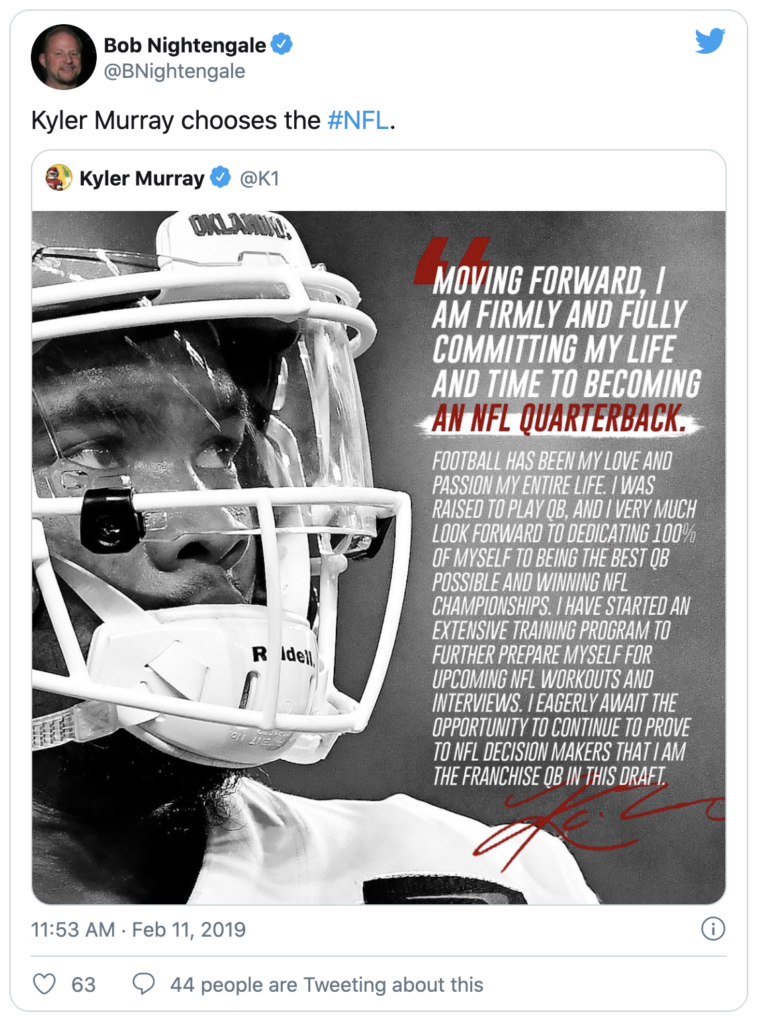 Three minutes later! Kyler Murray chose the NFL 180 seconds after Bob wrote a story about how he was probably going to choose baseball.
[divider][/divider]

5 years later, Javy Baez is still a Chicago Cub.
[divider][/divider]

SPOILER: Edwin Encarnacion did NOT go to the Rays.
[divider][/divider]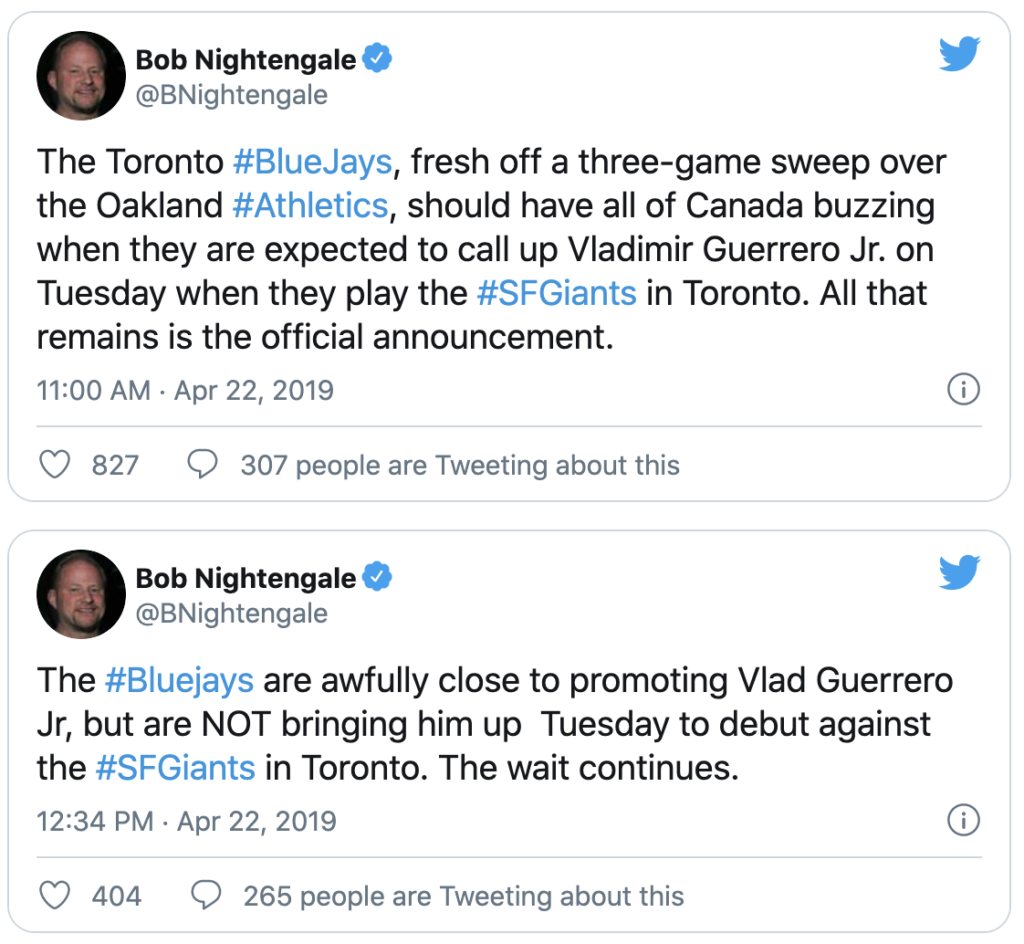 Check the time stamps. An hour and a half later Bob had to renege his own report.
[divider][/divider]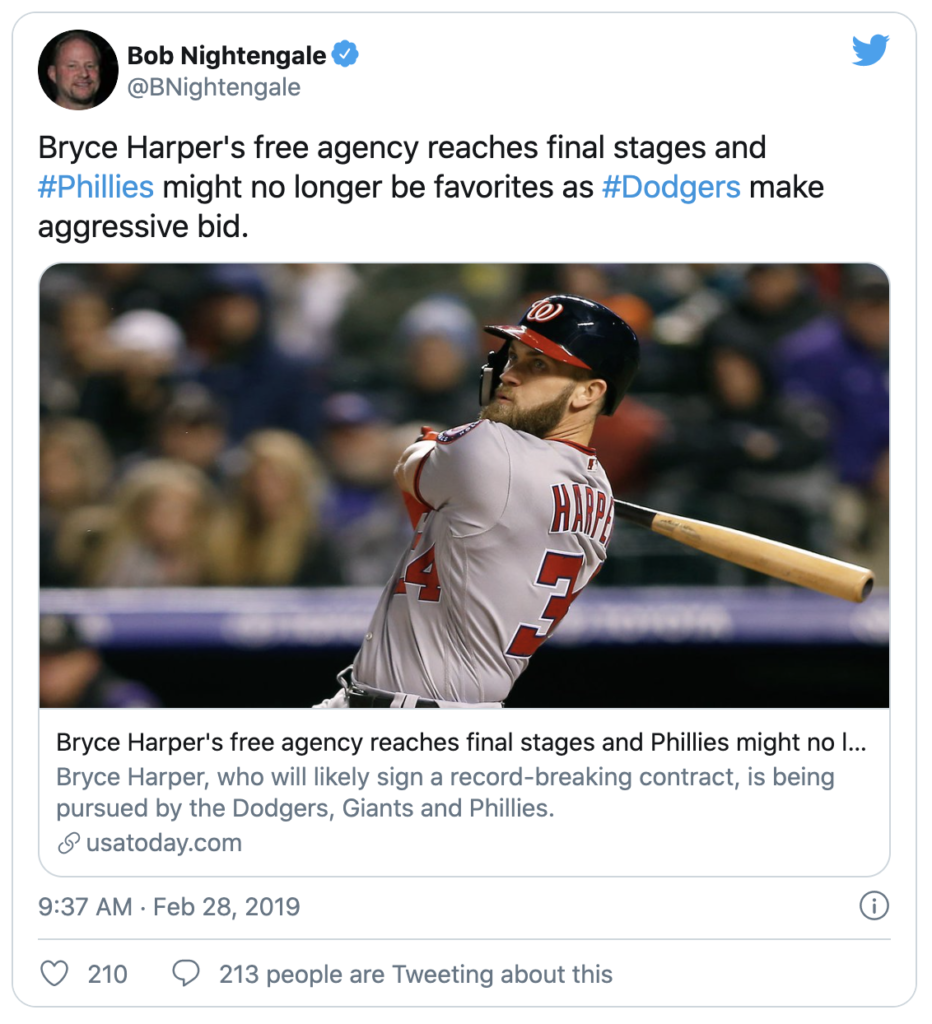 A couple hours after this tweet, Bryce Harper signed with the Phillies for 13 years.
[divider][/divider]
We at Korked Bats like to call these mistakes Bob NightenL's. Here are a few more examples:
The Astros literally played a series against the Dodgers in Dodger Stadium just a few weeks prior to this tweet.
Bob tweeted that on October 23rd during Game 3 of the World Series. From the moment Bob pressed send on that tweet, Randy Arozarena went on to bat .438 with 3 home runs and a 1.471 OPS in the remaining 4 games of the series. Fair to say the Dodgers did not figure out how get Randy Arozarena out.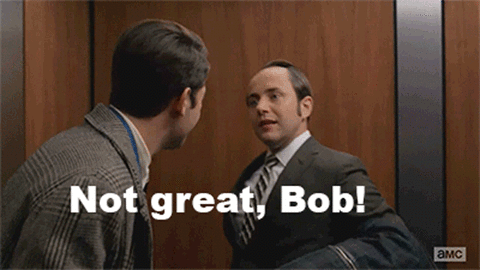 So when Bob Nightengale tweets something, just know it has roughly a 2% chance of becoming reality. And those may even be Nate Silver-type numbers, meaning it could be even lower than that.
Look, I don't want to be the guy to pop your balloon, rain on your 'MLB to Nashville' parade, or send teardrops on your guitar. Trust me, I want it as bad as anyone. But knowing Bob is the one tweeting this makes me think it's not happening at all. So, table your expectations.
With that said, Theo would be the guy for the job. He snapped the 86-year Curse of the Bambino, he snapped the 108-year World Series drought in Chicago, and now he could snap the 241-year MLB-less drought in Nashville. Let's goooo!
Sorry, I'm literally not taking my own advice and tabling my expectations. Damn you, Bob.
[divider][/divider]
Here's my take on the details about Tony La Russa's DUI. "Do you see my ring?!"