Derrick Henry Deserves Better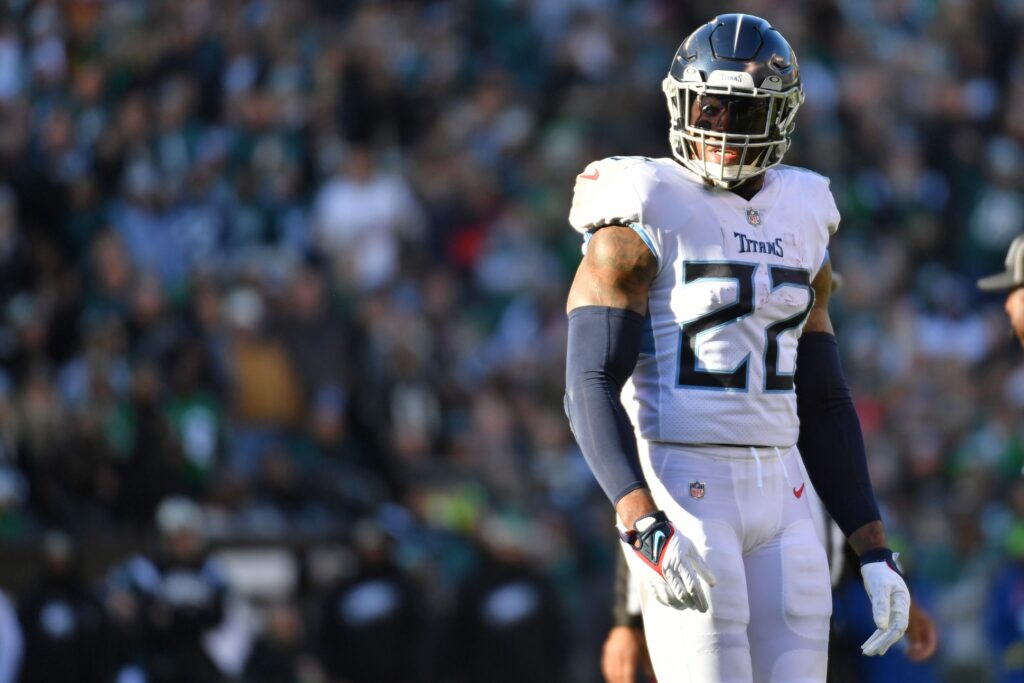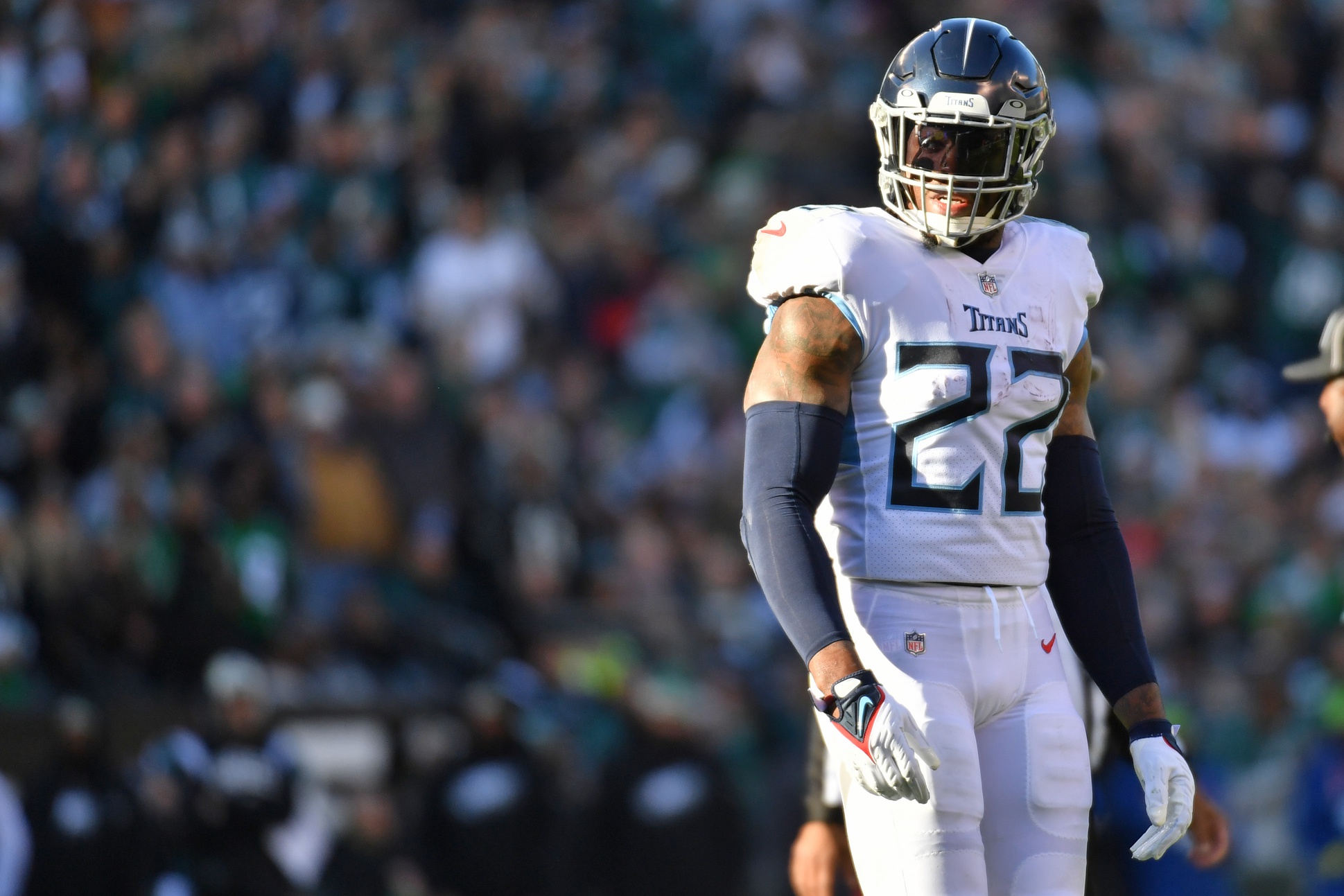 Derrick Henry's prime is being wasted by a guy named Todd.
*sigh* Thanks, Todd.
Now look, football is a team sport. Very rarely can blame be placed on one person. And this case is no different. Despite the offense being called by a guy who presumably sticks forks in electrical sockets on a daily basis, there are others at fault too. Like those turnstiles on the offensive line in front of him, too, of course. (Ben Jones excluded.)
Those five and Todd combined have proven to be the only team of Avengers who can stop the NFL's Thanos, Derrick Henry. Every individual team likes to think they're the ones who "solved" how to stop Derrick Henry, but when it has happened for four straight weeks where Derrick's not only failed to surpass the century mark, but also failed to average more than 3 yards a carry, then you know the problem is way deeper rooted and lies internally.
Check the output against the last 4 opponents with their rush defense rankings in parenthesis:
Broncos (19th) – 53 yards
Packers (31st) – 87 yards
Bengals (15th) – 38 yards
Eagles (17th) – 30 yards
That's not exactly good defenses stepping up. That's the Titans offense failing miserably. Hell, this past week alone was case in point. Here's a list of names of people who outrushed Derrick Henry in Week 13:
Christian Watson, DeeJay Dallas, Brandon Powell, Joe Burrow, Antonio Gibson, Latavious Murray, Tyler Huntley, Jordan Mason, Rhamondre Stevenson, Trevor Lawrence, and a guy named Ryan Tannehill. There are plenty more but I'm tired of listing them.
If you haven't watched these games, the easy answer here is running back regression, right? But we all know that isn't the case. Just 4 weeks ago, Derrick had more yards rushing than anyone in football, but then came 4 straight games of this team throwing up all over themselves. Regression that steep doesn't happen that quickly in the middle of a season. And this is even for a guy who normally racks up more yards after contact than most running backs have total yards. Plus, if you have watched the games, you've seen first hand there are no holes. Derrick is doing all he can to move piles, but even that can only go so far.
The running game just isn't there. It pulled a Vince Young and went M.I.A. in the middle of a season.
But sure, maybe you can't blame the grown men who get paid to block for sucking at blocking. Not sure why we'd expect guys who suck at something to eventually get good at something. Personally, if you hired me to fix cars, your catalytic converter would somehow be connected to the windshield wipers.
Maybe you blame the GM, who constructed this paper-thin roster? Jon Robinson will scrape the bottom of boats across the NFL for barnacles and then be surprised when that glorified sea fungi doesn't come out tasting like escargot. What did you expect, Jon? You buy your new toys in the clearance section at Big Lots. Need an example? Let's look at the left tackle, arguably the most important position on the line. This position is occupied by a guy named Dennis who probably doesn't even know how to tie his own shoes. Want proof? Here's a look at Dennis's form on one of the 6 sacks the Titans gave up to the Eagles.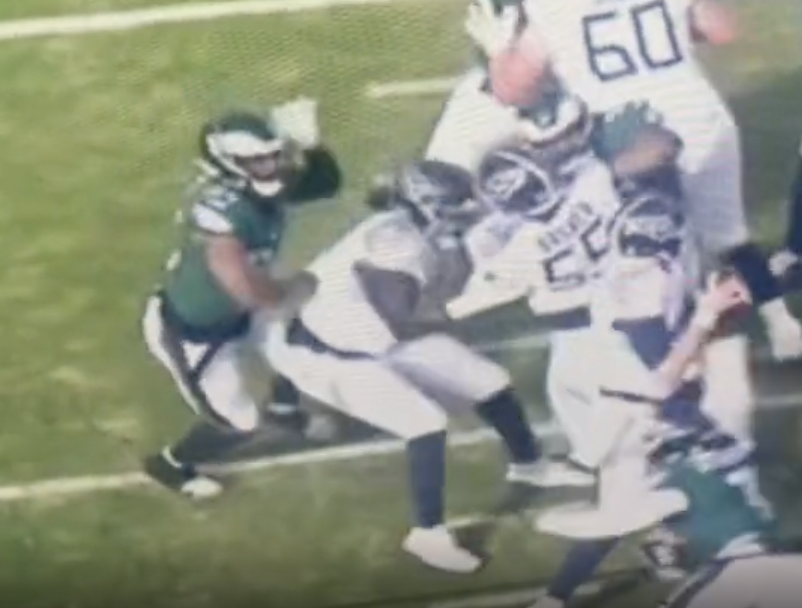 Take a minute to really look at that screenshot. Now, admittedly, I'm not a big screenshot guy when it comes to football. The game happens so fast, that a screenshot can really tell what's going on. But with that said, at no point during pass protection should an offensive lineman be FACING HIS OWN QUARTERBACK. You're pass-blocking, not boxing out for a rebound, Dennis Rodman. This is so far beyond bad. I'm starting to think there's a reason the Panthers let this man go.
I'm not an advocate for firing people or calling for people's jobs. Mainly because I wouldn't want strangers calling for my job after a bad day. But it hasn't been just one day at the office for Ol' Denny. He's tied for the NFL lead in sacks allowed with 9. There has to be someone or hell, ANYONE, out there who could merely get in the way of pass rushers better than my man. I know Todd Downing desperately needs a DD, but he ain't it.
Look, all I'm saying is this offense is becoming the definition of insanity. Every week we trot out the same guys, the same schemes, with the same play calls, and for whatever reason, we expect different results. But all we get is the same result. Lackluster execution, and a run game that gets topped by just about every other team in football. The Titans are insane, and they're driving all of us insane. They have the best running back in football, but the 15th-best rushing attack in football. How does that even happen? How do the damn Jaguars have a better rushing attack than the Tennessee Titans.
You can point your fingers in a lot of directions. You can say the Titans need to do something. Me? I say the Titans need to do anything.