Greetings Terrelle!
My name is Al Davis, I think, and I'm the guy that writes your paycheck. You can call me Grandpa Al (that's what my wife calls me). I wanted to take the time to sit down at my typewriter and write you a note of encouragement as your NFL career begins. We at the Raiders' organization are excited for you to join our storied franchise.  You will be following in the footsteps of widely-lauded quarterbacks such as Bruce Gradkowski, Andrew Walter, Josh McCown, Daunte Culpepper, Aaron Brooks, Rick Mirer, and of course the fat great one, Jamarcus Russell.  While we realize these are large shoes to fill (and in Jamarcus' case, large pants to fill), we believe you have all of the tools required to be successful with the Raiders. (Tattoos, for one.)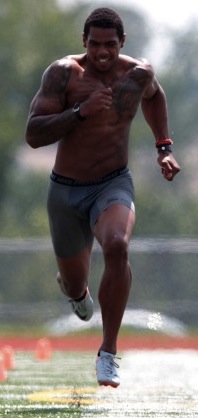 You may know that we have one of the most passionate fan bases in football. I just want to reassure you that on any given Sunday (or Tuesday, for that matter), our fans could literally kill for you. Someone cuts you off in traffic? Dead. Someone overcooks your filet mignon? Call in the hit. I swear on my silver and gray matching Velour track-suit that we will take care of you here.
I've been scouring the league for top-talent the past few years. I'm sure you've heard of some of the steals we've come up with in the NFL draft. First and foremost, you'll be tossing the old pigskin to the fastest son of a gun since Tim Brown… That's right, Darius Heyward-Bey. You can literally throw the ball anywhere on the field and he'll get to it. He may not catch it, but boy can he run after those balls. It's like playing fetch with a human. Now we just have to teach him how to catch.
I would like to take the time to personally mentor you about the intricacies of the game of football. Below is my daily routine, let's try to work together to find a time that works for both of us.
5:00am- Wake up in my mansion, put my dentures in, and eat 1.5 bowls of Total, which equals 10 bowls of the leading brand bran flakes.
5:45am- Take my morning bubble bath (with the help of my Latina personal nurse, Consuela)
6:10am- Daily loose skin patches peeling (again, with the help of Consuela)
6:15am- Research – finding a college track star that I can convert into an Oakland Raider (this is a largely untapped market and you'll thank me when I find the next Usain Bolt, slap some pads on him, and make you a legend)
6:22am- Fall asleep while researching
8:30am- Arrive at the Raiders' facilities to test concession stand food
10:00am- Practice driving a golf cart around the facility
10:07am- Fall asleep at the wheel, hit an intern
10:45am- Visit the Raiders Team Store to check out the new shipment of Velour track-suits
12:00pm- Lunch with Betty White and Barbara Bush
1:00pm- Watch a Matlock marathon on my color television (impressed, yet?)
1:06pm- Fall asleep while watching
5:00pm- Head over to the Golden Corral for their early bird special
5:45pm- Reapply forehead band-aids.
5:55- Bed time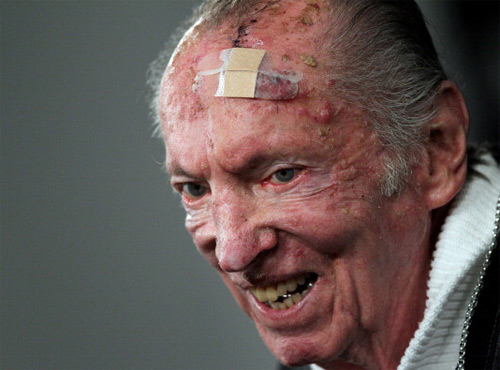 So as you can see, I'm a very busy man.  I would love to squeeze you into my schedule to let you know about the things I've learned in my 131-years in the league.  I think you have a bright future ahead of you, son, and I'm proud to call you an Oakland Raider.
Love,
Grandpa Al