Chicago Cubs' World Series Parade To Include Bandwagon Full of Fans
Cubs Plan To Honor Fans Who Suffered Through The Past 3 Weeks With A Bandwagon Full of Them In Their Parade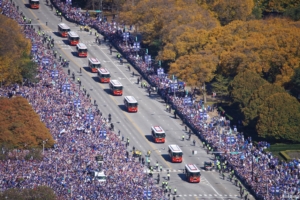 CHICAGO — The Chicago Cubs' World Series parade takes place this morning and team officials confirm it will feature bandwagons full of fans.
"We really wanted to honor the fans that have stuck with us through the good and the bad over the past 3 weeks," Cubs President Theo Epstein said. "Many of them can remember all the way back to when we lost in the NLDS to the Giants."
The parade bandwagon will include many different types of Cubs fans. Everyone from hipster fans who just bought their Cubs hats last week to fans who claim to have been watching the Cubs on WGN despite being able to name a player prior to the 2015 season to fans who just love the Cubbies because they watched Rookie of the Year before.
The World Series parade route is scheduled to start at Wrigley Field so these fans can actually see the stadium in person for the first time.
"I'm so excited to be a part of this amazing run," Cubs fan Greg Bartlett said. "I finally get to put my Patriots hat and Cavaliers jersey aside for a day to rock my new Cubs gear! Go Cubs!"
"Did you check out my sweet 'M' flag?!" Bartlett added while waving a W flag upside down.
No official word yet if fans will be allowed to bring dead relatives who also "loved" the Cubs onto the bandwagon, as that would make the parade
"I wish my grandpa could've been here to see this," Cubs fan Brady Timmons said while holding back tears. "He's not dead. He's just been stuck in traffic on the Kennedy Expressway since Wednesday."
Local officials hope this year's parade fares better than the Chicago Cubs' last World Series parade which ended with the Cubs' Conestoga wagons unsuccessfully trying to ford the Chicago River.