Create Your Own Opening Day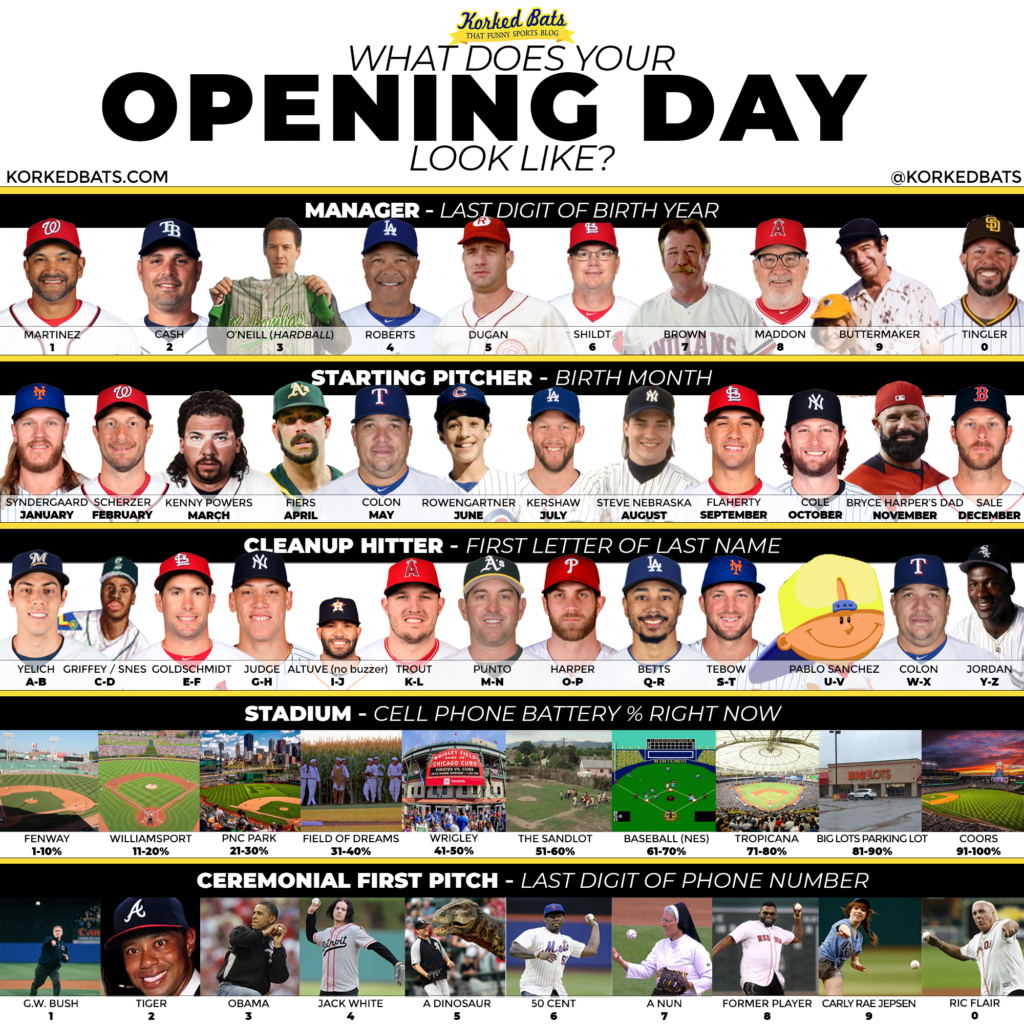 MLB Opening Day is today. Lol, jk. There's a global pandemic that has swept the earth and canceled everything except Young Sheldon apparently (dammit!). But look, that doesn't mean we can't still have fun with our own made-up Opening Day, right?! We put together a fun chart for you to choose what your made-up Opening Day would look like!
Tweet us your responses (@korkedbats) and we'll post some of the best ones here!
Vin Scully- "hello baseball fans and a very pleasant good afternoon, we are live from the sandlot, GW Bush has just thrown out the first pitch on opening day, as Jimmy Dugan turns in his lineup card. As expected Mike Trout is hitting cleanup, and Chris Sale will be on the bump."

— Justin Lachney (@Justin_Lachney) March 26, 2020
It's as if I can hear Vin Scully announcing it.
Well then

Tingler
Bryce Harpers Dad
Conveniently – Bryce Harper
Big Lots Parking Lot
Nun

— Daniel O'Shea (@dloshea1) March 26, 2020
This one is rough. With Bryce Harper's dad pitching, you're going to be giving up a crap ton of home runs, but with Bryce Harper batting cleanup, you're going to be hitting a ton of home runs, especially with that short right field stoop in the Big Lots parking lot.
This one is just flat out every child of the '90s dream. Rowengartner? Griffey from Super Nintendo? NES Baseball stadium? Aaaaand a freaking dinosaur?! I mean, damn. This thing is a pair of rollerblades, a Lamborghini poster and a Tamagotchi away from hitting for my childhood cycle.
Bartolo Colon as the cleanup hitter at Coors? Hope you brought some extra baseballs, because Bart's about to send some into orbit. Humidor or not. Also, I appreciate how excited Chuck got for Carly Rae Jepsen there at the end. Let's go!
Dugan as Manager. Colon is my starter and my cleanup hitter ?? at Wrigley with Jepson throwing first pitch.

— Dave W (@Guilty1144) March 26, 2020
I was really hoping we'd get someone like this. The double-Bartolo whammy, or also known as the BarTWOlo Colon. Having him as both your starter and cleanup hitter makes for a must-watch game, but a probably-going-to-lose scenario. But hey, at least you're at the Friendly Confines.
Keep sending your best to us on Twitter: @korkedbats