Considerations For The Super Bowl LV Halftime Show: T-Swift, Biebs, Tiger King
Last season, the NFL announced Jennifer Lopez and Shakira as the Super Bowl LIV Halftime Show performers in late September. So, here we are in late September a year later, and the clear frontrunner to perform this season's Super Bowl Halftime Show is Taylor Swift—and for good reason.
Tay-Tay released yet another chart-busting album, Folklore, in late July and has risen to the rescue of many Americans looking for existential guidance amid the hellscape that is 2020. But should the NFL slam this softball over the wall or should the league look elsewhere? T-Swift is probably the best choice, but let's offer the NFL a few alternatives that could turn millions of heads.
The Other Queen B
Starting with a truly bold option, the NFL could consider New York City native, rapper Cardi B. Let's face it: We don't love Cardi B, but we do love the absurdity of her latest hit "WAP." Can you imagine the ratings she—and the NFL—would pull in anticipation of the sheer possibility of the world hearing that garbage live? Guinness World Records would have to create a new category called "Most Earmuffs Administered by Parents of Young Children During a Live Performance."
Think about the choreography, too. Wouldn't we appreciate seeing all the "whores in this house" (Raymond James Stadium in Tampa)? The truth is that sex sells, no matter how vulgar, and the press would eat that up at the risk of becoming diabetic, including (shameless plug) Korked Bats.
Also worth mentioning is the effect on the players in the second half, as it relates to improved entertainment value. We could see trap and pitch plays collapse due to weak offensive line pull-out game—and thus, some jaw-busting hits!
I'm a Belieber
Another polarizing choice would be Justin Bieber. From teen heartthrob to tattooed bad-boy hunk, the Canadian star has been at the forefront of pop culture for about a decade now. His relevance remains strong, too, with the release his most recent album, "Changes," touting popular tracks such as "Yummy" and "Intentions."
Now, Bieber is certainly no longer the lovable boy of whom we denied our jealousy for years, but consider the talent he collaborated with on his latest album: Quavo, Post Malone, Lil Dicky, and Travis Scott. That's huge name recognition, and say Biebs were to bring one of them into the Halftime Show fold for a guest appearance. Bring on the ratings!
And don't act like you wouldn't watch it, you dumb liar. He still has some of the dreamiest eyes and vocal cords in entertainment, and you're not above that.
6ix9ine (Nice)
What do we say about 6ix9ine other than "oof?" This guy is an awful musician and an even worse human being. Let's take a look at his run-ins with the law: child sexual performance, ordering the shooting of Chief Keef, and domestic violence. And those are just the charged crimes. So why would he be a good option for the Super Bowl LV Halftime Show? Because he's the worst option.
Not only would the controversial pick put a man with a "69" face tattoo in front of millions, but it would also leave millions above the age of 50 very confused and possibly offended. Although the decision to go with 6ix9ine would most certainly not be based on ratings potential, he is simply a mere clown that would do what clowns do: entertain poorly, which we as Americans consume in droves.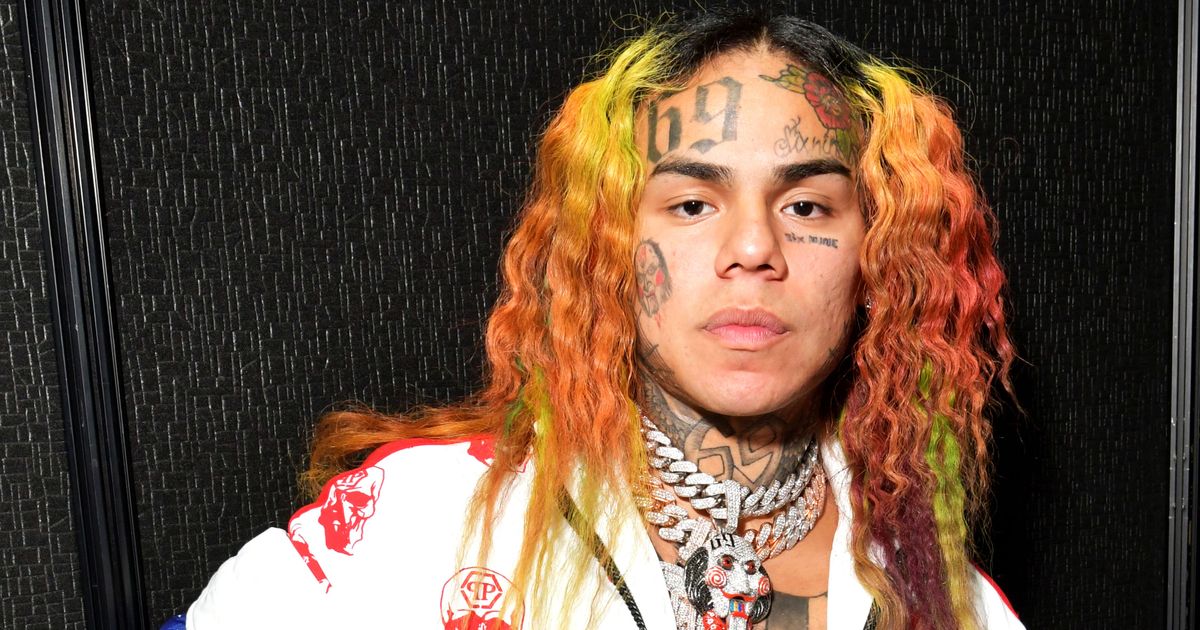 The Super Bowl Halftime Show has presented the likes of greats such as The Rolling Stones, The Who, Bruno Mars, and Beyoncé (the former two delivering bad performances themselves, but they are who they are). Wouldn't it be astounding and cringingly terrible to see the NFL roll out such a controversial artist? Again, you'd watch it.
Release the King
We've saved the best and most challenging choice for last: Joe Exotic, the Tiger King. Yes, he is currently imprisoned on 17 federal charges of animal abuse and two counts of murder for hire for a plot to take out sworn enemy and Big Cat Rescue CEO Carole Baskin. However, with the release of Tiger King: Murder, Mayhem and Madness to kick off this horrendous year with a bang (several bangs, if you count all of the loose gunfire witnessed in the doc), Joe Exotic immediately captured the hearts and souls of Netflix streamers to the tune of 34 million in the first 10 days.
Throughout this article, we've thrown out some obviously contentious potential performers, but this has to be the most. And, like sex, controversy sells. But why choose a nonmusical performer? How would he entertain the audience? Oh, it would be his music (which is reportedly not him singing at all, but the NFL records these beforehand anyway so it wouldn't matter). Furthermore, imagine if he was accompanied by real tigers; that itself would blow Katy Perry's animatronic tiger out of the water.
The combination of terrible music, real tigers, and an appearance by a convicted felon, who millions seem to support for unfathomable reasons would bring the NFL a performance for the ages, never to be topped. And if you're also irked by the reemergence of "that bitch" Carole Baskin on Dancing With the Stars, it's agreeable that a little lip-syncing Joe Exotic, complete in his prison-orange jumpsuit, would go a long way toward the happy, care-free, ridiculous America we call home.
Choose Wisely, NFL.
Although we all know Taylor Swift would be a solid choice for Super Bowl LV's Halftime Show, there are other options the NFL should seriously consider. It's safe to say that none of these picks would hurt ratings—and could even raise them—and despite 2020 bringing a zero blitz on society, we continue to crave idiocy, mockery, and inanity surrounding our beloved institutions. So, here's looking at you, NFL. Choose wisely, and give us something utterly ludicrous we can look forward to, even if it means bailing a disgusting felon out of jail.
This post was written by Sam. Follow him on Instagram: @chad_b_foxxx