Commissioner Roger Goodell Bans Football From Football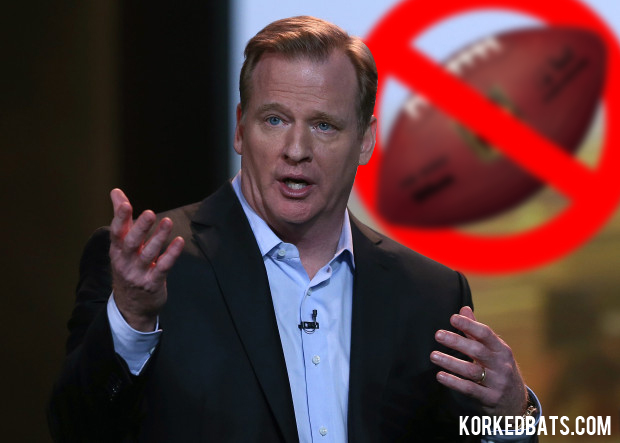 NEW YORK — At a recent league press conference, NFL Commissioner Roger Goodell unveiled groundbreaking plans to just go ahead and ban football from the sport of football.
"It's gotten to the point where the sport is just too dangerous," Goodell said, adding that the sport has gotten to be too much of a distraction. He later added, "As a major professional sport commissioner, it's my responsibility to make decisions and rule changes that everyone hates."
Goodell assured fans that the sport will continue the combine, free agency, the draft, and all of the DUI arrests, but football will no longer be a part of it. This news comes out shortly after recent studies concluded that when you play football, it increases the risk of injury 100% compared to when you don't play football. "We just have to look out for the safety of our players," Goodell said right before winking to his lawyers.
Although this ban seems sudden, many NFL insiders admit it's been a long time coming. "When you look at the recent changes to the sport, you'll see that it was only a matter of time before the league came to this decision," ESPN NFL Insider Adam Schefter said while simultaneously tweeting it and never looking up from his phone.
"Why only ban goal post dunking when you can ban the entire game?" Shefter continued. "It's a hashtag no brainer."
While disappointing to many, the news of the league banning football has brought hope to some, most of whom are within the Cleveland Browns organization.
• • •
This post was created by Austin. You can follow him and his jokes on Twitter: @TheAHuff
Also, for up-to-the-minute sports jokes, follow Korked Bats on Twitter: @KorkedBats