Colts Plans of Making Manning a Robot Nearly Complete
The year is 1998. After years and years of mediocrity, the heavens shined down on Indianapolis, clouds parted and down from the sky came Peyton Manning. The first year started rocky, a 3-13 finish, but there was a new hope. A comical, southern, awkwardly balding hope. The following year the Colts had the single biggest turnaround in NFL history, going 13-3 and reassuring what everyone already thought and knew in Indiana: Peyton Manning is probably a God. Perhaps immortal.
But then Father Time swung his eternal pendulum towards Peyton. Manning has not missed a start in 208 starts, which means one of two things:
Either he is a stubborn fool (see: Favre), or since day one the Indianapolis Colts have been slowly turning Manning into a robot. They are high on Peyton fumes, and don't want to let it go.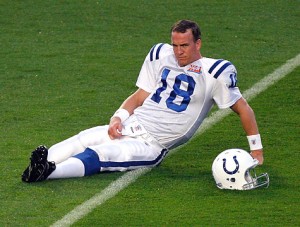 Think about it. Without Manning, the Colts are the Houston Texans of football, good but not great, and no one really cares if they all disappeared off the face of the earth.
Tony Dungy knew too much. At first he thought it a good plan, but after seeing that Manning exhibited real human feelings, he wanted out. The Colts franchise had to cut Dungy loose, and hook him up with a cushy announcing gig to prevent a leak. The following is a real conversation between Dungy and Colts owner Jim Irsay, just before Dungy's "retirement":
Irsay: Dammit Tony, don't you see this is for the greater good?
Dungy: We can't keep doing this Jim. We're ruining the kid!
Irsay: I knew you were soft. You always looked like a saggy Herm Edwards, and this is just proving it. You saggy Herm, you.
Dungy: Peyton is a real person! With real feelings! You can't keep slowly changing his body parts out for robot parts!
Irsay: The Manning's aren't real people. Just look at the stupid face Eli is always making. It's ridiculous.
::Dungy nods his head in acceptance and leave the Colts organization forever::
The neck injury that is plaguing Peyton this season is merely a defective part, which will be returned, assuming the Colts got AppleCare on Peyton. Necks are notoriously the most fragile part of robots, after their ego. But once they fix Peyton's neck, there is no stopping him from playing another 208 games in a row, surpassing Brett Favre for the most oldest person ever.
This image was leaked from a Korked Bats insider within the Colts organization: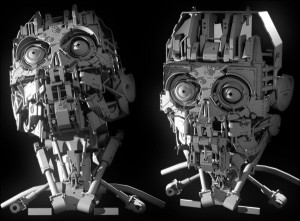 Peyton will be back.