Cleveland Browns Name Rex Grossman Week 1 Starter Because They're The Browns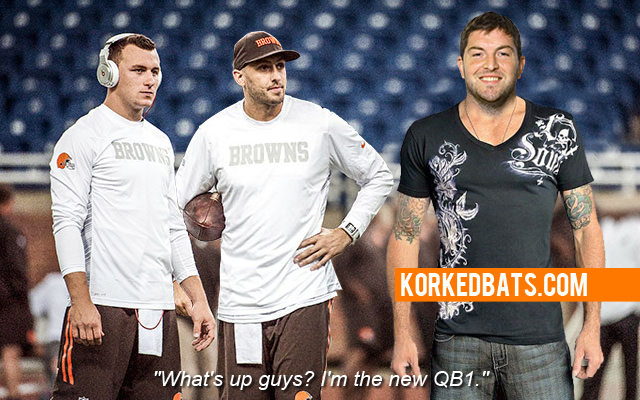 CLEVELAND — The Cleveland Browns have put their quarterback controversy to rest early as the team signed free agent QB Rex Grossman and already named him their Week 1 starter.
"We feel like Rex will give us the best chance to carry on the tradition of the Cleveland Browns organization," Browns Head Coach Mike Pettine said. "That being, poor decision making, ultimate disappointment, and extreme humiliation."
The Cleveland Browns signed Grossman earlier this week and said in a statement that Rex Grossman offers the team "the best chance to win…" The statement then continued, "…5 games."
So far, this decision has gone over well with fans. Hunter Lyle, a longtime Browns fan, said, "Yeah, starting Grossman on Week 1 seems about right. Honestly, when the team said their goal this year was to win 5 games, I was like, 'Who do we think we are? The Minnesota Vikings?! We wish.' But when they named Rex Grossman the starter, I felt like maybe, just maybe this is our year [to win 5 games]." Another huge Browns fan, Jim Rutledge said, "I love the news. At very least, Rex Grossman gives us a great chance to boo the crap out of him."
Grossman admits that even he is shocked by this news. "I didn't even know I was on anyone's radar this season. In fact, I was binge watching New Girl on Netflix when I got the call. Honestly, I don't think I've thrown a football since April." The Browns have clarified that they're not worried about Grossman getting plugged in immediately. "He hasn't even seen the playbook yet, and we're confident he already knows it better than Johnny Manziel," Pettine said.
The Browns have updated their depth chart, pacing quarterbacks Brian Hoyer and Johnny Manziel at fourth and fifth string behind rookie Connor Shaw and Spencer Lanning (the team's punter), because, well, they're the Browns.
• • •
This post was created by Austin. You can follow him and his jokes on Twitter: @TheAHuff
Also, for up-to-the-minute sports jokes, follow Korked Bats on Twitter: @KorkedBats