Chris Johnson Questionable For Week 8, Really Tired From Week 7
In Week 7 of the NFL season, Tennessee Titans running back Chris Johnson rushed for a season-high 195 yards on 18 carries, with two touchdowns. Now, in Week 8, Chris Johnson is listed as questionable for being really really tired.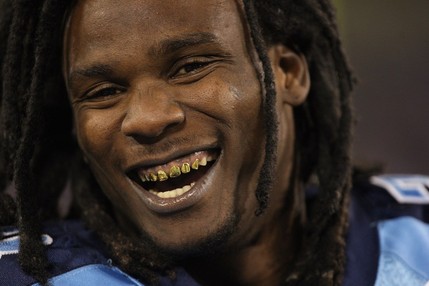 "He hasn't made it into open field like that all season," Titans Head Coach Mike Munchak said. "I'm talking even in practice. In fact, if he was the first person on the practice field he would either run back inside or just fall down. So trust me when I say he hasn't made it into the open field like that all season."
"When you haven't run that much for over a year, odds are you will be pretty tired afterwards." Titans head trainer Brad Brown said.
Titans aren't sure when CJ2k would be back. But they're preparing for Week 8 as if he won't be there.
"It's pretty much just like any other week for us," Coach Munchak said.
When asked about how he felt, Chris Johnson said, "Em sauce. Eight eeez bee may. Scorn deedeeze en mayke moniez. Ha! Weezy voyes!" We had no idea what that meant, so we brought in a translator. The translator told us he was saying, "I'm exhausted. Ain't easy bein' me. Scorin' TD's and makin' monies. Ha! Weezy voice!"
The translator informed us Johnson is hard to understand because he speaks a very rare form of Egyptian.
Fantasy owners should not worry about this report. Just go ahead and keep Chris Johnson on your bench again.
• • •
This post was created by Austin. You can follow him and his jokes on Twitter: @TheAHuff
Also, for up-to-the-minute sports jokes, follow Korked Bats on Twitter: @KorkedBats