Chris Johnson: 2,000 Yard Rusher And Now Murder-For-Hire Funder!
I'm sorry… what?
It's always weird when you blog about someone on one day…
…and then they show up in new headlines the very next day.
It's also weird when that new headline is about the person being involved in a murder-for-hire plot. Forget Tiger King, give me the Netflix docuseries about the Titan King. Gus Johnson once famously said CJ2K had "run away from the cops speed." Unfortunately, he doesn't have run away from the law speed.
How in the hell did we get here?
Ex-NFL star Chris Johnson is accused of funding murder-for-hire shootings that left two men dead in 2016 — this according to explosive court docs obtained by TMZ Sports.

FYI, Johnson has NOT been formally charged with a crime — and ADAMANTLY DENIES THE ALLEGATIONS — but officials are clearly laying out their case against the running back … and it's compelling stuff.

Long story short, officials believe CJ2K rewarded a gang member with cash after the guy allegedly killed two men who were suspected of gunning down Johnson's friend in 2015.
The CJ2K, of course, now standing for Chris Johnson, 2 Kills (allegedly). Damn. This is wild, and honestly, CJ, I'd expect something like this from Pacman Jones, but not from you.
I mean just look at this sweet face…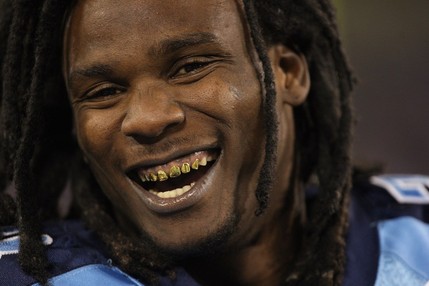 Does this look like the face of a person who would devise a plot to murder someone?!
Here's the backstory … Johnson nearly died in a shooting in Orlando, Fla., back on March 8, 2015 … when Orange County Sheriff officials say someone opened fire on a Jeep that Chris was in at around 4 AM.

Johnson suffered a bullet wound to his shoulder and made a full recovery … but the driver of the vehicle, his friend, Dreekius Johnson, did not survive the attack.

In new court docs … law enforcement officials say "intelligence gathered suggested [the shooting] was a gang related murder attempt on Chris Johnson."

Officials also say … months later, a noted Florida gang member named Dominic Bolden shot and killed two men — one on Jan. 19, 2016 and one on July 24, 2016 — who were believed to be the shooters in the March 2015 incident.
Pretty wild, huh? Just hold on. There's more.
In the court docs, officials claim an informant told them as a reward for Bolden's alleged actions … Chris helped the guy become a leader of a famed drug trafficking organization (DTO) in Florida.

The informant told officials that Johnson supplied Bolden "with funds and an individual who could continually supply Dominic Bolden with as much narcotics as needed to supply the DTO."

The informant also told officials the "murder for hire elevated Dominic Bolden's rank, reputation and power within the DTO" — eventually making Bolden the org's de facto leader.
I've never seen the show Narcos, but I feel like this is an episode of Narcos.
In the docs, 34-year-old Johnson is also accused of helping with day-to-day operations of the DTO … but court records show he has NOT been formally charged with any crimes.

We've reached out to prosecutors at both the state attorney's office and the attorney general's office in Florida for comment on the investigation … but so far, no word back yet.

We also reached out to Chris — and a rep for the former NFL star tells us he strongly denies the allegations … saying, "There's no validity to any of these accusations."
Uh, yeah, I would hope he would deny these claims? Otherwise, we've got a real Sicario situation on our hands.
Think about that. Just yesterday this guy was tweeting that the biggest regret of his career was signing with the Jets. And that's WITH this alleged muder-for-hire plot. Meaning signing with the Jets is more regretful than getting wrapped up in trying to murder people involved in drug trafficking organizations. That's cold.
Look, is Chris Johnson guilty? I'm not at a place to cast that kind of judgement. All I'll say is he's not exactly Clint Eastwood in The Mule. I could very well see this being true, but I hope for his sake it's not.
In the meantime, let's remember the good ol' days when the only thing bad about Chris Johnson was his Twitter game: