Chris Bosh's "I'm Staying Home" Essay
LeBron James shared his decision to return to Cleveland in an essay written in Sports Illustrated.
So obviously Chris Bosh chose to share his decision in an essay written on Korked Bats.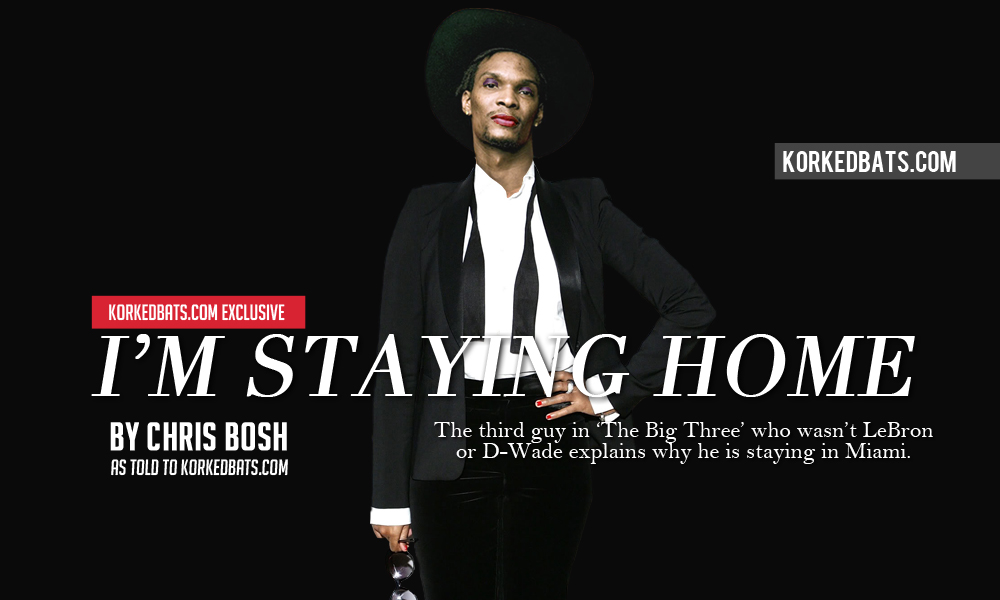 Before anyone cared about me as the last hope for any future success for the Miami Heat, I was a grown man playing alongside LeBron James and Dwyane Wade. Remember? I was the guy in "The Big Three" with the normal-spelling generic name. I was the guy who LeBron would always pass to in late game pressure-filled situations. I was the guy who, although is bigger than most people on the court at all times, would still stand behind the arc and shoot three's, causing the crowd  to wince in unison. That was me. Miami was where I walked. It's where I sunbathed. It's where I would go out to the club with my girls. It's where I cried (after getting a drink spilled on my new stiletto pumps). Like a tub of Ben & Jerry's and shopping after a bad breakup, Miami holds a special place in my heart. People there have seen me around for a few years. I sometimes feel like I'm that neighbor that you've been meaning to welcome to the neighborhood, but have just been too busy to do so. Your passion is mediocre at best. But it drives me. Because honestly, I know it's better than anything I'd get elsewhere. My relationship with Miami is bigger than basketball… I think
Remember when I left Toronto in 2010? No? You don't? Really? Fine. I'll admit, you guys clearly didn't know who I was before I teamed up with LeBron. In fact, most of you guys just thought of me as "The Superstar Who Left The Raptors After Tracy McGrady and Vince Carter." If I had to do it all over again, I'd probably do things differently, but I'd still have left. Miami, for me, has been like college for other kids. The first year was the worst. I'm still having trouble making friends. Outside of games, I spend a lot of time in my dorm. (Yes, I live in a dorm. I rent it out from the University of Miami.) And I've experimented a little. These past few years have made me really comfortable in my own scales skin.
I went to Miami because of LeBron and Dwyane Wade. I tried to avoid Birdman. And always got jealous at LeBron's relationship with Rio. I believed we could do something magical together. And that's exactly what we did! Nothing will ever change what we (read: mostly LeBron) accomplished. We are brothers for life, and sometimes, after a few shots on the weekend, sisters. ;)
I'm doing this essay because after reading several self-help books and lifestyle blogs, I have been encouraged to write more. So aside from my diary, I figured this would be a good place to explain myself. I don't want anyone thinking: He didn't like LeBron… He didn't get along with Erik Spoelstra… Hey, wasn't he in those Land Before Time movies… Wait, which one is Chris Bosh again?
I'm not having a press conference. Just a party. I'll be providing chips and dip and drinks. If someone else will bring the plates, a couple of sides, desserts, and . Spoelstra said he'll be in charge of bringing a game or two. Although, I think he'll only end up bringing his Nintendo DS and a few folded up Pokemon cards.
But after that party, it's time to get to work.
When I left Toronto, I wanted to win Championships. And we won two. But Miami already knew that feeling. Toronto didn't know that feeling. They were like, "What's basketball? Is it hockey?"
I always believed I would be in Miami for a few years.
To make the move, I needed the support of my girlfriends, my life coach,
Tim Gunn
, and my chihuahua, Fredrick.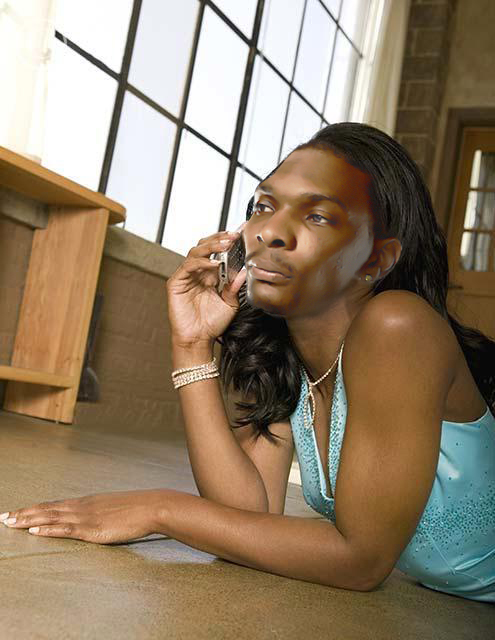 I'm not promising a championship. I know how hard that is to deliver. Especially if we play the Spurs again. Those guys are really good. But like old men at the YMCA good. It's like, you wouldn't think they'd be good, but they are. And they bank in more shots than anyone you'd ever seen. It will be a long process. Especially since one of the "good" players we just signed is Danny Granger. He gets injured just about every other week. When it comes to how often he gets injured on a scale of 1 to Derrick Rose, he's a 7.5. It will be hard. My patience will get tested, like when Forever21 doesn't have that striped spaghetti-strap top in my size and they have to order it from another store. I realize that. But I'll keep my cool. I see myself as the old head. Like the really old head. I mean, I was the only one of my family who wasn't extinct after armageddon.
But this is not about the organization. My calling here goes above basketball. I have a responsibility to the people of Miami to accept more money and stay in a warm weather location.
In South Beach, nothing is given. Everything is earned. You work for what you have. Unless you're Pitbull, that guy keeps getting gigs handed to him, and honestly, I'm not sure why?
But I'm ready to accept the challenge of trying to get you guys to remember my name. I'm staying home.