Charles Barkley Extremely Confused About Emmy
"Charles Barkley, Emmy award winning commentator."
We have to say it now. It rolls off the tongue just like "Academy Award Winning Hip-Hop Group, Three-Six Mafia."
The Sports Emmys were handed out on Monday night, an event that no one covers because everyone that would possibly cover or care about them is sitting in the audience. When the award for best studio analyst came around, there were three or four confident nominees and Charles Barkley. Lo, the winner's name was called, and it was bumbling Weight Watchers spokesman Charles Barkley, who won like a man.
"I jus think it's somthin that certainly is great and if they wanna hand it out then yep," Barkley had to say on the matter,
"I'm Charles Barkley." he continued.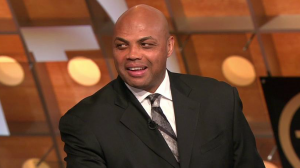 When asked if he had any praise for his co-commentator, Shaq remarked:
"The ginormous shaqtonomous, shaq-fu wants to tell Sir Charles a Shaq-sized congratulations."
Charles was unable to be at the awards ceremony because he was mumbling his way through the words, "I just think better defense would help prevent the other team from scoring more points," during halftime of a playoff game.
Barkley became confused when he was informed that winning a Emmy did not earn you a contract, paycheck, or even prize money.
"Why would people want to Emmy, then?" Barkley seemed confused. Barkley paused for a moment and then stormed out of the interview when asked whether or not winning an Emmy helped ease the pain of knowing that Adam Morrison still had two more championship rings than he [Barkley] ever would.
• • •
This post was created by Kyle. You can follow his jokes on Twitter: @kyleayers
Also, be sure to follow Korked Bats and our sports-filled jokes on Twitter: @korkedbats