Center Cort: 2022-23 NBA Predictions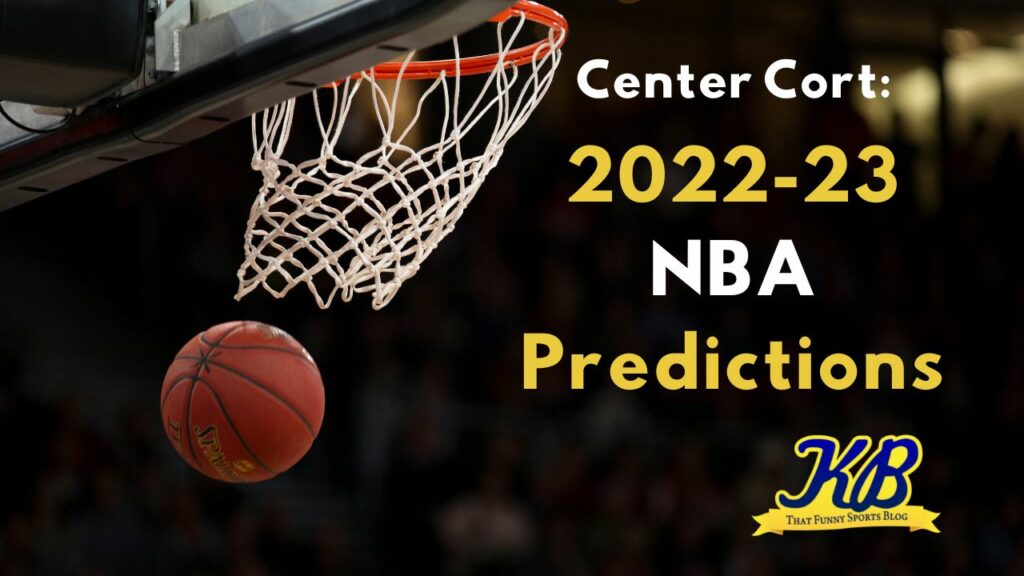 After a long offseason filled with drama, the NBA makes its much anticipated return tonight. The 2022-23 season kicks off with the 76ers visiting the Celtics, then we get the defending champions squaring off with the Los Angeles Lakers. All teams who have had an offseason filled with chaos and controversy…except for the 76ers? That doesn't seem right. However, they had enough drama last season to have a little carry over into this year, I'm sure. The Celtics are still dealing with the issues caused by Coach Udoka's alleged infidelity. He's still suspended and we don't even know when he will return, if he does. The Lakers chose to ignore all the problems last season and are still dealing with the Russ situation. Wake up, Rob! What are you going to do with six (6!) point guards, most of which can't shoot! Then, even the defending champs aren't immune to drama. In fact, they're at the center of it after Draymond Green punched teammate Jordan Poole. It's going to be a fun night of basketball to start a very interesting season.
These teams aren't the only ones dealing with problems. The Nets, of course, are still dealing with it. How could they not be? Your star player, Kevin Durant, literally tried to get the coach and GM fired. Now they have to work together. Kyrie is just an Alex Jones loving lunatic who can't be trusted, on the court or off. Ben Simmons is a giant question mark, after a taking a year off due to what I can only describe as "fear." Am I supposed to trust them this year?
Every player on the Charlotte Hornets is either injured or in jail, or something awful. I'll pass on them this season. I feel like Donovan Mitchell left a situation in Utah to enter a similar situation in Cleveland. Yes, the roster is good. Is it good enough to make a deep playoff run? No. It's just like the situation he had in Utah. I don't see it being any different. They'll have a great regular season record, before falling flat in the playoffs.
I have no faith in the Suns making a run, I think that window has closed. Chris Paul is another year older. Booker is dating a Jenner, again, I think. Then, your star Center got slapped in the face by management with the contract situation, he can't want to be there. He even said it himself that he hasn't spoken to his coach over the offseason. What?? On top of that, you have an owner who is now being forced to sell over racist and sexist comments. I want no part of any of that.
So, with all of this drama it's going to be a messy, but entertaining NBA season. The chaos may make it hard to make any prediction, but that's all part of what will make this season a good one. It was no fun during the years when KD was with the Warriors. This season, we have some parity. There are no true favorites this year. Which is great because it means the regular season will matter. Seeding in the playoffs will matter. That's good for us, and good for the game. Let's get to some predictions. I'll make my picks for: playoff teams, Conference Finals, NBA Finals, MVP, Rookie Of The Year, Most Improved, Six Man Of The Year, Defensive Player Of The Year, Coach Of The Year, and who I expect to be the winner of the Victor Wembanyama sweepstakes.
Western and Eastern Conference Playoff Teams
Both conferences have teams who are basically guaranteed to make the playoffs, The interesting part will be the bottom tier teams who end up sneaking into the play-in or the playoffs. Here are the 10 teams I am picking to make the playoffs, or play-in, for the Western Conference.
Western Conference Playoff Teams
Golden State Warriors
Dallas Mavericks
Denver Nuggets
Los Angeles Clippers
Phoenix Suns
Memphis Grizzlies
Minnesota Timberwolves
New Orleans Pelicans
Portland Trailblazers
Los Angeles Lakers
It wasn't easy picking these teams. I expect several teams to be in the running at the end of the season for the play-in spots. I picked the Lakers to be the last team in, but I am not confident in it. I watched them a lot last year, it didn't work. On top of that, can I bet on Anthony Davis being healthy? LeBron in year 20? No shooters? Ugh! I just have to believe in their talent and resume that they will find a way to make the playoffs. If they stay healthy, they should be able to do it.
Eastern Conference Playoff Teams:
Milwaukee Bucks
Boston Celtics
Miami Heat
Philadelphia 76ers
Brooklyn Nets
Atlanta Hawks
Cleveland Cavaliers
Chicago Bulls
New York Knicks
Toronto Raptors
Again, there should be a fight for that final play-in spot. It depends on young talent. Can the Pistons young core come together? Can Washington do something? Will this finally be the year Orlando looks alive? Only time will tell.
Western Conference Finals
I'm picking the Golden State Warriors to take on the Los Angeles Clippers in the Western Conference Finals. The Warriors are simply too good not to bet on. Steph can be unstoppable. Jordan Peele is evolving into an elite player. Klay can still hit threes. Their young core has turned into something, and they have a deep bench. What's not to like? The in-fighting. While Draymond doesn't put up stats, he does add that "it" factor to the Warriors, which does seem to have advantages. However, the house of cards can't fall. Can he keep it together as everyone around him gets pay days? Can he come out and show he is the best defender in the league? If they do their jobs and don't get distracted they should easily make it back to the conference finals.
I had a couple different options float through my head on deciding who the Warriors will be playing in the Conference Finals, but landed on the LA Clippers. They are so talented and deep…if they're healthy. We haven't seen Kawhi play ball in forever. Is he the same? Will he take it easy? There are so many questions, but I know if they're healthy they can and should make it this far. If not, Denver will be healthy this season and they are deep as well. We also can't forget about the Mavericks. Was last season a fluke? They'll be out to prove that it wasn't. I've still got the Clippers here, though. Warriors in 6
Eastern Conference Finals
It's tough not to pick the best player in basketball, so I won't. I've got Giannis and the Milwaukee Bucks making it to the Eastern Conference Finals this year. The Boston Celtics edged them out of the playoffs last year in 7 games, and I think this year they will have a healthy Middleton and a healthy team, and will get the job done.
On the other side, I think it will be a rematch against the Celtics. This time, I see it going Milwaukee's way. Like I said, I just can't bet against the best player in the league. I think it says a lot about the players on the Celtics to get them to the Eastern Conference Finals this year, especially with the coaching situation up in the air. They're talented enough to get there. They have a deep roster and playoff experience. I'm not ignoring all the talent on the Nets, I just won't bet on them. Who knows what to expect, or who will decide to play day in and day out. I don't think it's the recipe for success. Bucks in 7
NBA Finals
This year, I expect it all to come down to the Golden State Warriors and the Milwaukee Bucks in the end. Two powerhouses who I expect to even enter the playoffs with the number one seeds in their respected conferences. Both are deep and can play on both ends of the court. I think it will go 7 games, with Giannis lifting the trophy for the second time in three years. I don't think this will be the end of the Warriors dynasty, but the end as we know it. I think this is a Last Dance for them in a way, because with all that money going to Poole and Wiggins this offseason, I don't see where Draymond gets his Green. Bucks in 7.
MVP
We saw flashes of it in the playoffs last season, after an incredibly slow and out of shape start…and this year I think we'll get to watch the brilliance on display all season long. I'm picking Luka Doncic to win MVP this year. We've seen that you can pad the stats and win the award, and I think he's capable of putting up all of the stats, and even some wins while leading Dallas to the playoffs. All of that adds up to stuff that will get you votes at the end of the year. I expect a monster year from him statistically, even if it doesn't lead to a run like it did last year. He enters the season at only 23 year old. He's going to be scary for years to come, and I think he gets his first (of many?) MVPs this season.
Rookie Of The Year
A couple of things to consider when picking Rookie Of The Year. First, play time. It will be someone who is an immediate starter. Don't get cute and pick someone who could start. Pick one you know will be starting all year. Second, narrative. The NBA writers always get wrapped up in narratives, so keep that in the back of your mind. Third, team performance. As we saw last year, how the rookie impacts the team will matter in the end. Is Scottie Barnes that much better than Cade Cunningham? No. Did his team make the playoffs while Cade's didn't? Yes. I think it will matter.
I don't see any of these teams with stud rookies making a run this year. Chet's injury is disappointing. I'm going to go with Keegan Murray as Rookie Of The Year. As a Pistons fan, I'd love to see it go to Ivey, but I don't see the consistency coming right away. Keegan put up impressive numbers during the summer league in Vegas. He looked really good. He doesn't have a lot around him in Sacramento, meaning a lot of it could fall on his shoulders which could mean big numbers. Paolo is great, too, but when picking Rookie Of The Year, you want to look for Value in your bet. The return isn't great with him as the favorite. Find a better bet.
Most Improved Player
I'm going to go with Jalen Brunson. He had a great end of the season last year, and that was as the number two to Luka. Now, in New York he'll have the ball more and more opportunity to make magic. I think he has a great chance to ball out and showcase what he can do. I see it going one of two ways: most improved player or the Knicks totally flail and the offseason is shown to be a mistake immediately. One of two ways here. Which way will it go?
Sixth Man Of The Year
Last year, Jordan Poole made a very interesting case that he should win the award, before losing out to Tyler Herro of the Miami Heat. This year, I think Poole gets his award. He got the bag, now back it up. The team will be good, we know he can get his. I'd say this is the closest thing to a lock that we will have.
Defensive Player Of The Year
I think this is going to get interesting. Rudy Gobert now finds himself in Minnesota playing alongside KAT. I think this should allow him to be even more of a beast on D. He's not going to be all on his own, he'll have some help, allowing him to get more blocks and cause more problems in the paint. The Timberwolves should be a solid team on that side of the ball, and he should be the one leading that defense.
Coach Of The Year
Can I pick whoever fills in for Udoka? They've got a good chance. The team is capable of winning with little direction, I'd imagine. If that's not allowed, I'll pick an actual person. Let's go with JB Bickerstaff. The Cavs have a new and improved lineup and should be better than we've seen recently. They should make the playoffs and could even win a series. If they do that, why shouldn't Bickerstaff get the award? You have a talented deep lineup, so he will have work to do because the roster isn't talented enough to just hang back like Steve Nash. I think Bickerstaff is in a good position to win Coach Of The Year.
Victor Wembanyama Watch
There will be some bad teams in the NBA this year. Of course, as always, there's the Kings. Seems like they're at the bottom every year. There's also the Spurs, but they have the best coach in the NBA? Surely, they won't end up last in the league, right? Pistons aren't great, but have a young developing core. The Thunder looked like they could be competitive with Chet, but without him that could go out the window. The Rockets are bad, but also have a young blossoming core group of players. They ended up with the worst record in the NBA last year, could they do it again? I think they could.
However, I'm all about narrative with this. Wouldn't it be strange to see Chet and Victor Wembanyama on the floor together? It's like when the 76ers kept drafting tall centers every year while trusting the process. I think that would be weird, but I could totally see it happening. Would make for some entertainment for all of us. He's going to the Oklahoma City Thunder.
What are your picks? Hit me up on Twitter!