CBS Unveils "Johnny Manziel Cam," Admits They Don't Know Any Other A&M Players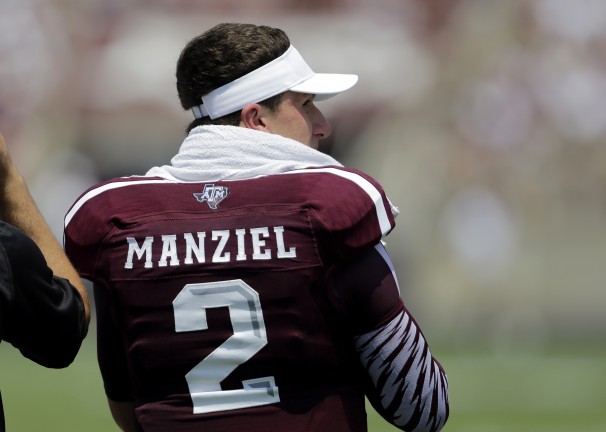 COLLEGE STATION, TX- CBS announced earlier this week that the station will feature a camera dedicated to only shots of Texas A&M quarterback and former Heisman Trophy winner Johnny Manziel for this week's game against Alabama.
"We're really excited about this. Johnny Manziel is one of the most polarizing players in all of college football. People everywhere are always wondering what he's doing or how he's reacting to the action in the game, and now they won't have to wonder," CBS Sports President David Berson said. "Plus, we don't know anyone else on A&M's team."
"This Johnny Manziel Camera, or Johnny Manziel Cam as we call it for short, will really be beneficial for our commentators Verne [Lundquist] and Gary [Danielson]," Berson continued. "Since they'll be talking about Johnny the whole game anyway, this will give a good visual for our viewers at home."
Now college football fans will be able to watch Johnny Manziel on the sidelines doing what he does on the sidelines. Stuff like standing, watching the game, making a side-comment to the walk-on standing next to him, examine his hangnail, chew his hangnail, examine his hangnail again, clap his hands, sit down, look at the sky, scratch his nose, wipe his forehead with some Clearasil face wipes, accept money from that sketchy guy standing uncomfortably close to the team's bench, make offensive adjustments, make offensive crotch adjustments, flirt with the sorority chick in the 9th row, flirt with the sorority chick in the 6th row who has bigger boobs, peel the crimson paint scratches off of his helmet, yawn, and take the field again.
The Johnny Manziel Cam is the first of it's kind in college football broadcasting, and it shouldn't be confused with ESPN's Tebow Cam, which is a private-feed camera strategically placed in Tim Tebow's bedroom by ESPN President John Skipper.
• • •
This post was created by Austin. You can follow him and his jokes on Twitter: @TheAHuff
Also, for up-to-the-minute sports jokes, follow Korked Bats on Twitter: @KorkedBats