Career Choices for LeBron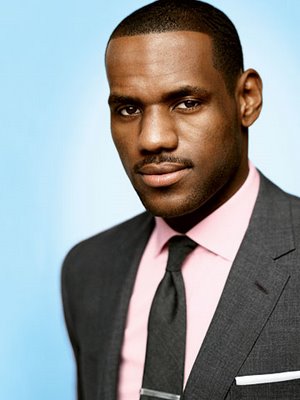 NBA Free Agency begins today and all eyes are on where Paul Pierce LeBron James will land for the 2010-2011 season. It has got to be a lot of pressure for this guy. He may be the biggest superstar in the league, but let's all remember, LeBron James is only 25 years old. This is a lot of pressure for a kid fresh out of college seven years removed from those mean hallways of high school. It's tough to be wanted by every team, to have everyone's focus on where you will be playing next season, and having a puppet made after you. If we keep putting all this pressure on the young kid, he may just want to quit the sport all together (hopefully not to take up baseball). However, if it does amount to that, we have some suggestions on which jobs would be best for LeBron and his future.
Businessman
There is a business sales job in Cleveland that LeBron had previously worked at for the past seven years. LeBron succeeded very well at this job. He has won Employee of the Year for the past two years. He has been highly praised for his performance at work and his accomplishments. However, this company can't win the annual Regional Sales Trophy. LeBron always performs well, but his co-workers never seem to finish the sale. LeBron would probably rather go somewhere with better co-workers that can finish the sale and maybe land that trophy.

Lawyer
LeBron has been thinking about moving to Chicago to take up an open lawyer position at a pretty well established firm. This firm feels like LeBron can become one of the greatest lawyers in the history of law. Although, there is a downside. The people at the company will always compare LeBron to the guy who first started the firm. Some claim that this guy is the best lawyer to ever live and LeBron will always be lawyering in this guy's shadow. Put that aside, and the firm is very young and ready to be lead by a great lawyer once again.

Garbage Man
New York has an opening for a new garbage man, but that job stinks (both figuratively and literally). Nobody wants this job. However, there was a day when the garbage man was one of the most respected positions in the job market… Then people started recycling. This trashy company (pun intended) is trying to clean up their image though. They are looking to bring in brand new garbage trucks to try and lure LeBron to come work for them. Unfortunately for them, it's going to take more than a few new garbage trucks to make this job respectable again. Heck, you could even make Whoopi Goldberg the boss and it wouldn't help.

Lifeguard
One of LeBron's good friends is a lifeguard in Miami. He has been talking to LeBron over the past few weeks trying to get LeBron and another one of their friends to come down to work with him. He won't admit it, but Miami needs some lifesavers… Badly. There was a big guy who used to be a lifeguard in South Beach, but he left for Phoenix before finally working with LeBron at his company in Cleveland. When the big guy was around, there was no trouble at all in Miami. But times have changed. Word on the street is that if LeBron does move to Miami to be a lifeguard with his friend, than the Pool Manager, the most successful one they've ever had, may come back to work there.

The KGB
No, not that stupid text message question answering service that costs 99 cents, the original KGB, the Russian State Security Committee. Luckily, there is an opening for LeBron at their New Jersey offices. But let's be honest, the only good thing to ever come out New Jersey is the movie Garden State, so automatically this job doesn't seem very attractive. LeBron's potential boss can barely speak English, and his second boss has 99 problems, I've heard. In fact, in one instance, his second boss was caught doing 55 in a 54 mph zone, but I think he got out of it because he was in the HOV lane. Even though working here would suck, LeBron is pretty good friends with the second boss and wouldn't mind working for him.

Lowly Paid Actor
LeBron could always move to Los Angeles to become an actor. Of course, he probably wouldn't get work in any hit blockbusters. Those roles are left for the better actors in LA. It seems as though those better actors are in a hit blockbuster every June (or at least every June since 2008). The acting work LeBron would be left with would be the same work that always seems to have first pick of the former child actors looking to get a fresh start in the acting world. However, they usually never become successful until they leave LA. If LeBron came here, he would get stuck with the LA left over jobs like LifeAlert Commercials and Eddie Murphy movies.