Butler Fan Wonders Where it all Went Wrong, Remembers that he Goes to Butler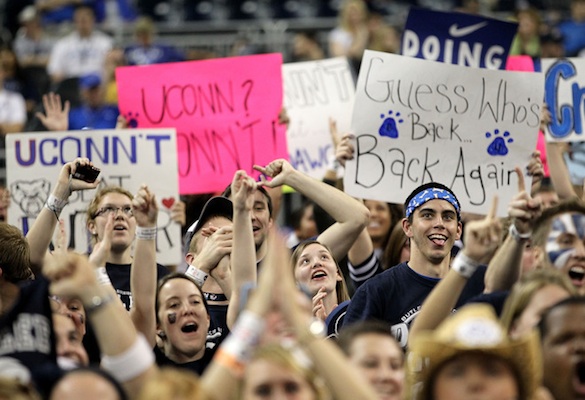 After a long and exciting tournament, students at Butler University are once again forced to remember that they go to school at Butler University.
"For a second it was like, 'Hey, I actually go to a cool university with history and a reputable sports program.' Then we shot 19% from the field," said one communications major as he thought back to last night's game. As the euphoric high of March Madness officially wears off, reality begins settling back in at Butler University.
Butler University is located near the heart of Indiana, a state best known for Indy Car racing and sharing a border with Ohio. Over the years, the university has made itself a house-hold name through the rise of its basketball program, and with two consecutive appearances in the NCAA National Championship game, it's no wonder why people started recognizing the name Butler.
What people often forget though, is that up until just a few short years ago, most Americans didn't even know the school existed.
"I guess I just got so caught up in everything that I forgot we're just another mid-major school that somehow finds a way to win in March," said one business school faculty member, adding, "The fact that I actually thought we could win this year proves it: I've lost touch with reality." These delusions of grandeur are common in college basketball, and are often set forth during March Madness.
Only five years ago, students at George Mason University had to face similar realities after making it to the Final Four for the first time in school history, only to lose to a much better and historically relevant Florida team. Mid-major schools are always fighting to stay relevant in NCAA athletics, and sometimes they succeed. Unfortunately for them though, college sports tend to be a lot like Hollywood: Major universities are like the Brad Pitt's of the NCAA and mid-majors are more like the Paul Walker's of the league.
At the end of the day, the good scripts are going to Pitt, but every few years Walker will show up in something and remind us that although he really shouldn't be there, somehow he finds a way onto the big screen.