Breaking Up is Hard to Do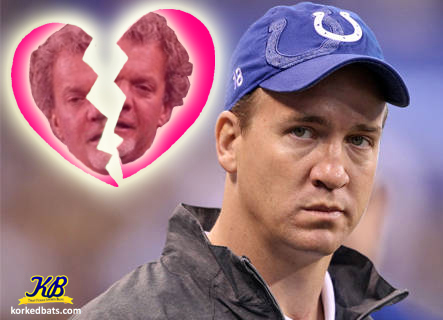 Peyton Manning is going through what most people go through when they are going through a really bad breakup with their first love. There will be tears. There will be passive aggressive tweets. There will be new hobbies and baking cupcakes. There will be a lot of movies. There will be a lot of Facebook stalking or just workout facility drive-bys. I also know exactly what his shopping list will look like:
Things to pick up on the way home from my last day with my Colties.
1. Chocolate Chip Cookie Dough in a tub
2. Remember the Titans and P.S. I Love You
3. Fro-Yo
4. Pretzels
5. A second tub of cookie dough to dry my tears
6. Lavender candles
7. Kleenex
8. Biore Pore Strips
This break up is a big deal, ladies. Do you remember how you felt when you found out that Jessica Simpson was saving herself for marriage and then she married the best looking member of the third place boy band, 98˚? When Nick Lachey and Jessica Simpson did their wedding day special, I couldn't stop watching it. Literally. It's on my TV while I write this. When they started their own reality TV show to show off how funny and quirky they were and to show everyone that true love waits.
And then they announced their divorce.
WHAT? THEY ARE IN LOVE FOREVER. HOW IS THAT POSSIBLE? Isn't forever supposed to be… like… forever?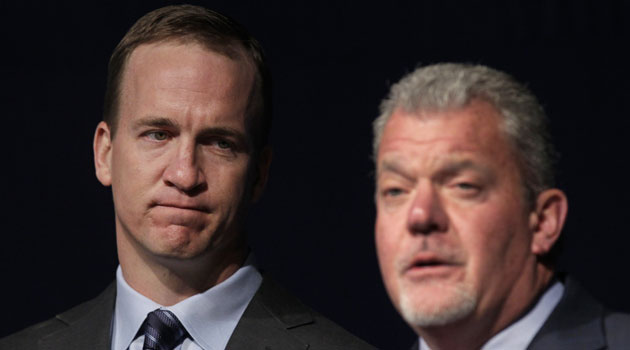 This is the closest thing I can think of to this Peyton Manning getting released by the Colts situation.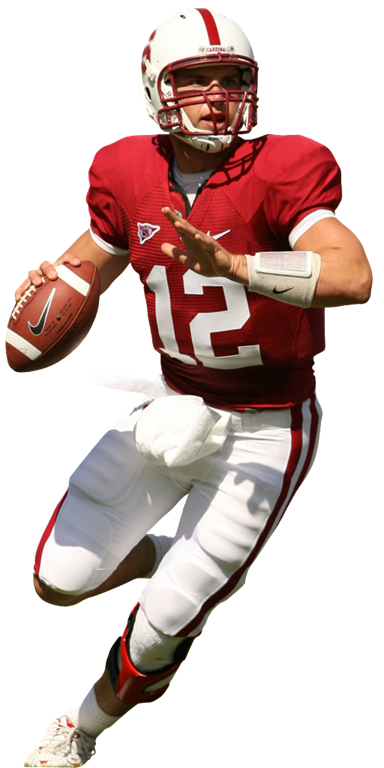 The Colts were Peyton's first love. He waited for them and when they got him, it was on. Like any good marriage, it started off rocky. But then it got good quickly. And for a long time. After eleven or twelve years of a committed relationship, the Colts just leave him for the hope of a younger and more exciting player. Andrew Luck. This Andrew Luck guy is the Vanessa Minnillo of this situation. A younger, more tan, less emotional, brand new person to have hanging on their arm at all of the fancy parties. Great. Thanks Andrew Luck for coming in and sweeping everyone off their feet. My guess is, you won't make the Colts wait for anything. Slut.
• • •
This post is a part of our bi-weekly The Ladies Room posts for Korked Bats.
Follow The Ladies Room on Twitter: @KBLadiesRoom – Or follow Erin, TLR writer: @erinmcgown
As always, be sure to follow Korked Bats and our up-to-the-minute sports jokes: @korkedbats