Brady Hoke's Hot Seat Is So Hot…
…How hot is it?!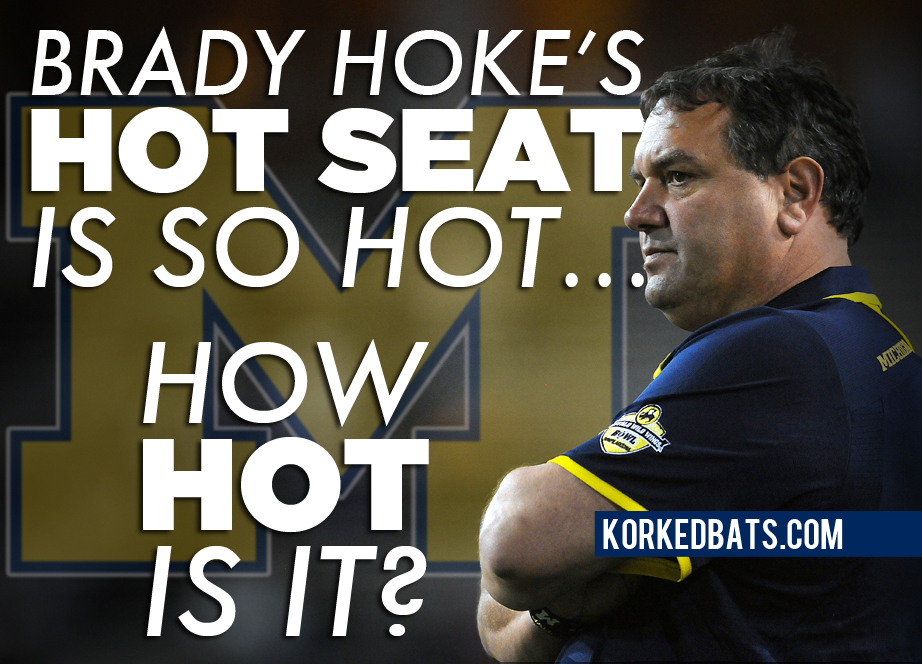 Michigan head coach Brady Hoke hasn't made quite the impact fans may have hoped. In fact, many people think this could be his final year as head coach of the Michigan Wolverines, officially putting him on the hot seat. But just how hot is Brady Hoke's hot seat?
Brady Hoke's hot seat is so hot…
…it's made of the inside filling of a recently-microwaved Hot Pocket.
…looking directly at it will re-create the final scene of Raiders of the Lost Ark.
…your local YMCA now offers a class called: Brady Hoke's Coaching Seat Yoga.
…when Ryan Gosling looks in a mirror, he sees it.
…Ryan Seacrest wants to produce a reality show for it's family.
…Lane Kiffin is married to it.
…ESPN forces Brent Musberger to publicly apologize after mentioning it on air.
…it makes your car's steering wheel after sitting in the parking lot on a sunny summer afternoon seem cold.
…Jay-Z just featured it on his latest single.
…GoDaddy.com uses it to try and sell domain names.
…it's the head coach at Texas Tech.
…Derek Jeter probably dated it at one time.
…Mugatu wants to hire him for his new Derelict campaign.
…if it got arrested, its mugshot would go viral.
…it made a career of starring in Limp Bizkit music videos.
…Al Gore preaches against it, saying it will one day ruin the earth for our grandkids.
…they lowered the Terminator into it at the end of T2: Judgement Day.
…people excuse the fact that it has a horrible personality.
…he probably won't be coaching at Michigan much longer.
• • •
This post was created by Austin. You can follow him and his jokes on Twitter: @TheAHuff
Also, for up-to-the-minute sports jokes, follow Korked Bats on Twitter: @KorkedBats