The Best Movies of 2022 (So Far)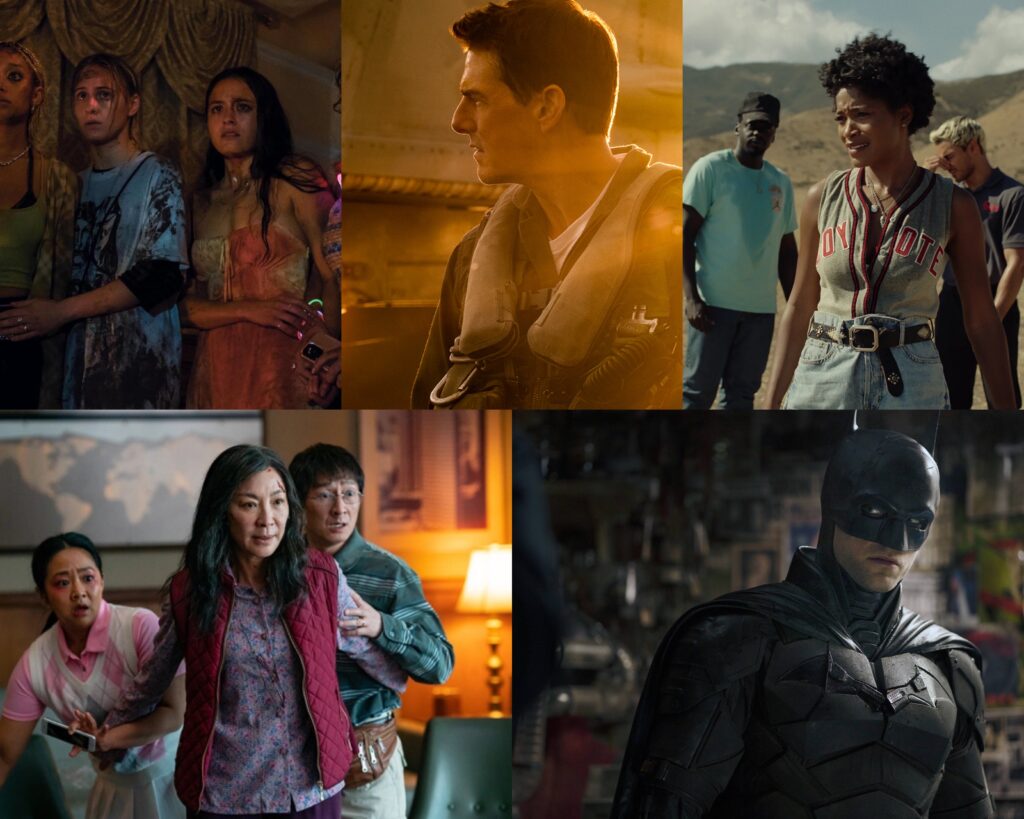 Okay, look. I know you've all been clamoring for some new reviews. After all, it's been a few weeks without one.
Now, There are several reasons for this:
We're in a bit of a movie-drought. It's officially festival season now, and all of the good movies we're hearing about on social media won't be available to us commoners until November-December. All we get right now are straight-to-streaming movies and garbage like "The Invitation".
Football
I figured now would be a good time to rank the Top-5 of 2022 (so far) and where you can catch them…that is, if you have time after you get all of your football in.
5. Bodies Bodies Bodies
'Bodies Bodies Bodies' would definitely get the Surprise Banger of 2022 award if voting ended today. Is that even a thing? It is now I guess.
At risk of dating myself, I figured this would just be your run-of-the-mill horror movie with Gen-Zers Tik-Tok'ing and Hinge'ing at each other. No cap, Fam. (Had to look up what that meant). 'Bodies Bodies Bodies' is so much more than that. I'm not sure it will stand the test of time as a horror classic, but it is a great satirical (but not necessarily cruel) view of Gen-Z culture and our current society. All of this is wrapped up into a fantastic whodunit that keeps you guessing until the very end.
We gave it 4.5/5 Stars. You can currently catch it in theaters.
4. The Batman
Bro, you like bats? Have we got the movie for you.
When you heard back in 2018 that they were gonna make a another Batman movie with a new actor, your eyes probably rolled back into your head like mine. Granted, we are probably going to get a new Batman every 10-15 years for the rest of eternity–but with Bale, Affleck and now Pattinson all playing a live-action Batman within a 10-year period, it seemed a bit overkill when it was announced.
That was then, this is now. 'The Batman' is absolutely phenomenal. It feels like a David Fincher mystery/thriller piloted by a very disturbed version of Bruce Wayne/Batman. It will keep you completely enthralled for the entirety of it's 3-hour runtime.
We gave it 4.5/5 Stars. You can stream it now on HBO MAX.
3. Top-Gun: Maverick
It's the sequel we didn't think we needed–I'm not even sure we really wanted it…but Tom Cruise has impregnated us with wonder once again.
If you have ever seen the original 'Top-Gun' you know that, other than the nostalgic pull, it's really not that great of a film. 'Top-Gun: Maverick' on the other hand is it's predecessor that will be remembered as one of the greatest blockbusters ever.
I don't want to get over-dramatic, but 'Top Gun: Maverick' is perhaps the best action film I've ever seen. You can tell that the filmmakers, especially one Thomas Cruise Mapother IV, took extreme care with this for our enjoyment.
We gave it 4.5/5 Stars. You can still catch it in theaters (which we recommend) but it is also available to buy now on digital.
2. Nope
When I wrote my initial review for 'Nope' I was fresh out of the theater and only gave it 4 out of 5 stars. It's been about a month now, and I truthfully have thought about 'Nope' at least once a day since then. I will go ahead and amend the original rating and bump it up to a 4.5/5 stars.
Jordan Peele took a chance on a movie that we likely would consider "out of his wheelhouse" and, in my opinion, he knocked it out of the park. It likely will not be remembered as his best film, and while I think for some viewers it will be too different from what Peele has already done, this little CineBoi has it's story and imagery engrained in his soul now.
It gets 4.5/5 stars from us. You can still catch it in theaters.
1. Everything Everywhere All At Once
It's the only movie in the history of Korked Bats to receive a perfect 5/5 star rating. Granted, we've only been reviewing movies since March of this year–but it's still a pretty big deal.
I have never seen a movie like 'Everything Everywhere' in my entire life. I doubt I ever will either. It is so rare that a completely original film will have such a profound effect on an audience. Everyone at my screening walked out completely silent. In most cases this would be concerning, but you could feel that everyone there had just experienced something truly special. My fiancé summed it up nicely a few days later: "I'm bummed that I will never get to see that movie for the first time again."
We gave it a perfect 5/5 Stars. You can rent or buy it on digital now.