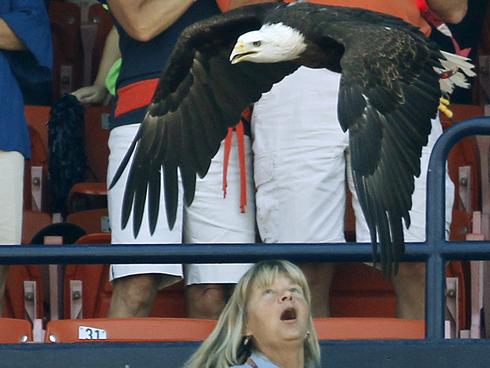 War Eagle or Poor Eagle? You be the judge. Auburn's War Eagle, Spirit, made it's weekly entrance into Jordan-Hare Stadium by flying down around the lower bowl before landing at midfield. However, you must remember, Spirit is an eagle. Eagles are birds. Birds fly into glass windows. And that is exactly what Spirit did on this day.
Spirit can be looked at as a direct comparison of Auburn's season this far. Crashing and nearly getting knocked out, but instead recovers and finishes. It can also be looked at as a comparison of LSU's season the way it goes after fans.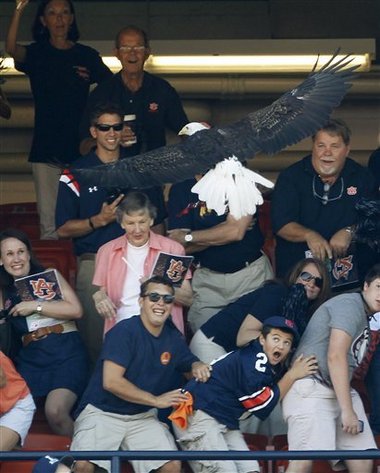 This picture, above, is hilarious. Everyone is terrified of this eagle flying right at them and attacking them as if it was Ron Artest in a Pacers uniform. Well, everyone except Grandma Pink Shirt there. She has no idea what is going on. In fact, she doesn't understand why everyone is acting so scared. She assumes it's a pre-game version of the wave. Or maybe she's still standing from the National Anthem? Or maybe she just got caught up reading the 2007 Auburn schedule on the back of that guy's shirt in front of her.
Now let's go right bottom corner to grey shirt boy. He was tweeting a defending statement about how Cam Newton will do well in the NFL (because that's pretty much the only thing Auburn fans tweet about these days) to one of his high school bros before he was gripped at the waist by this kid:

This kid peed a little. He also woke up in the middle of the night for the next three nights after having a dream of an eagle flying straight at him with a chainsaw. Not sure why the eagle has a chainsaw, but maybe it's symbolic to his life.
Moving on to sunglasses guy. He's just cool and unfazed by any of this. The man behind him is his dad. Also unfazed.
And finally, the lady in the very back (upper left corner of the photo), yeah, she just wants a frozen lemonade from one of the aisle vendors. She's trying to wave him down. Unfortunately, her timing is terrible as everyone in this section at the same time was screaming horrifically. Except for sunglasses, his dad, and Granny Pink.
And for those wondering, the eagle is recovering well. I guess, for Auburn's next home game, their Spirit will be high… eh? eh? get it?
• • •
If you would like to follow Austin and his jokes on Twitter, you can do so at: @TheAHuff
Also, be sure to follow Korked Bats on Twitter for up-to-the-minute sports jokes: @korkedbats