As It Turns Out, The Internet Really Loves A Good Oversized Collar
What a weird weekend.
It started Thursday night around 6:30p when we innocently tweeted out a fun tweet about Dallas Mavericks head coach Jason Kidd's oversized collar. Was his collar really that oversized? Yes. But we felt like we – with help from the entire damn internet, apparently – could make it even larger.
And we did.
And from there, it felt like EVERYONE jumped on board.
Freaking Shea Serrano (who this blog is BIG fans of) hit us with the retweet. The only thing that could've made this better was to actually hear him laugh at it, because he has one of the best laughs in sports media.
We also got a retweet from World Wide Wob and Jason Concepcion, which if you're an NBA fan, you know is peak love right there.
Oh, and the very awesome Sarah Spain hit us with a retweet as well!
And then one of the coolest dudes to ever walk the face of the planet, Mr. Questlove himself. The fact that this big ass collar made him laugh?! Yeah, we'll go ahead and pull a Calvin Johnson and retire early after that one.
Sike! We're not going anywhere because that's not even the end of the coolness. House of freaking Highlights shared our Twitter thread to their Instagram feed, which in and of itself was badass… but then we saw who commented on the post.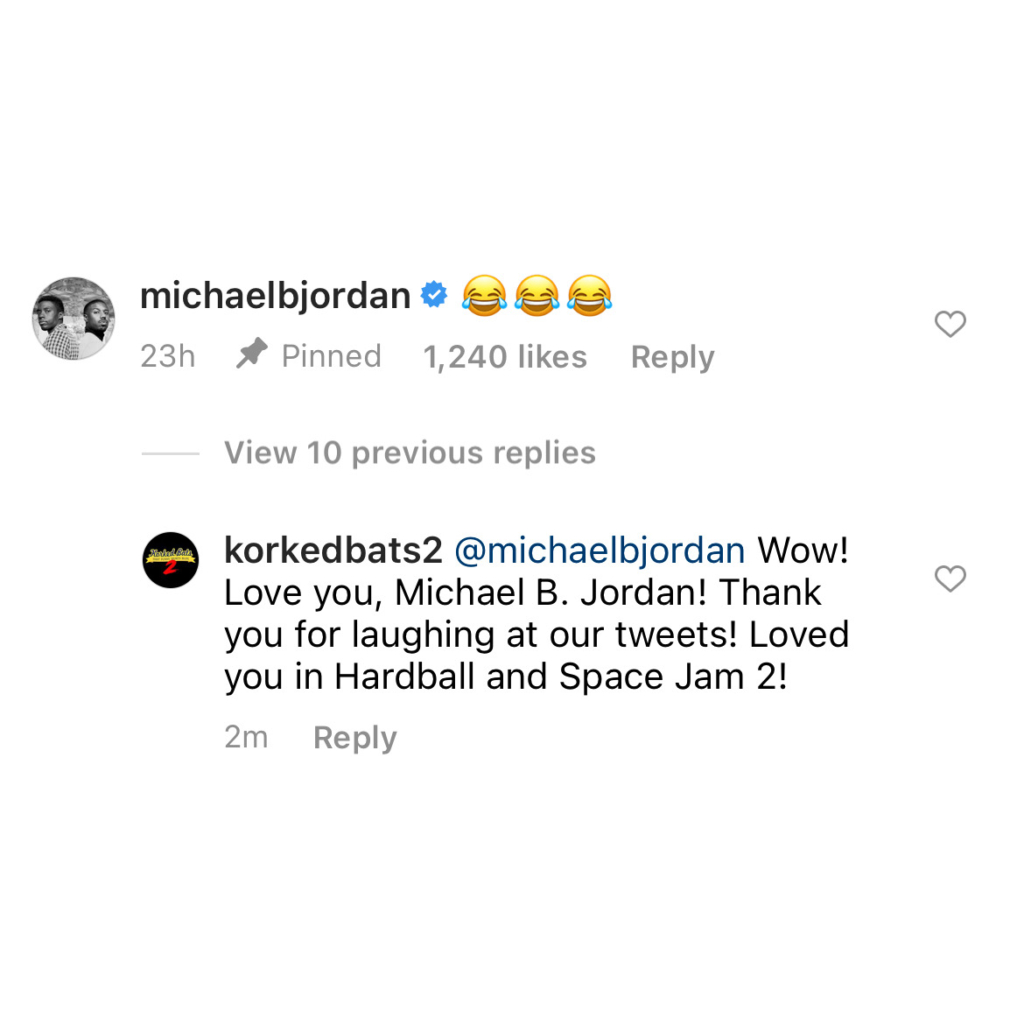 Michael B. Jordan… famed actor from iconic films such as Creed, and Creed 2, and the soon-to-be-released Creed 3, and of course Fantastic 4, which was anything but.
Cool, right? I mean, how can you top Hardball star Michael B. Jordan laughing at your content? That's the pinnacle, is it not? Lol, you're so naive. No, it can get better. And it did.
Ladies and gentlemen, LeBron James…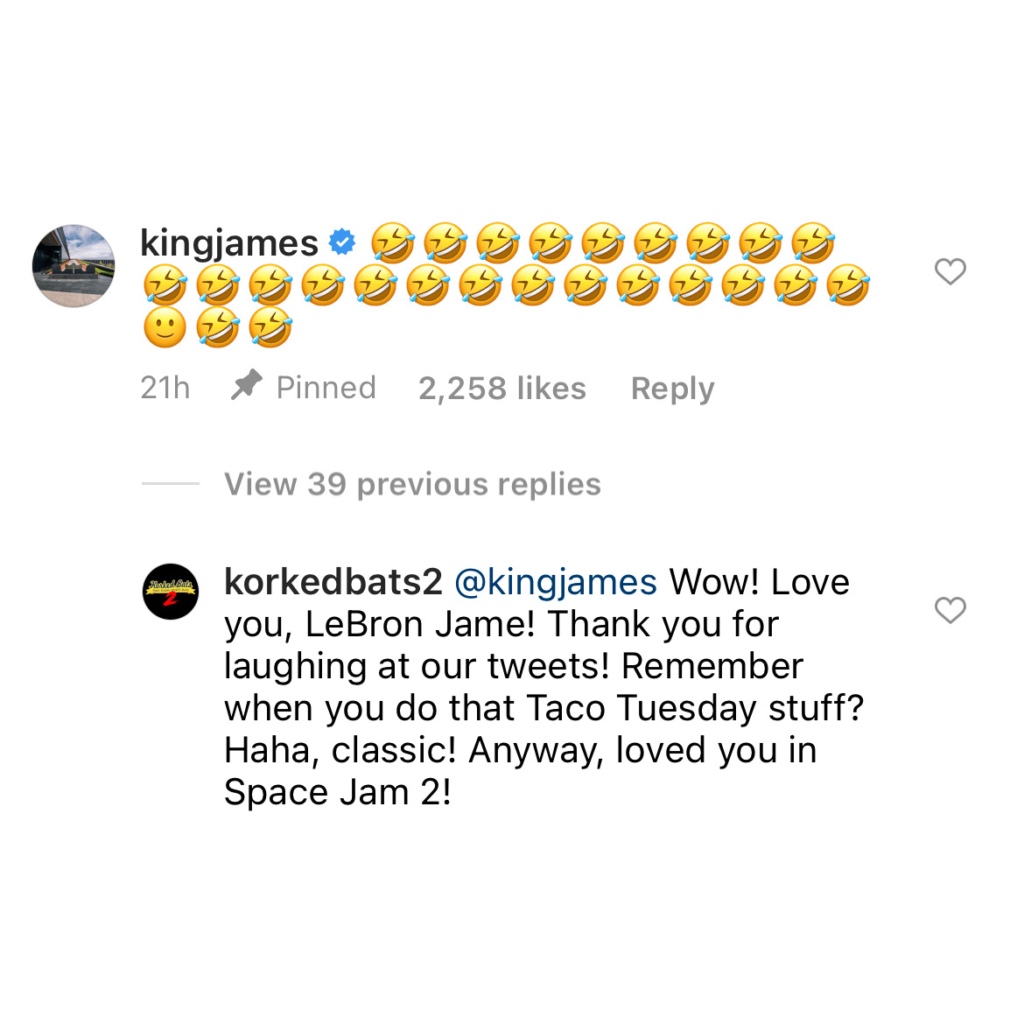 You might know him from his acting career. Ever heard of Space Jam: A New Legacy? Well, you might be surprised to know he also plays a little basketball. And he's good at that too. And this might be the first time in history LeBron is better than Jordan.
This has to be a dumb pinch-me-moment to know that arguably the greatest athlete of our generation not only saw our content but laughing-crying-face emoji'd to it.
Also:
also, shout out this lil' emoji who snuck in there pic.twitter.com/YxyJWLi1C0

— Austin Huff (@AustinHuff) October 10, 2021
Don't want this full blog to be one giant circle jerk. But how could we not shout out some of the biggest names to give us love this weekend? All we want to say is how awesome the internet can be at times. Sure, we're devisive. Sure, we can be nasty and cut-throat as we hide behind our keyboards. Sure, the internet can be an awful, awful place… most of the time. But every so often, an NBA head coach wears a wayyy too big collar and we all get to laugh about it. Shout out to all 187,000+ of you who liked the post and wanted to see that damn collar grow. Shout out to everyone who retweeted and not only joined in on the fun but helped spread the fun. Every so often the Internet can be fun and awesome and this was a prime example of that.
And to Jason Kidd… not sure he'll ever see the fun we had at his expesne, but dammit dude, get a normal shirt! You look like a barber from the 1930's. You're dressed like the guy who cares wayyy too much about his bowling league. You look like the illegitimate child of Vin Diesel and Pitbull. (That last one has nothing to do with the shirt, just more so his overall look.)
We shared the full behind-the-scenes story of this dumb internet meme on the lasted Junk Drawer this week. Watch here:
UPDATE: We've had a few people join on to the photoshop for likes craze.
ANOTHER UPDATE: *sigh* We've had even MORE people join on to the photoshop for likes craze.
A THIRD UPDATE: The Internet WILL NOT STOP until every last account on social media attempts this trend. We're sorry.