Alex Rodriguez Strongly Considering a Return to Steroids
After starting the postseason 1 for 12, the New York Yankees $250 million man Alex Rodriguez is pondering a move back to his glory days. Rodriguez posted what was a mediocre season in his otherwise numerically-historic career, only batting .272 with 18 HRs and 57 RBIs in an injury plagued 2012.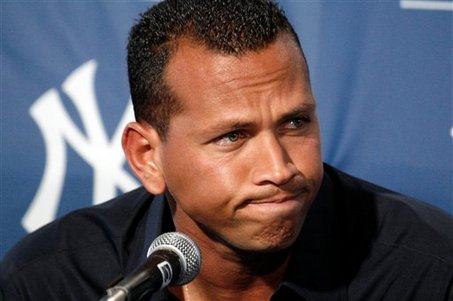 Between 2002 and 2007, A-Rod averaged 47 home runs per season, and earned himself the largest contract in sports history, amongst 3 MVPs and a positive steroid test.
"Oh man, those were the days," said A-Rod in a post-game interview following the Yankees walk-off win over the Orioles last night, "smacking homers right and left. Chicks everywhere. Sure they [steroids] tainted my legacy forever, but man, at least I wasn't getting benched for someone named Raul."
Despite the negative connotations of his association with the steroid era, Rodriguez posted the best statistics of his career, and said it, "felt way freaking cooler. I wasn't choking consistently, at every opportunity, actually. I was so cool."
After weighing his options over, Rodriguez came to the conclusion that he'd much rather be remembered as a roided-out stat machine than a has-been choke artist, citing that the first option, "definitely opens up the door for more opportunities with women, or whatever."
• • •
This post was written by Kyle. You can follow his jokes on Twitter: @kyleayers
Also, be sure to follow Korked Bats and our sports related jokes on Twitter: @korkedbats