Albert Pujols' Most Memorable Home Runs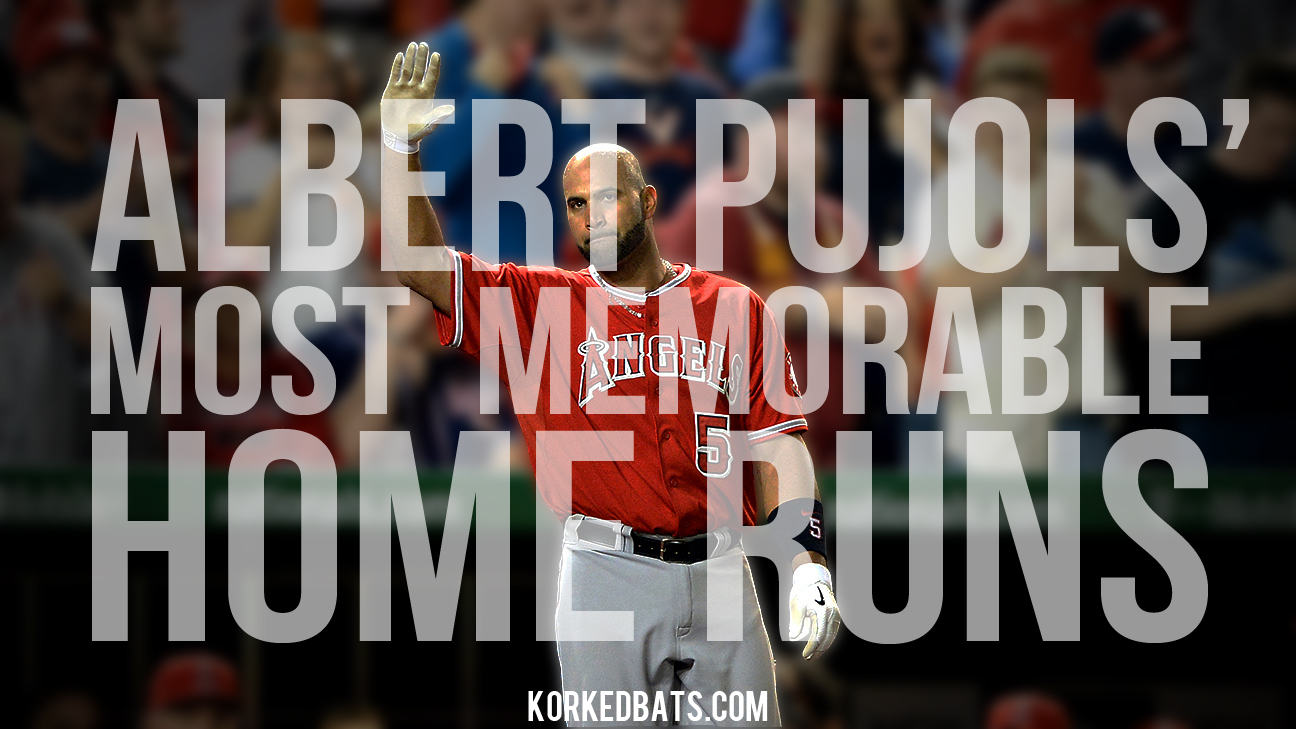 Los Angeles Angels of Anaheim's overpaid first baseman Jose Alberto Pujols recently hit his 500th career home run. This is quite a feat, if you've ignored the past 16 years of MLB history. So to honor the Machine, let's take a look back at the most memorable home runs of his career.
HOME RUN – REASON
1 – Albert's first home run came in Little League, when he went by the name Danny Almonte.
13 – Albert actually called his shot before hitting this home run. However, it was before he spoke English, so no one knew what he said.
41 – Even though this home run was measured at 582 feet, Cardinals fans vowed, "this young Pujols guy will never be Fernando Tatis."
88 – The wind at Wrigley Field was blowing in, so this home run was actually a few feet short of going over the wall. Fortunately, a young Cubs fan by the name of Steve Bartman reached over the fence and caught it. There are rumors that Steve Bartman would interfere with another ball at Wrigley Field a few years later.
100 – His 100th home run came when Albert was only 23-years-old, which is 29-years-old in Dominican Republic years.
125 through 141 – In just his 4th season, Albert set the MLB record by hitting 16 home runs in one game. You would think people would talk about this more.
173 – After hitting this home run, Pujols autographed his bat and gave it to a small 8-year-old fan. He would later find out that this young fan was actually teammate David Eckstein.
193 – This home run actually came in an All-Star Game. Before this, Major League Baseball didn't count exhibition game home runs to career totals, but Commissioner Bud Selig stepped in to declare, "This time, it counts."
214 – Even though this 3-run home run ended up helping the Cardinals clinch the NL Central title, Cardinals fans continued to proclaim that Pujols was no Fernando Tatis.
256 – With this hit, Albert Pujols became the first MLB player to hit a home run while on the disabled list. A feat that has yet to be matched.
286 – Albert hit this home run in the Cardinals' Old Timers Game off of the 72-year-old Bob Gibson.
300 – This home run landed Albert on the cover of Dominican Baseball Players Weekly. His first appearance on the magazine.
327 – Albert hit this home run in Tampa Bay, so unfortunately no one was there to see it.
367 to 475 – NOTE: After Mark McGwire was named the Cardinals' new hitting coach, Albert  hit all of these home runs within one week later.
414 through 416 – Even though all three of these home runs were grand slams and came within the same inning, breaking Fernando Tatis' MLB record, Cardinals fans stood by their stance that Pujols is no Fernando Tatis.
443 through 445 – Albert hit these home runs in Game 3 of the 2011 World Series, with hopes of one day getting his jersey burned and his name cursed by Cardinals fans after signing with another team.
446 – The rights to Albert's first home run with the Los Angeles Angels of Anaheim were quickly purchased by Disney.
462 – This home run was hit in Miami, and it accidentally set off the Marlins' home run statue. To this day, it's Albert's least favorite home run of his career.
474 – This home run was an in-the-park home run. Albert hit a soft-dribbler down the third base line and stopped roughly 6 feet into the outfield. It was against the Astros.
490 – With his age and nagging injuries, Albert hit this home run with the help of Christopher Lloyd and the other Angels in the outfield.
500 – Albert becomes the 26th man to hit 500 career home runs, and the 1st meng to do so. He is congratulated online by thousands of Cardinals fans tweeting him links to videos of them pissing on his jersey.
• • •
This post was written by Austin. You can follow him and his jokes on Twitter: @TheAHuff
And also, for up-to-the-minute sports jokes, follow Korked Bats on Twitter: @KorkedBats