A Transcript of Every Super Bowl Radio Row Interview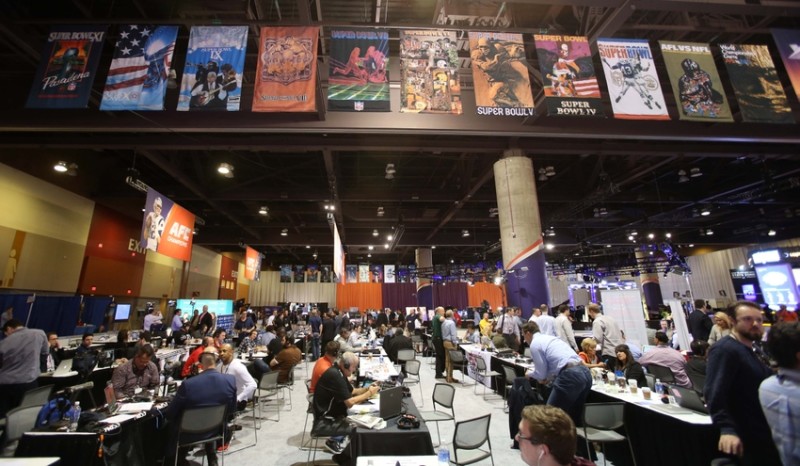 If you listen to as much sports talk radio as I do, then you fully understand the monotony that Super Bowl week can provide when your favorite show is at Radio Row.
They're cramped onto a card table amongst hundreds of other shows from across the country in a probably too small convention center ballroom. The hosts of these shows are inherently trying to simultaneously prove their worth and act cool about being there. Their shows are extremely interview heavy for 3 to 5 days leading up to the big game, and most of – if not all – are the exact same.
So in honor of Super Bowl Week, I went ahead a devised a transcript of every single Super Bowl Radio Row interview ever. Enjoy.
[divider][/divider]
HOST: Hey it's [Big Razz/Bean/Dusty/Taco/Big Mo/Jason or another nickname of some sort] back here with you on [station's numbers followed by The Fan, The Ticket, The Score]. We are coming to you LIVE from Super Bowl radio row, and you're never going to guess who just walked up to our table. It's the [position] for [some team not playing in the Super Bowl]… that's right, it's [athlete's name]! How are you, my brotha?
ATHLETE: [in a much deeper voice than you anticipated] I'm doing well thank you for having me.
HOST: Any time for you, my man! Now I should mention [because the athlete's rep keeps hand signaling to the host] that you are here on behalf of [some sponsor like Planter's/Hershey's/Pringles/Mountain Dew/Pizza Hut/The General Auto Insurance, etc.] which we will get into here in a bit, but first, I have to ask how you feeling coming off [a vague reference to last season to prove the host paid at least a little bit of attention to a team outside of his market].
ATHLETE: I feel good. This was a great season. Obviously, it didn't end how we wanted, but I feel strongly about this team moving forward. كيف تربح في البوكر
SECOND HOST: Hey [athlete's first name as if he knows him personally], [his own name] here. I noticed in that final game that [references play from athlete's most recent game to prove that he has even more knowledge of a team outside of his market]. Can you take me through that play?
ATHLETE: Um, yeah. So the play is called [weird collection of words, letters and numbers that sounds more like an algebra equation than a football play], and we had installed it into the game plan probably around Week 6 this year. So [explains in vague terms exactly what happened on the play even though everyone already knows] and the rest was history.
SECOND HOST: Yeah, see I was telling [host's nickname] here exactly that and he didn't believe me, but I told you, I told you didn't I??
HOST: You told me. Hand raised. I was wrong for once.
SECOND HOST: Yeah sure, "for once," now THAT'S funny!
ATHLETE: *awkwardly sitting there laughing and smiling without really knowing what to say*
HOST: Ok, so [athlete's first name, because after one question, he's now comfortable to go on the first name basis], I know you're from [athlete's hometown], and now your dad was a [athlete's dad's occupation that he read on the athlete's Wikipedia page just before this question], right? Talk about what that was like.
ATHLETE: *a bit surprised to be answering such a random and lame question* Oh yeah, of course. My dad was a [his father's occupation], and we grew up just outside [closest metropolitan city to athlete's hometown] and everyday he would wake up at the crack of dawn and go to work, while my mother raised me and my [number of siblings].
SECOND HOST: That's where you got your incredible work ethic isn't it?
ATHLETE: Oh, yes sir, yes sir.
SECOND HOST: *trying to stay younger than he is* You don't have to call me sir.
HOST: Oh and look, [name drop of an A-list celebrity to once again prove how cool it is to be on radio row amongst the elites] is just walking through here on radio row. You never know who you're going to see here! روليت مجاني
SECOND HOST: Now [a shortened version of athlete's name], do you have any plans for the Super Bowl? Will you be watching here? Heading home? What does a man like you got going on for the big game? I bet you're hitting up a massive party, aren't you?
ATHLETE: Nah, I'm flying back tomorrow. I'm just going to be watching it from home. لعبة تربح فلوس
HOST: But I'm sure you'll have plenty of [product the athlete is endorsing] with you, right?
SECOND HOST: Ahhhh, nice segue! *completely killing the vibe of the smooth transition*
ATHLETE: Yeah, I'm here today on behalf of [some sort of product like Tostitos/Duracell/All State Insurance/Bridgestone/JIF peanut butter] wanting to remind you all to [product's slogan]. And if you go to [product's website] right now, you can enter to win a sweepstakes to send you and two of your friends to the NFL Draft later this year. Just enter promo code BIGGAME.
SECOND HOST: Oh, man that sounds like a lot of fun. Are we eligible to enter? *laughs too loudly into the mic*
HOST: I don't think they'd let you anywhere near the NFL Draft, [second host's name]!
SECOND HOST: *still laughing* Yeah, you're probably right!
ATHLETE: *again awkwardly sitting there laughing and smiling without really knowing what to say*
HOST: We're getting the signal here to wrap things up, so we better let you bounce, but man, I could talk to you [aka read your Wikipedia and ask you questions about it] all day! Be well my friend!
ATHLETE: Alright, thank you.
*you can hear the athlete getting up from the table and hugging and having small talk with SECOND HOST in the background despite the show still being on the air*
HOST: And it's probably a good thing we're getting out because we need to pay the bills. It's currently [current time as if you don't have a clock where you are], and coming up, we've got a real treat for you. We'll be joined by the hilarious Frank Caliendo who will do all sorts of voices for us and if you haven't heard this guy [as if there are still people in this world who haven't been subjected to Frank Caliendo's impression], you're not going to want to miss it. I'm Big Razz/Bean/Dusty/Taco/Big Mo/Jason], and you're listening to [The Fan/The Ticket/The Score]. We'll be right back.