Yes. Another Multiverse Movie.–A SPOILER FREE Review of 'Doctor Strange in the Multiverse of Madness'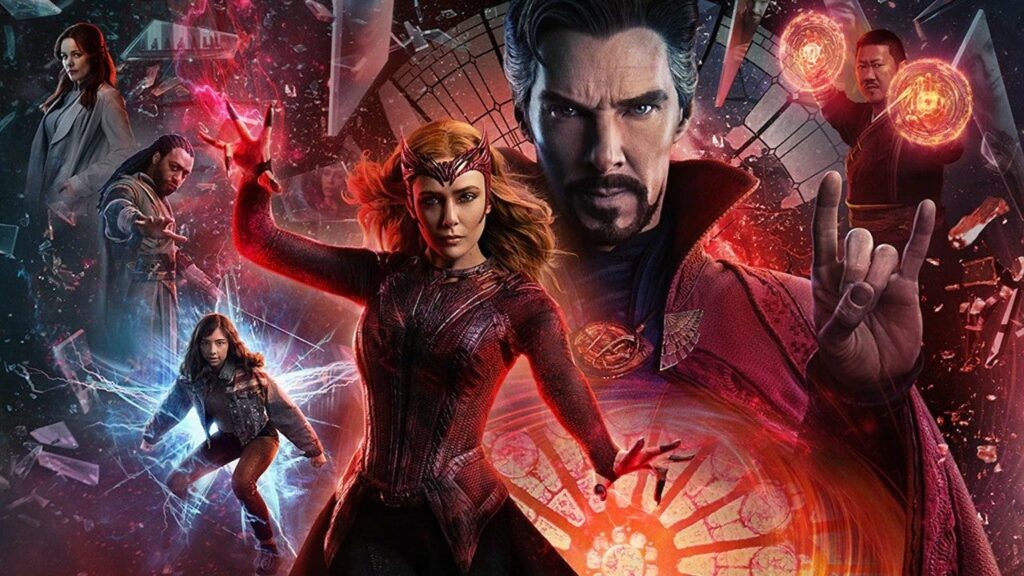 So I'm about a week and half behind on this review, many apologies. I was actually the last CineBoi to see 'Doctor Strange in the Multiverse of Madness'. I caught absolute hell for it. Kevin spoiled a big reveal for me–MOB made fun of me. Perhaps most shocking of all, Tom actually saw this one opening night. Just know, they were sitting on this movie for a week and chose not to review it for you. That's why you have me, Kenny, Head-Boi and friend of the people.
'Doctor Strange 2' is fine. Wasn't my least favorite Marvel film, but certainly won't be a top-pick on the next CineBoiz MCU draft. It has some fantastic visuals, sets-up some cool things for future installments, but ultimately it felt like a mid-tier movie. One that would likely get lost in the shuffle if it weren't connected to the rest of the Disney-Marvel Universe.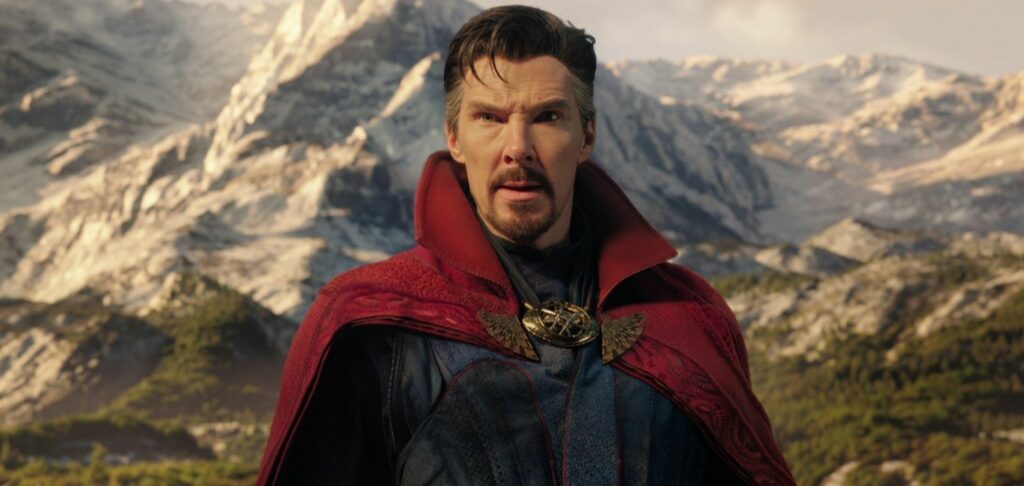 Let's see if I can not spoil this…
The plot of 'Doctor Strange in the Multiverse of Madness' is a hard one to describe without revealing too many spoilers. That being said, essentially this film takes place shortly after the events of 'Wandavision' and 'No Way Home'. In it we find Doctor Strange charged with protecting America Chavez, a young girl who has the ability to travel the multiverse. Because of this power, she is being hunted by monsters and a mysterious force in an effort to steal it from her.
From this point on, the story picks up and almost becomes impossible to not give away spoilers…so I will spare all of you who have yet to see it.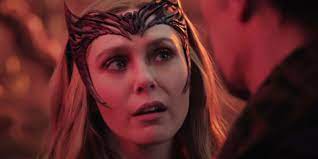 Try to wrap your head around it.
The story of 'Doctor Strange 2' is quite an interesting one. We've already been introduced to the MCU multiverse thanks to 'Loki' and 'No Way Home'. DSMM isn't necessarily a more in-depth look at the multiverse than those other entries. In fact, it might be the most bland foray into the MCU Multiverse yet. We get classic Marvel reveals and surprise cameo's, but I can't help but feel as though this movie solely exists for that.
'Multiverse of Madness' might also suffer a bit from introducing a lot of new concepts all at the same time. I say this with love as the movie never gets overtly heady or confusing. However, there are so many new characters, concepts and plot-points. 'Doctor Strange 2' may unfortunately suffer from being the victim of progressing the overall MCU story alone. It doesn't develop this corner of Marvel as in-depth as it could or should.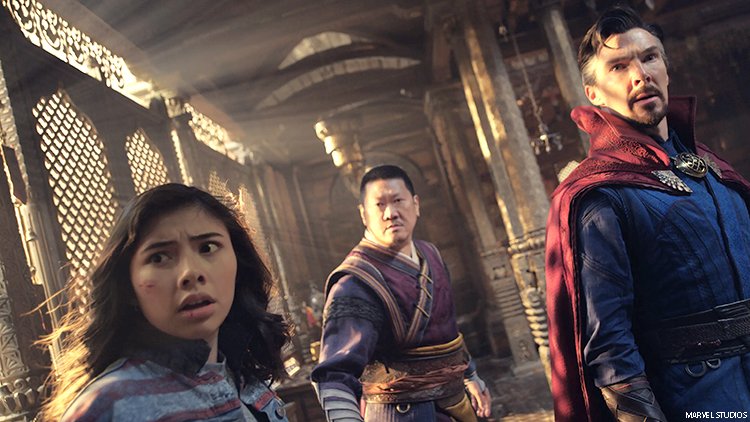 America First
I can't really think of an MCU entry where I thought the acting was bad. The acting performances in 'Doctor Strange 2' are all top-notch. Benedict Cumberbatch is a criminally underrated part of the overall MCU ensemble and (without getting too spoiler-ish) he gets the opportunity to really show it here. The supporting cast are all great as well, even with the complication of hopping in-and-out of multiple universes and embodying different versions of themselves.
I think the real bright part of this new Marvel film is the introduction of America Chavez played by Xochitl Gomez. She does a great job among MCU veterans and helps to usher in the new generation of young super-heroes yet to be seen. It's exciting to think about her getting to be in other Marvel films with other characters as well.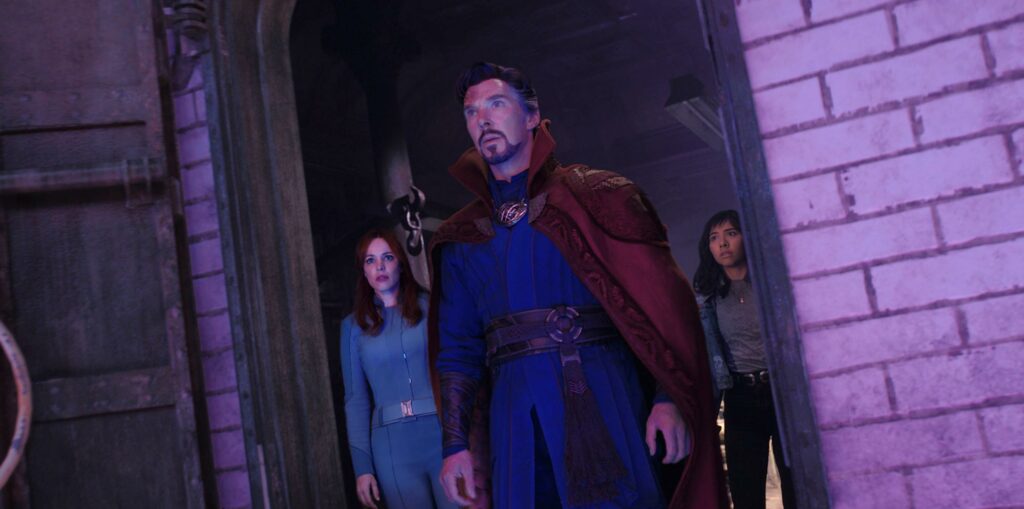 Raimi gon' Raimi
From a technical standpoint, this is one of my favorite MCU entries. Not because of visually stunning FX (though they are), but because Disney let Sam Raimi go wild and it shows (especially in the final act of the film). There are some visuals and shots in this movie that made me want to go back through the 'Evil Dead' trilogy. It brought me so much unexpected joy. Not to mention there is the signature Bruce-Campbell-Sam-Raimi-Film-Cameo; quite humorous in this Raimi-entry I might add.
VERDICT
'Doctor Strange in the Multiverse of Madness' is a completely acceptable and serviceable entry into the MCU. In the overall picture. Dr. Strange may not get the attention and development he deserves. This makes for a blander and more forgettable addition to the Marvel Studios lineup (even with Sam Raimi going full Sam Raimi).
VERDICT: 3/5 Stars
So what do you think? Be sure to holler at us on Twitter (@korkedbats; @thecineboiz) and Instagram (@korkedbats2; @thecineboiz) and let us know how you feel.Also, be sure to follow Korked Bats on YouTube and The Cineboiz on Twitch to catch us live, and subscribe to The CineBoiz Podcast wherever podcasts are found!