A Look Into Marlins GM Dan Jennings' Interview With Himself
The Miami Marlins fired Manager Mike Redmond and hired a new manager in under 24 hours in the most Miami Marlins way possible.
Marlins General Manager Dan Jennings announced that the club will hire Marlins General Manager Dan Jennings to be their next manager. That's right. The dude hired himself. It's like the plot of Little Big League, but with an adult.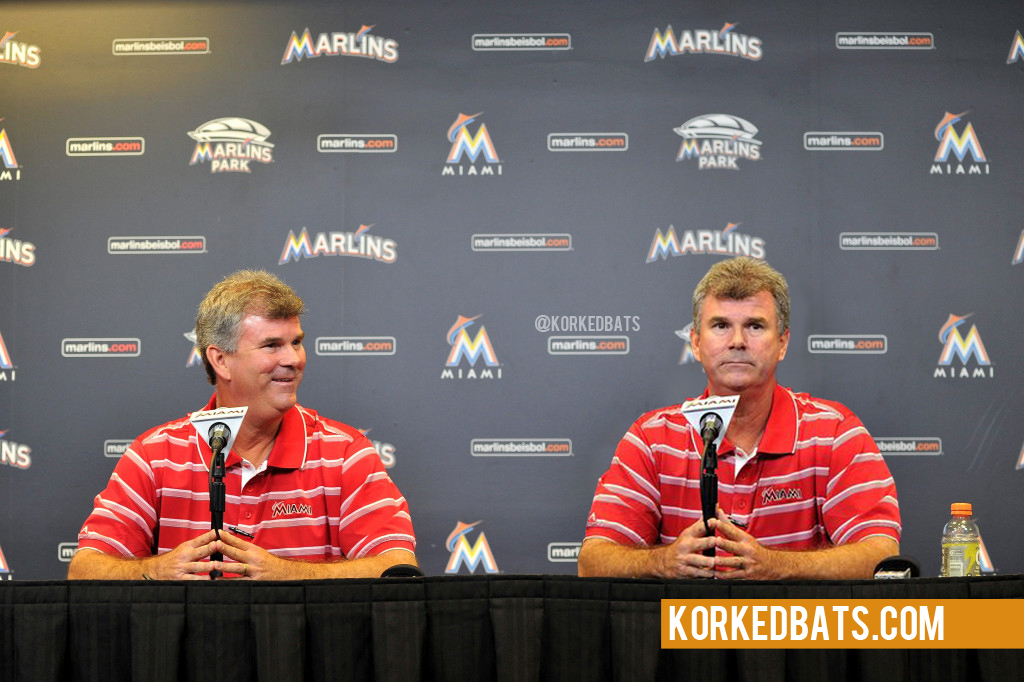 But how exactly did this happen? Jennings has no professional playing, coaching or managing experience, yet he was still hired? Well, we obtained a transcript of Jennings' interview with himself for the position, and the interview goes about how you would imagine… It's basically a conversation with himself.
[divider][/divider]
[GM refers to General Manager Dan Jennings, and DJ refers to prospective manager Dan Jennings]
GM: [buzzes his assistant] Gina, is my 1 o'clock here yet?
Gina, Jennings' Assistant: [sighs] Sir, do we really have to do this? I'm really busy toda—
GM: [interrupts] I said… GINA, IS MY 1 O'CLOCK HERE YET?!
Gina: [resentfully sighs] Yes. He's here. I'll send him in.
GM: Send him in please.
[Gina opens the door to Dan's office, pretends to walk someone in, and then leaves]
GM: Thank you, Gina. Good afternoon, remind me of your name again?
DJ: My name is Dan Jennings, sir!
[Dan shakes his own hand]
GM: Wow, what a name! I LOVE that name! That's a strong name.
DJ: Thanks! I've had it my whole life.
GM: [chuckles] A man with a sense of humor… I like it… Please, have a seat.
DJ: I just want to thank for the opportunity to interview for this position.
GM: Oh, please. Don't mention it. I've had my people eyeing you for quite some time. Everyone says you're one of the smartest men in the game.
DJ: Wow, really? That means a lot coming from you, because I really felt like YOU were one of the smartest men in the game!
GM: [blushing] Oh stop.
DJ: No, really. You're so good at everything, sir!
GM: Well, thank you. Let's go ahead and get into it. Let's run down your experience coaching or managing baseball at any level.
DJ: Sure. Ok… Well… I coached at Davidson High School in Mobile, Alabama shortly after I graduated college in the mid-80's.
GM: Davidson High School? Isn't that where Bo Jackson went to high school?
DJ: No.
GM: Oh… ok… Well, go on.
DJ: Well… that's actually it.
GM: That's it?! That's the only coaching or managing experience you have?
DJ: Yes, sir.
GM: Well, you're lucky you're so darn good lookin'! We could hire you for your good looks alone. 
DJ: Wow, thank you, sir! I appreciate that. You are actually very good looking yourself. Almost too good looking.
GM: Well, thank you.
DJ: But I have to ask. Are you sure my lack of managerial experience won't be a problem?
GM: Listen, as long as you're extremely good looking, which you are, people won't care how little experience you have. It's like when the Cardinals hired Matheny!
DJ: Ok.. Cool!
GM: Plus, this is the Miami Marlins. We do things without even thinking about them ahead of time. I mean, have you seen that gaudy monstrosity in our outfield that goes off after home runs?
DJ: Good point.
GM: Do you have any professional playing experience?
DJ: No, but I went to a spring training game once.
GM: That's good enough for me!
DJ: [nervously smiles really big]
GM: What plans do you have to turn this team around?
DJ: Well, I've actually thought long and hard about this. I think I will bench Dee Gordon, and instead have my 8-year-old son bat lead-off and play second base.
GM: Oh, I've heard of him. He's a really big Marlins fan and got the game ball at his Little League game on Saturday, didn't he?
DJ: Yeah! I posted all of his game stats and a picture of him on Facebook.
GM: I saw that! 7 likes!
DJ: Yup. I'd probably also promote myself to player/coach, where I'd bat clean-up and pitch.
GM: I like where you're going with this.
DJ: I also plan to let my 6-year-old daughter pinch run for everyone. She loves running the bases!
GM: That's sweet. I'm sure she's the most adorable little girl on earth!
DJ: Oh she is. Want me to brag about her while I show you her pictures?
GM: More than anything!
[Dan looks at pictures of his daughter in his wallet for 25 minutes]
GM: Ok. Well, let me stop you. I've heard enough. Listen, you're the only guy I've interviewed for this position, and to be honest, I don't think I need to interview anyone else. I believe you're my guy.
DJ: Wow. I'm honored, sir. But, does baseball have a Rooney Rule like the NFL that makes you interview at least one minority candidate before giving someone the job?
GM: I'm glad you asked, Dan. And to use a baseball pun, I actually have all my bases covered on this one.
DJ: [chuckles] Good one. But if you don't mind me asking, how?
GM: Well, I'm 1/36th Cherokee Indian.
DJ: Which means I'M 1/36th Cherokee Indian.
GM: That's right.
DJ: Wow! That's brilliant, sir!
GM: Thanks! So what do you say? Want to be the 8th Miami Marlins manager since 2005?
DJ: Sir, I'd be honored.
[Dan shakes his own hand again]
GM: Fantastic. I'll have Gina finalize the paperwork. The only thing I ask is for you to not suck! Because if you suck, I'll have to fire you!
DJ: Really?
GM: Nah, I'm playing! I could never fire YOU!
[Dan laughs really loud, alone in his office]